I purchased the b makeup brush cleaner after I spotted how cheap it was. At around £2.99/$4.09, it's a great price but actually how much is in there you ask? Well around 75ml. Probably less than the usual amount but still affordable.
This particular makeup brush cleaner is an anti bacterial too, so whilst I'm busy cleaning, it's good to know that the formula is also at work.
Quick overview:
Pros
Nice fragrance
Leaves bristles soft
Affordable
Cleans and kills bacteria
Cons
Runs out quick
Requires a few sprays to get rid of tougher pigments
Description
B beauty claim this makeup brush cleaner is a 'quick drying spray' which cleanses, sanitises and conditions different types of brushes.
It's great for frequent use thanks to the quick drying time and mild formula.
Packaging
The b makeup brush cleaning spray comes in the usual aerosol type bottle. It's shaded in a gradient design, black from the bottom and gradually gets lighter towards the top.
Being grey in the middle and white from the top.
The spray is shut with a translucent plastic cap. The bottle is plain apart from the brand's logo and a brief description about the product.
It doesn't have much of a luxurious look or feel, but I'd expect that from something priced at this level.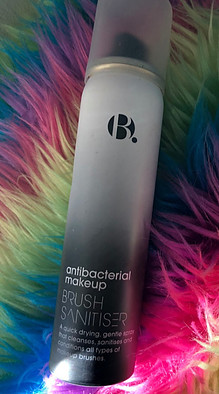 To dispense the product you have to press down on the pump like you would with any other sprays. A decent amount of product does come out from first press but you need a few more pumps to get an amount which is effective.
Smell
One of the things I like about this spray is the smell. It has a nice fragrance that's not too strong. Though at first it does get in my nose depending on how close I am but quickly fades into the air.
I have had makeup brush cleaners that have given me a headache due to the smell but thankfully this wasn't the case with this product.
It kind of smells like an actual perfume. My sister thought I had bought a new perfume or deodorant. I can't exactly make out what it smells like but at least it's pleasant.
How well does it remove makeup?
Right peeps! Now time for the truth we have all being waiting for!
So how well does it remove makeup?
So on the first spray not much is done to the brushes. I have to spray around 3 times on extra small brushes like the lip brush or eyeliner brush to effectively remove a decent amount of pigment, but still have to go for more for the stubborn or high pigmented makeup.
As for the small to medium brushes like the eyeshadow brush or blending brush I have to usually spray around 3-5 times to get rid of the dirt. And then again to make sure it's definitely all nice and clean.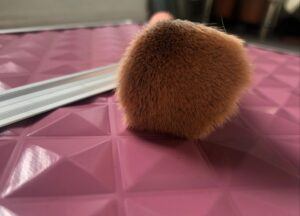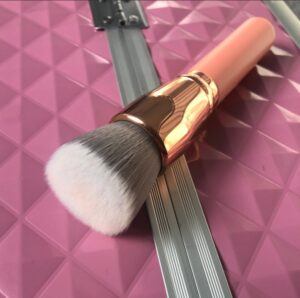 The large brushes like the foundation brush needs a good 6-7 spritz altogether to get them all clean and this doesn't include the darker pigments. So imagine how many sprays an old or stubborn pigment needs.


How I clean my brushes is by giving them a good coat in the product and then grabbing a tissue or cotton pad and rubbing the bristles in circles gently.
I do this until the tissue comes out clean. And of course use a clean tissue or cotton pad once the old one is grubby.
Overall
As you can tell this product doesn't really do a good job for me in removing harsh pigments. It takes too much of the formula to fully clean and get rid of dirt especially on the larger brushes however it does leave the bristles softened.
If you was to use it, I would only recommend it for small to extra small brushes and with pigments that aren't too strong such as foundations. I sometimes use it to clean my eyelash curler from all the old mascara.
I'm going to keep what I have left of the spray for my small brushes, as for the rest of the brushes, I'm might have to search for a better product.
Or because of the beautiful smell and pricing maybe purchase again. I don't really see the two aspects together in a product often.
You can check out more awesome makeup brush cleaners by tapping here!
Have a great day!?
Please follow and like us: