I haven't tried black lipstick before to be honest with you. Don't get me wrong I actually like them, they look so cool and awesome when I see others rocking them but for me it's something I haven't really bothered checking out! Hope I am not missing out on something big!
Anyways here are some of the best black lipstick you should check out!
Barry m lip paint
The ultimate icons lip paint in the shade Black LPN37, is said to be an intensely pigmented lipstick. Featuring a 'moisturising formula' for not only an easy application but a smooth experience too! This lipstick is vegan as well as cruelty-free. It is placed in the usual gorgeous shiny tube giving it a luxury look, though it is super affordable.
The ultimate icons lip paint allows you to go from a classic day look into a rocking night one with just a swipe! Ideal for creating a long-lasting depth of colour. There is also the choice of 2 more shades which are the opposite in intensity.
3INA the lipstick 900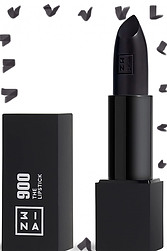 The 3INA 900 is described as a beautifully buttery lipstick with a semi mate finish that is comfortable to wear. This lip colour isn't only highly pigmented but has some serious stay power so you can get on with your day without having to fret about what may be happening with your lip art. The design of the precise bullet gives you control as well as ease of application.
It features a cool magnetic case with a 'iconic' soft touch so you wouldn't want to let go of it! If you aren't a fan of black or deep tones then you have the option of over 40 more shades including nudes and bolds. Something for everyone!
Melt ultra matte lipstick in bane
The shade 'bane' in melt cosmetics line is labelled as a matte black and mysterious, ooh sounds interesting! Melt state it makes the word weird seem so lovely. And if you manage to wear it after taking a look at the cool engraving printed on the bullet, then you'll be met with a creamy as well as smooth consistency that is not to bleed nor feather.
To enhance the luxe look, the ultra matte lipstick is enclosed in a magnetic packaging.
Revolution beauty midnight kiss skull lipstick
'Escape to the Carnival of Curiosity' with the midnight kiss skull lipstick! As you can tell by the spooky name, the design of this product is just the same, with a skull moulded at the front of the lipstick it definitely makes it stand out for good!
As for the formula, it possesses a smooth velvety finish for quick application whilst providing hydration. For enhanced results the brand recommend outlining with a dark liner first and then covering with the midnight kiss.
Kuckian deleterious
The kuckian lipstick is a totally unique product, you get with the product an additional brush and applicator with the star of the show, the full sized velvet liquid lipstick. This lipstick has a super power stay with the potential of up to 12 hour wear according to the brand. That is a long lasting black lipstick! It's kiss and smudge proof too!
The formula isn't only vegan and cruelty-free, it features luxury jojoba oil for protection, natural coconut oil adding a dose of moisturisation whilst the vitamin E provides plenty full of antioxidants! Not a fan? Not to worry as there are more equally amazing shades.
Rock and roll beauty Ozzy bullet lip stick
This vegan and cruelty free bullet lipstick will surely catch your eyes with it's rock look that is inspired by 'iconic Prince of Darkness'! You can purchase it as a collection created to celebrate the metal icon. The shade 'Mr Tinkertain' is a matte black lipstick, featuring a creamy consistency that is easy to wear.
The pigmented lipsticks texture makes it comfortable to wear so you can rock a statement lip worthy of the stage! plus they are super affordable so no excuse!
Right that's it for now peeps, over to you, are you a fan of the all mysterious shade?
Have a great day!
Please follow and like us: