Looking for some of the best lengthening mascaras which are vegan too! Well then you're at the correct place!
Lengthening mascaras usually consist of the usual ingredients you'd find in any mascara plus a little extra. These type of mascaras are formulated with special synthetic fibres which is what adds length to your lashes by binding to the ends of the hair. To span your lashes out even more try curling them using an eyelash curler or add a double coat! The addition of a lash primer can also offer some enhancement, check them out here!
Read on to find out a bunch of awesome vegan mascaras designed to add that magical touch you've been wanting! Let's begin!
Urban decay wild lash mascara
The wild lash mascara by urban decay is a vegan and 99% naturally derived formula which features beneficial ingredients like 'avocado oil, cassava starch and sunflower oil'.
That's probably where the 'fluffy volume and incredible lift' of upto 16 hours the wild lash provides, comes from!
This mascara is also said to be not only smudge and transfer resistant but flake and crumb free too, for a truly soft, long lasting finish.
Find out how true this is by clicking here for the full review!
Florence by mills
'A lengthening mascara for lashes' which according to Florence by mills looks almost too lush to be real! This mascara also features a plant based formula but with ingredients such as bayberry, and rose wax.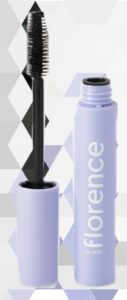 The applicator is a 'all in one' brush allowing you to create volume that's not only buildable but also lifts and lengthens at the same time.
Each and every lash is coated in super black mineral pigments which according to the brand makes your 'eyes shine'.
Hourglass unlocked instant extensions mascara
These lot are serious about adding length that they've decided to incorporate it into their name! Hourglass also claim you can achieve the 'look of lash extensions in an instant'! Something we're after for sure!
Their 'film forming technology' coats every individual lash in weightless fibre, locking them in place that results in a 'fanned out' and smudge proof finish. To remove it you only need warm water and you're done! As easy as that!
You can check out the full review here!
Barry M lash Vegas 2
Sensitive skin peeps listen up! The Barry M lash Vegas 2 mascara is a gentle formula designed to provide 'exceptional length and unrivalled definition'! Barry M promise this mascara will give you 'show stopping' results!
The spiral shaped brush features bristles that work deep into the root of your lashes including the smallest of hair, separating, and defining them all!

The beauty crop fabulous flocking lashes
According to beauty crop your search for a mascara can stop here as the fabulous flocking lashes is the 'everyday wear dream mascara you've been looking for'!
Ingredients such as argan oil ensure your lashes are kept hydrated as well as encourage hair growth for 'super long lashes' whereas jojoba works to protect hair follicles.
The clever designed squeeze tube means no waste, so you're using every penny!
Iconic triple threat mascara
Don't worry as scary as this mascara seems it's actually gentle and vegan as well as cruelty free! Iconic London say this mascara is ideal for anyone who is 'fed up of faffing with falsies'!
And with an outcome of voluminous, long and lifted lashes for achieving an intense dramatic lash who wouldn't want to check it out!

It's supposed to last all day long and night too! The applicator is a slim brush which makes getting into the roots of lashes easy creating a fuller lash line whilst the dense bristles ensure each lash is coated evenly as well as separated. 'The best alternative to false lashes!'
Well that's it for now but there's plenty of awesome lengthening mascaras out there waiting to be found!
If you'd like to check out more awesome vegan mascaras then tap here!
Or if you're looking for something more specific than tap here for sensitive eye friendly mascaras!
Have a great day!
Please follow and like us: