Keeping your brushes clean is essential!
Right peeps, as we know anyone and everyone who uses makeup, understands the importance of keeping their tools of application nice and clean, (unless you're using your fingers, nah you still have to) well how do you do that? That's up to you, it could be you use the simple shampoo and soapy water or to get right in there, you choose your best vegan makeup brush cleaner.
And if you don't have that buddy then don't worry, if your looking for a brush cleaner, a vegan and cruelty-free alternative to be more precise, I'm here for you!
Check out these bunch of amazing makeup brush cleaners that do the exact same hard work minus the pain and cruelty! Here we go! These are my top selections:
Quick overview
Elf makeup brush cleaner
The pro hygiene collection makeup brush cleaner
B. Makeup brush cleaner
Natural Essentoils Floral Brush Soap
Cinema secrets makeup brush cleaner
ISOCLEAN makeup brush cleaner
Nanshy antibacterial makeup brush cleaner
Ecotools makeup brush cleansing shampoo
Elf makeup brush cleaner
"Washes away dirt, makeup, oil and debris from your brush while conditioning the hair to provide a clean and soft application".
The elf daily brush cleaner comes in a larger size but great affordable pricing to ensure your brushes get the clean they need without worrying on how much you have spent.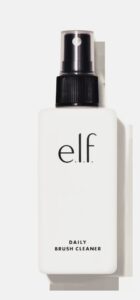 Just spray a few times on the bristles after you are done with the brush, and then wipe gently onto a clean cloth or tissue to get rid of the old residue. This vegan and cruelty-free product is suitable for daily use.
The Pro Hygiene Collection Makeup Brush Cleaner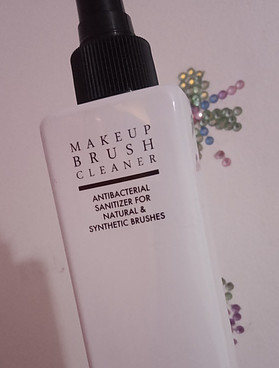 "The Pro Hygiene Collection® Makeup Brush Cleaner antibacterial instant sanitiser spray for natural and synthetic makeup brushes."
This awesome product is infused with anti bacterial action and "kills 99.99% of bacteria within 60 seconds" and is quick drying, so if you are in a hurry this could be your favourite buddy.
The pro hygiene makeup remover cleans and sanitizes both natural and synthetic makeup brushes.
Whether you have waterproof makeup or dark and strong pigments, this remover will easily wipe away all the dirt and bacteria.
To use hold about 15cm away from the makeup brush and spray with a tissue or cloth behind and then use it to wipe. If you have stubborn marks or larger brushes then you may need to repeat.
Click here for a full review on the pro hygiene collection brush cleaner!
B. Makeup brush cleanser
"B. Makeup Brush Cleanser cleans and conditioners all types of makeup brushes."
With a gentle formula, the B. Makeup brush cleanser is suitable for both natural and synthetic bristles.
It can be used every day to remove bacteria, which has been scientifically proved, and clean your brushes.
Allow 2 to 3 pumps onto the brushes bristle and then gently massage into a tissue until brush are thoroughly cleaned. Leave to air dry before use.
Why not check out how the b makeup brush performs by tapping here!
Natural Essentoils Floral Brush Soap
"Natural Essentoils Floral Brush Soap is the new eco friendly way to effortlessly keep your makeup brushes clean, hygienic and in the very best condition."
If you want to try something different from the usual spray, then you might want to give the natural essential oils floral brush soap a go.
With a floral scent, coming from geranium and lavender, this vegan and cruelty-free remover will look after your precious brushes.
This soap is totally natural and "contains bacteria busting essential oils"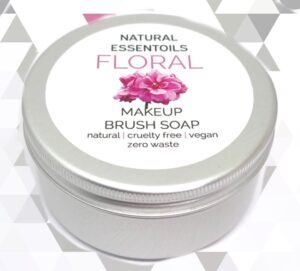 To use you simply rub your brush on the soap but not before wetting the bristles with warm water, until a foam appears.
You then rub the bristles to get rid of the dirt from base to tip under slow running water and then allow to dry.
cinema secrets makeup brush cleaner – pro starter kit and tin
"With everything you need to transform your dirty brushes, Professional Makeup Brush Cleaner Pro Starter Kit and Tin is an easy and effective way of removing dirt, oil and bacteria"…
The pro starter kit and tin from cinema secrets is a great addition to those who are looking for a rinse free option, it really doesn't require water!
It's suitable for both natural and synthetic bristles and kills about 99.99% of bacteria as well as removing dirt and oil.
This particular set comes with a decent sized brush cleaner and a tin which you use to pour the liquid into. If you are only after the brush cleaner liquid then you can purchase it on its own along with other options.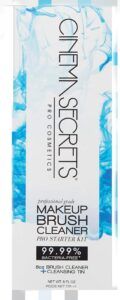 With the cinema secrets makeup remover you just pour the product into the tin given, the amount you pour must cover 1/4 of the brushes bristles. After grab a cloth or tissue and brush onto it till clean.
ISOCLEAN makeup brush cleaner
According to ISOCLEAN this makeup brush cleaner is going to become an 'essential part of your skincare routine'!
It has the ability to not only remove germs, dirt and makeup but also dead skin, yukkk, which can quickly gather on your makeup tools overtime, every time you use it! Plus tough formulas and pigments!
It does all of this cleansing in JUST 60 SECONDS apparently. If you are a little clumsy then there is good news, the ISOCLEAN is closed with a spray top so you only get what you need, no more, no less and certainly no mess!
The bottle can be refilled too, so that's eco friendly too!
Nanshy antibacterial makeup brush cleaning soap
The nanshy antibacterial makeup brush cleaner comes in the form of a soap. It's a brush cleaner as well as a sponge deep cleaner. This cleaning soap is 100% vegan, cruelty-free and even natural.
Nanshy state this product will 'clean, disinfect and condition' your bristles which in return makes your brushes last longer. If scent is your thing then the oils used in the formula will definitely give the freshness you're after.
Vitamin E and coconut milk are also part of this cleaners formula, ensuring the bristles are left soft!
Eco tools makeup brush cleansing shampoo
The ecotools makeup brush shampoo is 'designed to wash away makeup, oil, and impurities from your brushes to improve their performance'
The shampoo has been dermatologist tested, hypoallergenic and is even made with clean ingredients, free from junk, so that's a go ahead for sensitive skin peeps as well as being gentle for your delicate bristles, with some cleansers containing chemicals that can strip away the bristles.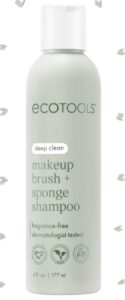 This cleaning brush is said to leave brushes clean, soft and healthy so that you can continue achieving a 'streak free look' with a better performing brush and a smoother makeup application.
You can use this shampoo to cleanse sponges too. The recycled and sustainable materials used along with the cruelty free and vegan formula makes you feel better knowing not even a fly has been hurt!
You might have one at home!
Did you know you can cleanse your brushes using household products, and what's even better is you already probably have at home!
That's right! You can use mild soap and water to clean the dirt off your bristles, it's cheap and you have it already at home!
Soaps such as the body shop Himalayan charcoal soap or the Olivia pure olive oil are gentle enough to be used on the bristles and are vegan too!
All you gotta do is create a foamy lather from the soap, then give the brushes a gentle scrub and watch all that dirt wash away!
Make sure to rinse the brush thoroughly though!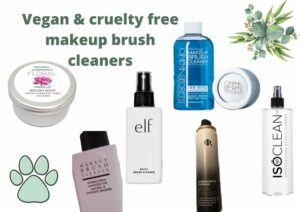 So what makeup brush cleaners do you currently use? Share them out in the comment section below!
Check out cruelty free makeup brushes whilst you're here!
Have a great day! ?
Please follow and like us: