Are you looking for the best smudge proof eyeliners to help you get through the day? Well then my friends you're at the right place! Carry on reading to find out some awesome vegan liners!
I know how annoying it can be when your liner ends up leaving a trail below your eyes, giving the impression that you are hungover or haven't slept, I mean we do have our days but we don't need a smudge when we least expect it.
Apart from these best smudge proof eyeliner, other ways you can help your liners stay in their place and clean is by using a setting powder, prep and prime your lids as well as concealing under eyes!
If all fails you can always whip out the good old q tip along with some micellar water! Anyways here is what you've been waiting for!
Quick Overview
Made by Mitchell all smudge no budge liner
Milani eye tech extreme liquid liner
The quick flick for perfect wings
Memi expert liquid liner
Made by mitchell all smudge no budge liner
As you can tell by the name the all smudge no budge liner by Mitchell is made to last without the need to worry of any funny smudge business! It also means they're long wearing too.
You have the option of picking from 4 highly blend-able as well as buildable matte shades. From creamy hues perfect for a bright eye look to deep tones made for smokey eye these budge proof pencils will get you from day to night looks in no time!
Milani eye tech extreme liquid liner
This extreme liquid liner is a great addition for anyone who wants to rock the winged look when time isn't on their side thanks to its quick drying time and skinny tip, allowing for not only precise deposition but also a neat and crisp line!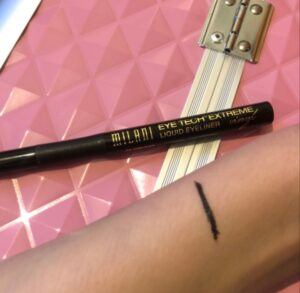 The brand state this eyeliner features a smudge proof formula which completes any look in a shiny, long-lasting finish! It's a makeup bag must have! According to milani. I think you can benefit from its non feathering ability too!
Want a more in depth review of the milani eye tech eyeliner? Then I suggest you tap here!
The quick flick for perfect wings
The quick flick liner is a little different as it comes in a stamp form. 'Stamp and Line in seconds for wing perfection'. The stamp option is a great option for those who feel getting a precise wing isn't their speciality or are in a hurry and can't afford to mess up!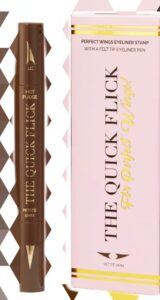 Their formula doesn't only stay all day, it doesn't fade, run, or crack so you can focus on your day instead of worrying about what drama your liner may be causing! It's available in 4 wing styles, five shades and features non-toxic ingredients!
Memi expert liquid liner
The memi expert liner is designed to provide 'full control and ultra-precision' with its intense carbon black pigment. The pen features a thin and flexible tip which makes creating your unique precise designs a simple job.

And of course you shall expect not only a quick drying smudge and water resistant finish but a no flaking one too!
The liner also glides on effortlessly onto the lids without no feathering. Let's not forget the luxe looking design, with its mirrored effect.
Beauty pie deluxe precision liquid eyeliner
The deluxe precision eyeliner by beauty pie is according to the brand the 'ultimate eye-lifting' product with a velvety luxury finish that hugs your lash line depositing a flawless intense colour that is pigment rich! Your result are set to stay all day with no issue like smudging, plus it is waterproof too all thanks to the 'unique polymeric film-former'.
Each glide allows you to apply colour smoothly on your lids whether you are rocking an eyeshadow or not. the precision tip allows you to create clean crisp line that will stay for 24 hours as promised by beauty pie.
If you'd like to check out water proof mascaras to match then tap here!
Or create the ultimate smudge proof look with these mascaras!
Have a great day!
Please follow and like us: