Want to know what the best tinted bb cream is? Well you're at the right place! I'm going to be dishing out some awesome BB creams which don't only provide light coverage but other benefits too!
BB creams for those of you who aren't too sure stands for 'beauty balm', this type of product offers sheer coverage, often lighter than a light coverage foundation!
Disclosure: This post may contain affiliate links which means that I may earn commission if click and make a purchase but no additional cost to you.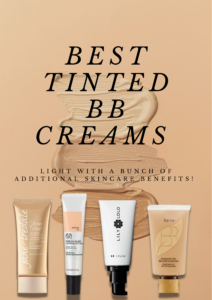 What is the best tinted BB cream?
Tinted BB cream is a type of tinted moisturizer except they usually have extra benefits such as SPF features, priming options and other skin care properties.
What makes the best tinted BB cream is actually up to you. If you are looking for a BB cream with not only coverage but SPF benefits then you'll need to look out for one that does exactly that.
Some BB creams come with many benefits in one, such as redness reduction, SPF, moisturiser etc. I personally think those are the best ones!
But above all a BB cream should feel light yet still be able to provide coverage to conceal minor imperfections such as redness, or spots.
Okay enough of that! Let's check out what some of the best vegan BB cream are!
Quick Overview 
Body shop fresh nude BB cream
Jane irelade glow time full coverage mineral BB cream
Tarte amazonian clay BB tinted moisturiser
Lily lolo BB cream
Purlisse perfect glow bb cream
Body shop Fresh nude BB cream
The body shops BB cream is a 'multi tasking beauty balm' which helps achieve a 'light, even coverage' for a long-lasting luminous finish.

This BB cream is non greasy making it great for oily skin peeps too! It features a hydrating lightweight formula that's also transfer and sweat resistance.
Currently the fresh nude cream comes in 5 shades which apparently are flexible enough to 'match most skin tones perfectly'.
You can check out the body shop bb cream here!
Jane irelade glow time full coverage mineral BB cream
Jane irelade claims this BB cream 'minimizes the appearance of pores and helps disguise fine lines and wrinkles' along with added SPF 25 for sun protection, this cream also smooths and brightens skin.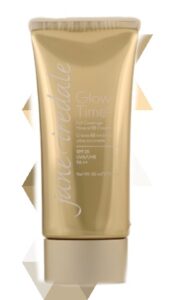 It has a decent sized shade range, around 10 colours that are said to match with '100% guarantee'. There are also various undertones too.
The glow time full coverage is non comedogenic, dermatologist and allergy tested, which means sensitive skin gang are not to worry!
Tarte Amazonian clay BB tinted moisturizer
Available in 5 shades, the amazonian clay BB cream is a 'no makeup must have for healthy looking skin!' It helps blur the appearance of 'fine lines and wrinkles' with its light to medium coverage all whilst feeling lightweight.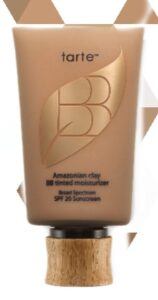 It's perfect for natural finishes, with a 'hint of colour' that enables you to even out and enhance your skin without being visible.
The oil free formula controls oil breakthroughs which oily skin peeps often experience. The formula also features a 'skin comforting antioxidant' which nourishes, soothes and heals your precious skin.
Lily Lolo BB cream
The lily Lolo BB cream offers 5 shades including fair, deep and everything in-between. This silicone free beauty balm is packed with 'nourishing and anti ageing' ingredients as well as mineral pigments working together to help blur imperfections such as uneven skin tone.
Lily Lolo state their balm is ideal for providing light coverage. It also has extra perks such as toning, firming and even an anti ageing effect! Want more?! It promotes skin luminescence and is a natural anti oxidant as well as anti bacterial protection. Cool right!
Purlisse perfect glow bb cream
The perfect glow is purlisses best selling BB cream, with the ability to achieve a no makeup look, its no wonder! Along with providing hydration, the perfect glow can also fix skin solutions like discolouration, dark spots, redness as well as uneven texture. This bb cream leaves your skin with a brightened 'matte-meets-dewy' finish.
It features nourishing properties obtained from ingredients like gogi, hawthorn berry and jasmine. Whats good to know is that its free from mineral oil, phthalates, parabens and no sulfates either.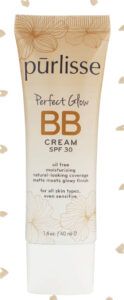 In their range there are currently 11 shades which include warm, cool and neutral undertones. Quite a decent amount for a BB cream, don't you think? The hues include fair tones to deep with light medium, tan and everything in between! So there's something for everybody!
You can check out how the purlisse perfect glow bb cream performs by tapping here!
Do you prefer BB creams or light coverage foundations and why? Let me know in the comment section below!
And if you don't want to leave then tap here to check out tinted moisturizers which are just as light and provide good coverage!
Have a great day!
Please follow and like us: