The brow fixer fibre gel by beauty bay is here to 'groom, tame and keep our brow game strong', that's what they say and that's what I or we want!

I've always preferred brow gels over pens or pomades mainly because they are so quick to whip out and swipe, great for whenever you are in a hurry, which for me is nearly everytime! I'll blame my time management skills for that!
Gels don't also require you to have extra tools like brushes or even a mirror (for all the pros out there, I see you)! Did I mention they are travel friendly too!
Okay enough of that! Shall we begin?!
Quick overview:
Pros
Good sized applicator
Soft bristles
Does add definition
Affordable
Easy to apply
Pigmentation is great
Cons
Appears crumbly when dry
Lastage could be stronger
Runs out quickly
Description
The brow fixer fibre gel by beauty bay is a product which aims to provide it's owners with 'thicker, fluffier and more defined brows'. The gel is also supposed to be waterproof which to me is super essential, since I'm often washing my face.
The formula isn't only vegan and cruelty-free but also 'enriched' with vitamin E and castor oil which apparently keeps the hair healthy and is known for it's growth properties.
The product shouldn't feel heavy and has a 'non-sticky' formula, which I'm pretty sure everyone wants in an eyebrow gel! Right?
So does it live by it's words? Do read on to find out!
Shades
The beauty bay fibre gel comes in around six different shades, one being a clear hue. They're suitable from blonde hair to black.
There's 'glass' which is completely clear, like glass, I think it would be great to use for holding your brows without the colour.
Then there's the rest of the shades.
The lightest is 'biscuit' (be careful not to eat it) made for blonde hair, then it's 'maple' created for auburn hair, next in line is 'teddy' (it's not as fluffy or soft) suitable for medium brown brows, 'sable' ideal for cool brown or black hair and last but not least 'smoke' (don't worry, your fire alarm shouldn't go off) which is created for black hair.
The one which best suits my brows is the 'sable' shade and I think they are quite right in recommending it for cool brown to black hair because it goes well with my black hair.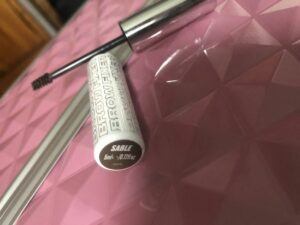 Application
I like the applicator which the gel comes with, it isn't overly sized but also not too small, it's just the right measurement. This makes applying easy and not messy either.
The corner of the brush is tapered so getting the gel onto the edges of my brow isn't tricky.
Usually some applicators are quite large for my brows so the product ends up well above my brow bone, needing me to clean it up which causes a huge chaos especially when I'm in a hurry!
The brush does seem to have soft bristles too and pick the right amount of product so all in all it's a great application!
Texture/formula
Beauty bay mention how their formula is non-sticky and lightweight and is supposed to leave you with a 'soft, flexible hold', so does it?
Well it definitely didn't have that sticky consistency on applying. As for the weight, it was light like beauty bay stated. The texture is like any other gel and did well filling in sparse brows.
One thing which did disappoint me a little is when the formula dried, I noticed a slight crumbly feel.
This made refilling not so easy as the previously dried gel made reapplying a little gritty and hard.
However I did find a solution to it which was to brush it once over and then reapply.
As for the waterproof feature, it didn't transfer for the hours it was on neither did the product drag down so if that's what you'd consider as water resistant than I'd say it is.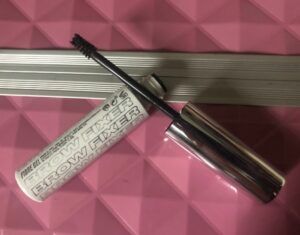 Lastage
The lastage isn't too bad but I felt like it could be improved especially since it's considered waterproof too. It got through roughly 4-5 hours until I felt it fade a little.
I mean if it wasn't labeled as waterproof then I'd be happy with the lastage but since it is, it could have been a lot longer.
The lastage is long enough though for a not-so-long outing, maybe shopping, or trips however big occasions like weddings may definitely need a second thought.
What about how much product is packed in? Well that's a little of an issue too, the tube is small itself and the gel amount is even more! For me, who uses it nearly everyday, I'll have to replace it in a few days time, it's been roughly a month since I've opened it!
Overall my brows did definitely appear a lot thicker than my natural ones, they were visibly defined, it also had a satisfactory hold, would I consider it a 'long-lasting hold' though? Not so much for a waterproof formula.
Regardless I think I would rate this brow gel an 8/10! And consider purchasing it thanks to the affordable pricing! Not going to lie, I prefer the brow fixer fibre gel over elf's wow brow gel.
Though the fibre gel did clump a little, I felt it wasn't as much as elf's, not saying the wow brow is not good but it has it's pros and cons.
And if you're looking for something with more precision then I suggest you check out the Anastasia Beverly Hills brow tinted brow gel.
Do you have any questions or suggestions then feel free to drop them down below!
Don't forget to check out other cool types of eyebrow products out there!
Have a great day!?
Please follow and like us: