The Charlotte tilbury lip cheat in the iconic nude shade is vegan and cruelty-free not to be mistaken with the pillow talk which contains beeswax therefore some may not consider it vegan friendly, though it's not actually derived directly from an animal.
Anyways so I decided to purchase this nude shade due to its subtle and natural hue along with it being a great product for an everyday nude lip liner and a great base for any lipstick, suggested by Charlotte tilbury herself.
Disclosure: This post may contain affiliate links which means that I may earn commission if click and make a purchase but no additional cost to you.
Description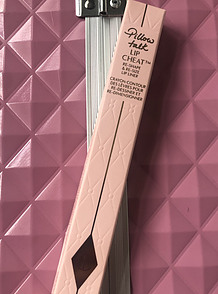 Charlotte tilbury state this lip liner suits everyone and a great product for anyone 'defined, fuller looking Pillow Talk pout!' It features a velvety waterproof formula which doesn't only create a smooth texture but should also be easy to apply, gliding along without any problem.
The addition of Hyaluronic Acid helps create lustrous and supple texture that offers hydrating properties for up to 24 hours! That seems unreal! Plus the waterproof formula, there should be no feathering nor transferring all day!
So I think it's time to see how it performs, right?!
Shades
The 'iconic nude' along with a few other shades such as 'pink Venus', 'foxy brown', 'bad romance', 'pillow talk 3 intense'. The hues range from nudes to classic reds as well as deep tones such as purple. There are also browns and rose pink!
In total there are 17 shades in the lip cheat line. Charlotte Tilbury state their liners go greatly with her matte revolution lipstick, that also holds a few vegan shades.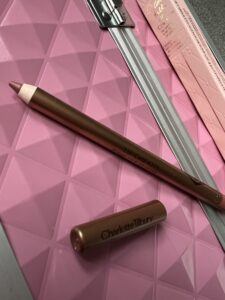 Application
'Smooths over the texture of your lips'
Judging by the description of this liner it definitely seems like this product would be a dream to apply, so was it?
Well I can certainly say it was actually quite easy to apply, gliding along nicely. I have naturally dry lips that are often chapped too so before applying I ensured I moisturized them well which provided a smooth base for the liner.
The texture is a little creamy with smoothness to it which I think gave it an advantage when it comes to applying.
Pigmentation
The Charlotte tilbury lip cheat does have good pigmentation to it, I would say the colour is similar on the hand as on the lips. One swipe with the nude shade isn't as visible so I think going over more than once will do the job.
The pigment does have some sort of hydration to it as my lips weren't drying out as they would usually. It allowed my lips to stay moisturized for a couple hours more than I'd expect them too!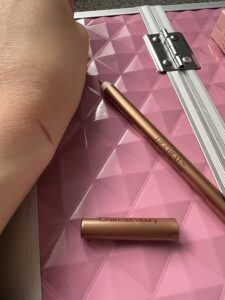 Lastage
I prefer using liners on their own for a daily look or on days I'm not going anywhere special because it provides decent colour without being too heavy. So this liner is used often without any interference from other products and I'd like to say the lastage was definitely great!
It easily gets through 5-6 hours just like the brand state, without any signs of weakness. I didn't experience any smudging or feathering during those hours despite eating a couple of time. In regard to transferring, I did see a hint of fragility when drinking but I'm not too bothered about it since lastage does make up for the flaw. And nothing problematic since reapplying is quick too!
The only downside I can currently think of is that it requires sharpening often. The liner goes blunt quickly especially if you use it daily like me which means you have to sharpen it, basically the pencil seems like it is getting eaten, shrinking quite rapidly. Most likely due to the thick creamy texture.
Overall
Overall I rate this lip liner an 9/10! I love the shade, the lastage as well as the texture. It applies along without any problem too. A great product to use daily, that adds some hydration. It doesn't feather with little transferring that isn't too bothering either.
You can get your own Charlotte Tilbury lip cheat here!
That's it for now peeps! But if you don't want to leave then tap here to check out more awesome lip liners!
Have a great day!
Please follow and like us: