LASH ALERT! Are you wanting to have bold lashes but not only to end there? Then maybe eyeko lash alert mascara can be for you! They don't only just give you a volumized, curled and lengthened lash as they state but also a treatment in one. Now that's what I'm talking about!
This mascara includes a treatment with ingredients formulated to nourish your lash thanks to the Shea butter as well as caffeine which stimulates lash hair and arginine which repairs.
But these are just the few benefits they include.
Do continue reading if you want to know my favourite aspects about this product and what I didn't really find appealing, as well as answering some common questions and an overall opinion.
Disclosure: This post may contain affiliate links which means that I may earn commission if click and make a purchase but no additional cost to you.
Quick overview:
Pros
Doesn't smudge
Easily removable
Great lastage
Squeezable tube so no wastage
Cons
Did appear to clump after a while
A little expensive
Description
Eyeko state this mascara is their best selling caffeine infused formula! It is said to give your lashes 'instant energy' from the caffeine and biotin, apparently lifting even the sleepiest of lashes.
This black mascara gives 'perkier volume, curl and care all day'. Now that's what we want!
Just to add those of you who don't have lash curlers on you don't need to worry thanks to the curled brush that does the job. Isn't that extra useful! And don't forget it's vegan and cruelty-free!
Smudge proof?
Eyeko mascara mentions that their product never smudges or clumps as a result of Korean tubing formula. But is this true?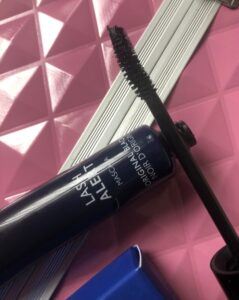 Well I can say that it certainly didn't smudge easily after I mistakenly rubbed my eye forgetting that I had mascara on and guess what!
I yawned too, which would have usually caused my mascara to stream down my face especially when I'm not wearing a concealer, but with this product I barely created a wreckage around my eyes!
By the way I was wearing concealer so I'm not too sure what would happen if I weren't.
To put simply I can unquestionably say that there were no visible smudges, clumps or runs whilst I wore it, doing the usual activities.
However towards the end I did start to see clumps form and as the product got old.
Does it define lashes or lengthen?
You are probably wanting to know this as one of their main feature is to lift and define lashes.
I'd like to point out that this mascara does give a nice natural definition to my lash when coating it once.
And by going over it a few more times my lashes appeared long enough that I wondered if I could braid them.
Okay that was a joke but it definitely gave a bold look and little extra length making it great for those who want to give off the appearance of wearing fake lashes or if you want to go for a dramatic look.
Was it easy to remove?
I know most people out there would definitely love a mascara that doesn't require two minutes straight of scrubbing their poor eyes. I for sure would especially after a long day's work.
So did this produce tick the box?
Well my findings show the removal process was pretty easy using makeup remover but not so much with water on it's own. So to put it in simple words, it was easy to remove.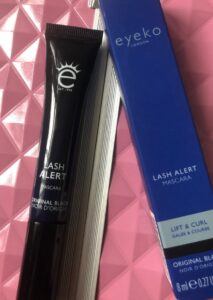 As I did mention removal was overall easy but this doesn't mean that lastage time was short. NO!
The time it lasted was pretty good. It stayed clung on for most the day approximately 7+ hours.
Another thing which I already touched at the start but is worth mentioning again in my opinion is the shape of the brush, it allowes you to curl lashes without the use of a curlers. This I find pretty useful.
Obviously don't be expecting a better job of curling than the eye lash curler but I would say the results are visible.
I'd also like to add that this mascara is paraben free.
I randomly want to fit this in, I like the tube the mascara comes in as I can easily use most of the product by squeezing the tube meaning less wastage! YAY!
So would I buy this again?
This leads me to pick out the downside which is the cost, I think if it was a bit cheaper than I would most likely go in for another one. But putting this all to one side I would give it a 7ish out of 10.
Now your turn! Do you have a particular mascara which you love and why? Let me know in the comment section below!
You can check out the Eyeko lash alert mascara here for yourselves!
Thanks for reading and if you have any particular product you'd like a review on then feel free to contact me or if you have any questions.
Tap here to check out more awesome vegan mascaras!
Have a great day! ?
Please follow and like us: