The milk makeup lip cheek stick is a totally vegan and cruelty-free two-in-one product. Well sometimes I use it as a three in one! A lipstick, blush and occasionally on my lids.
Milk makeup on their product:
"Part lip tint, part blush, Milk Makeup's multi-purpose Lip + Cheek is perfect for those who want glow on-the-go."
Right let's get to the review!
Quick overview:
Pros
2 in 1
Travel friendly
Easy to apply
Beneficial ingredients
Cute packaging
Cons
Not as moisturizing
Isn't as long lasting on lips
Disclosure: This post may contain affiliate links which means that I may earn commission if click and make a purchase but no additional cost to you.
Difficult to apply?
Application is really easy and simple overall. To apply on the cheeks I use a dabbing motion especially if I'm wearing full foundation and all, as by swiping it on I find it pulls away the products underneath which leads to massive patchiness when you're not careful. I then blend it using my fingers,which is easy.
The formula is a creamy texture a little buttery, similar to Vaseline but minus the stickiness.
For the lip, application is even more great, simple and fast. It slides on easily and is quick to reapply, so that's good especially since the lastage is well I'll talk about it later.
Application = 8/10!
Lastage on the lip and cheek?
The lastage on the lips is different to the cheek, I mean obviously they both have different textures.
For the lip it doesn't seem to stay put for as long as a lip product should, the colour started to fade at around 3 to 4 hours. I am aware it is a lip tint maybe that's expected.
However the cheek surprisingly pulled through 4 hours somehow. It did go a little light but it appeared natural.
The colour when applying to the lips does have a slight shade difference compared to the cheeks. It comes off lighter on the lips.
Lastage = 6/10!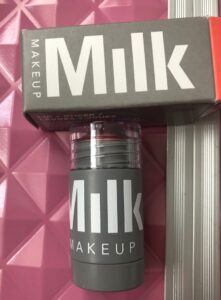 Moisturising or drying?
Let's start with the lips, my lips are one of the driest, it doesn't matter how hydrated I stay, no difference is made to my lips. Only when I apply numerous products, that's when it calms a little.
So when I applied this lipstick and didn't see an obvious difference, I wasn't too shocked as it was expected but what I can say is that my cheeks where definitely loving it.
I feel like it's more hydrating for the cheeks but for the lips, I didn't experience any moisturizing effect which means this was the downside to it.
Performance = 6/10!
Shades
For this lip + cheek stick there are five colours available. There is "werk" which is a dusty rose shade, "perk", a coral which is a peachy pink shade with a slight shimmer, "quickie" a berry shade, "swish" a pink colour and last but not least "rally" a pale purple shade.
My favourite shades are "werk" and "perk" because they rhyme JK. They lean on the more natural looking shades so that's why.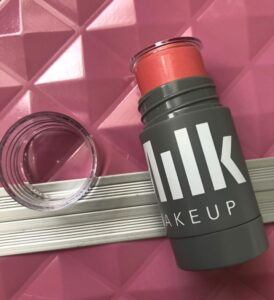 The ingredients are cool too! It's infused with mango butter, peach nectar and avocado oil, all of which provide benefits to your skin. The mango butter is supposed to be moisturizing for the lips and cheek.
Another thing I'd like to add is the amount of product you get in this packaging. It's enough to get you through the whole year, partly because less is certainly more especially when applied to the cheeks. So I think I could say overall I preferred using this stick as a blush.
You can get your very own milk lip and cheek stick from Amazon here!
That's it for now peeps!
But if you don't want to leave then tap here to check out some awesome vegan lipsticks!
Do you have any suggestions of lipsticks, I'd love to know!
Have a great day! ?
Please follow and like us: