Milk makeup rise mascara sounds like a morning or a breakfast kind of product. It contains milk and rise, definitely giving early morning vibes!
Anyways so what made me purchase this product? Basically I had already tried a few of their products and what can I say their designs are adorable and certainly unique, if you own any of milk makeups items you'll know how cool they are.
Apart from the design so far I can say performance wise they are good too, I mean there are ups and downs as with all products. The kush mascara in particular is my favourite so I thought I'd try out another mascara of the brands, the one that offers a more natural definition or suitable for a daily look.
Shall we get started?!
Quick Overview
Pros
Unique look
Good for sensitive eyes
Ideal bristles length
Doesn't weight down lashes
Great for everyday subtle looks
Cons
Gets clumpy
Dries quickly if not closed tightly
Description
The milk makeup rise mascara is apparently an award-winning product suitable for everyday use. This mascara's aim is to provide the 'most natural-looking lashes' possible whilst offering a lengthening, and curling results. The rise mascara also has the ability to 'weightlessly' lift your lashes, after all it is called 'rise'.
You could also expect a subtle volume that's great for everyday looks, the 93% inclusion of natural and clean ingredients definitely adds to the suitability of daily wear. It's not only vegan and cruelty-free but paraben and fragrance free, seems like it maybe suitable for sensitive eye peeps too!
Formula
The mascara's formula is one of its strengths for sure in my opinion, it's vegan, cruelty-free and apparently 93% natural! It is also labeled as clean so does sound like a sensitive eye friendly mascara. Was it though?
I have sensitive eyes which means my eyes react quite easily especially if it's a new product. If it doesn't get an irritation that's an approval from my eyes but not just my mind yet. So the results were positive from my eyes as I didn't experience a reaction which would otherwise usually be watery or red eyes.
So that's a pass in the formula exam!
Application
Application is pretty simple, I mean at first it is a little tricky to get the bristle position correct even more so if you haven't much experience with lashes designed for curling along with adding volume but once you get the hang of it then it's easy peasy.
You basically position the curved brush head along your natural lash shape and brush in whatever technique you'd usually use.
The bristle is a good size, it isn't too large that you'll end up coating way more than your lashes but not too small that it'll take numerous attempts to cover your hair. The design of the brush is curved as it helps to hug and lift from the root to 'bring out lashes you didn't know you had', the brands words on the milk makeup rise mascara!
Whilst the wavy bristles are ment to deposit product evenly onto lashes which I can say worked to some extent.
Performance
When I was first processing the thought of purchasing this mascara, I was quite taken back at the fact that around 100% of the 29 individuals tested approved the results, stating they saw 'immediate volume, length, lift, and curl'!
Now that is some serious results right there, and to be honest I didn't have any expectations of this being true, I mean come on it does sound unrealistic, right?
So how did I find this mascara to perform?
Well it was okay overall, I mean nothing too exciting however the results were visible enough. I think out of all the features mentioned, the one area that this mascara performed the best was probably the subtle volume which also somewhat added some length too.
I did receive some curling however not to my expectations especially since this mascara is created to provide 'natural lift and length' plus the 'rise' name. The formula was lightweight though otherwise my lashes would have been even weighed down since they are naturally heavy. So I can agree with the 96% individuals who stated it 'did not weigh lashes down'.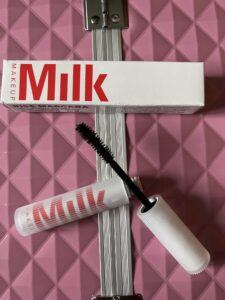 Lastage
The brand don't specifically mention if it is long-lasting and how long is the approximate wear time so I guess we'll have to whip it on to find out.
There are conditioning ingredients which mentioned by the brand should not only leave your lashes soft and not stiff but also offer us a clump free results for as long as possible.
So for me this mascara gave me decent results for around 6 hours till my lashes appeared out of energy so I had to reapply around that time which of course didn't really look good as there were dry chunks of formula. So I think this mascara does well for around 6 to 7 hours until not much can be done after.
So overall I'd rate the milk makeup rise mascara an 8/10! It is great for an everyday casual look as it isn't too dramatic yet still manages to add length. That way lastage wouldn't be a problem either as you won't be hoping and praying for it to pull past what is out it's league. It's suitable for sensitive eyes and has a clean formula too!
If you are looking for something a little more dramatic then I suggest you check out the milk makeup kush mascara!
Have a great day!
Please follow and like us: