I was on the lookout for a liquid eyeliner in a pen form that features a soft flexible felt tip and that's when the nyx epic ink liner popped up. It seemed to have a fairly good review rating so I thought why not!
I'm saying that but I'm not the one to actually purchase a product just by glancing at the reviews, I mean okay I wouldn't grab a 0 star product but you know what I mean, every experience varies! Or maybe I can, to see if it really is that bad as well as compare my experiences.
Okay enough of that, that's another story! Shall we start? Think so!
Disclosure: This post may contain affiliate links which means that I may earn commission if click and make a purchase but no additional cost to you.
Description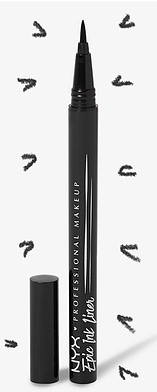 The Nyx epic ink liner is an intensely pigmented liquid eyeliner that features a waterproof and long-lasting formula that's vegan too! The epic ink eyeliner apparently allows you to great any look, 'Fine and natural, broad and bold', basically whatever your imagination draws.
You get to choose between 2 colours the classics; black and brown, which I went for the black though initially I was planning on purchasing a brown not too sure how the opposite happened, but oh well we're here now!
Anyways back to the liner, so as I was saying the nyx eyeliner is a felt tip pen form quite similarly designed to the glossier pro tip or kat von d tattoo liner. It features a 'slender and supple brush tip'.
You can control the thickness of your line by pressing down gently for a thicker result or the usual light hand for a crisp, thin line. The brush tip makes this easier as it is said to be flexible.
Application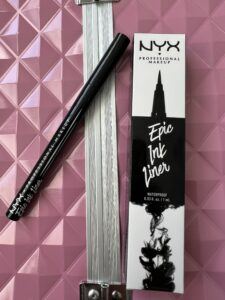 So with the brand stating the liner features a flexible tip I was certainly expecting a smooth experience. So was it? Yep, it was and I think the design of the liner evidently added to the ease of application. It is slim and quite comfortable to hold. 
The tip of the liner is soft, not the hard ones where your eyes are suffering every time you create your look. The fibres are flexible since they do respond to my directions.
Performance
The performance overall is awesome! They certainly stayed true to their word when they said you can create thick and thin lines since  I was able to accomplish both widths. If you want a thin line then gently does it, for more width pressing a little more allows the brush to deposit more product. 
The pigmentation is good, the first stroke creates a visible line however the second layer is what gives a nice rich hue. The nyx epic ink liner has a little shine to it, which at first I had mistaken it for being wet and not dry. However when I gave it a tap, I noticed it was actually the finish of the epic ink liner.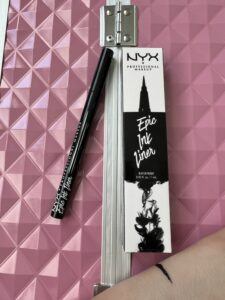 If you are asking if it's' waterproof then the answer to that is: of course! The swatch on my hand proves it! I washed my hands numerous times however the liner fought against it till I decided to wipe it off with a makeup remover.
Lastage
The nyx epic ink liner is supposed to be a long-lasting product with no smudging too, on top of that it features a waterproof finish. So with this being stated, I am expecting at least a 6 hour wear with minimal mess. So does it keep it's promise?
Well I can confirm it does since it got through over 6 hours however there was a tiny issue of smudging around the 7th hour mark. To be honest I'm not really complaining since it did pretty well according to what I was estimating. Other than that, through most of the wear time the liner remained crisp and intact. The richness of the pigment did fade towards the end but nothing too drastic.
To buy or not?
Overall I give the nyx epic ink liner a 9/10! It stays true to it's word, being waterproof, easy to apply and gentle. The pigmentation is rich and with the lastage being great to I think this liner is a great choice for any individuals who are looking for a product suitable for daily usage being able to put up with what the day brings!
If you would like to check out the nyx epic eyeliner for yourselves then I suggest you tap here!
That's it for now peeps!
Have a great day!
Please follow and like us: