I decided to grab myself the phb ethical beauty mascara along with their eyeliner when I spotted a sale, great opportunity right?!
Anyways if you'd like to know how this natural mascara performs then do continue reading as I go through the pros and cons!
Description
This all in one mascara is a multi award-winning product, with claiming the natural health beauty awards 2016 as well as the green beauty natural beauty award 2017!
The aim of the all in one mascara is to 'lengthen, thicken and volumise' lashes with its gentle water resistant formula. PHB claim it's meant to last all day without the annoying problem of smudging or flaking! Sounds cool!
But that's not all! The formula is hand made with botanical oils to ensure your lashes are protected, it makes it extra special! And if you have sensitive or watery eyes like me then this is a great option as it is carefully pH balanced so no eye reactions here!
Formula
I feel like the addition of ingredients such as organic olive oil and acacia gum certainly make a difference to my lashes. It gives it that soft and adds some shine to then even after I've removed it, with results being more obvious with regular usage.
I mean olive oil is known for its conditioning and strengthening properties whereas acacia gum helps more with the formula results; ensuring a long-lasting and flake resistant result, well at least according to their site!
Out of all the new eye products I've tried I'd like to say that PHB ethical beauty are doing a great job with their formula and keeping sensitive skin and eye peeps in mind as my eyes didn't water or react to this mascara!
Usually my eyes would either start watering or sting a little but not this time round! So I hope they don't change the formula!
Application
The mascara comes with a brush applicator with bristles that are both long and short which helps coat each lash evenly and captures the small lashes. The applicator does a decent job in depositing the formula, it reaches the small lashes on the bottom too!
The all in one mascaras main aim is to 'lengthen, thicken and volumise', so does it?
My lashes are naturally quite thick however lack the length so if I was to notice any results it would surely be the lengthening effect. And that I did experience, I did notice the length on my lashes which in a way gave them a volumizing effect too! So I'd say the all in one mascara does to some extent do as it says!
If you have small or thin lashes then I'm confident to say they should do a pretty good job!
Lastage
PHB do mention their all in one mascara provides a long-lasting finish without smudging or flaking, so does it?
Well the formula did stay strong for roughly 8 hours, I mean to me that's long enough! I had to re apply to keep that lengthening effect going as it did become less visible for a dramatic effect that is.
I feel it would do great if you are going for a casual look but as I weren't wearing fake lashes, instead replacing the dramatic effect with this mascara, I had to reapply. I didn't experience any major clumping or flaking in the first round. The second round did dry up a little which is understandable so I'm not complaining.
Overall
So overall I give this mascara a rating of 8.5/10! And yes the point is necessary! I love the formula, the simplicity of the design as well as their thoughtfulness of contributing a small amount of profit to a charity. The lastage is great too as is their ability to add length! It's definitely ideal for daily wear and even dramatic looks!
However, I think it'd be nice if they could drop some new shades into their line!
If you'd like to check out more mascaras made for sensitive eyes the tap here
Otherwise you can click here for best vegan lengthening mascaras!
Have a great day!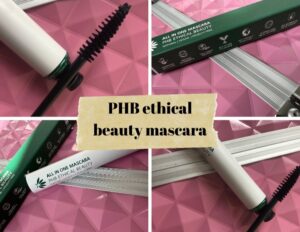 Please follow and like us: