I wasn't initially going to purchase the urban decay glitter liner, I was actually looking for a glittery eyeshadow palette to mess around with but then suddenly the heavy metal glitter eyeliner popped up and since it was glittery and can be worn on the lids I decided to go with it!
Disclosure: This post may contain affiliate links which means that I may earn commission if click and make a purchase but no additional cost to you.
Quick Overview
Pros
Decent shade range
Smooth textured formula
Lastage is good
Good consistency
Cons
Brush seemed a little flimsy
Some fading
Urban decay glitter liner Description
According to urban decay this glitter eyeliner is 'the bad girl way' to wear liner! It features an intense and sparkling gel which unlike other glittery products you don't have to shake due to the glitter being infused in a gel.
The formula contains peach, carrot as well as cucumber extract, known to not only condition the skin but also smoothen and soften. This liner is suitable to wear on its own or over other eyeshadows. And even layer two shades together if you're about the 'intense glam rock effect'!
Shades
The urban decay heavy metal glitter eyeliner comes in 12 colourful shades including browns, blues, pink, maroon, beige, silver, purple, and even iridescent!
I was stuck between selecting quite a few shades, mainly the dark ones as I haven't experimented with the lighter ones just yet, but I am planning on pretty soon (don't want to be missing out on something fun though) just not sure where to show off all those colours off to :)!
So I ended up grabbing the shade named 'spandex' which is a deep blue-black with iridescent glitter as well as the green one called 'stage dive'. I like the colour it's certainly versatile, suitable for parties and even daily wear that's if you want to add some intensity!
One thing which I did notice is that the shades are a little different to the ones displayed which was a little disappointing but other than that the colour option is a good size.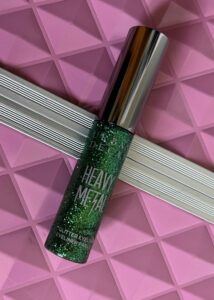 Application
The urban decay heavy metal eyeliner features a brush applicator which I'm not a fan of as my hands aren't too steady, basically I usually end up creating a mess rather than a line.
Anyways the brush is 'thin tipped' and precise according to the brand which should make it easy to create fine glittery lines right? So how was it?
Well let's say it did take a few swipes for me to achieve a satisfactory looking line, but I wouldn't say it's because of the applicator, it's more about my experience.
The urban decay brush though I did find a little flimsy was not that bad. I feel like although the bristles were a little short it weren't as firm as I had wanted it to be or expected.
But to be honest it's quite good, I mean it gets the gel on nice and evenly and feels soft on the lids too.
Formula
The formula does feature small glitter crystals however unlike some glittery products the urban decay ones can't be felt on the lids. I think this could be thanks to their plan of infusing the glitter into the gel giving the crystals a soft coating that isn't felt on the skin.
The formula isn't watery, it has just the right consistency. Just think gel, that's how it is but with a tad bit of liquid so it is actually easy to get on and smooth.
I guess the peach, cucumber and carrot extract are an extra bonus apart from the smoothening and softening.
Lastage
Usually glitter liners aren't as long-lasting so to be honest I weren't going to be expecting some strong stay power. So I was a little surprised when I only experienced minor problems such as a little fading towards the end, I'd say the fourth hour of wearing it.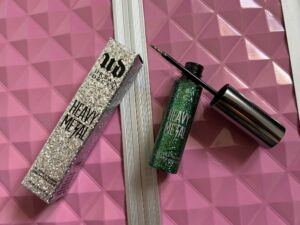 The glitter was still visible after a good amount of time so I'd say it has a good lastage power too and since applying is smooth it shouldn't be a problem to top up, only if I was good with brush applicators! Guess I'll have to practice!
Overall I give this urban decay glitter eyeliner an 8/10! The shade range is great, lastage is good too as is the formula and application! If you would love to add that extra rock to your look then I guess this liner would be a great addition!
If you'd like to check out the urban decay glitter liner for yourselves then tap here!
Looking for more then I suggest you tap here for more awesome vegan glitter eyeliners!
Have a great day!
Please follow and like us: