Are you after a vegan cream eyeshadow? Do their ease of application appeal to you? Well then I suggest you tag along as we're going to be going through some awesomely smooth cream eyeshadows that make applying and blending alike a dream!
Here we go!
Disclosure: This post may contain affiliate links which means that I may earn commission if click and make a purchase but no additional cost to you.
Quick Overview
Zao cream eyeshadow
ELF no budge cream eyeshadow
Charlotte Tilbury eyes to mesmerise
24 7 urban decay shadow stick
Revolution pro eye lustre cream eyeshadow pot
Zao cream eyeshadow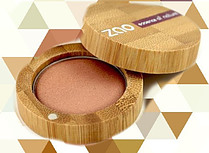 The zao cream eyeshadows are a bunch of 100% natural and certified organic formulated products. They're also refillable making then a great eco friendly brand. Zao does have a small range though consisting of only 4 individual 'vibrant and luminous' colour.
Their creamy and silky texture means application is easy swipable onto the skin. These eyeshadows are also said to be 'very gentle on the skin', softening as well as protective thanks to the rich organic avocado oil.
Elf no budge cream eyeshadow
Affordable and a 3 in 1 the elf no budge cream shadow is probably something you should along if you are traveling. It's not only an eyeshadow but can be used as a primer and liner too! Awesome right?!
According to elf you'll love this product due to its easy to apply creamy formula and it's ability to deliver blendable, long-lasting colour that won't smudge, budge or crease makes it easier to create a range of looks. There are neutrals as well as vibrants too, totaling 8 colours.
Are you ready to be mesmerized?
This long-lasting cream eyeshadows comes in 12 shimmery shades, ranging from rose gold to chocolate bronze!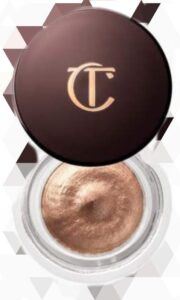 All you got to do is swipe and glow, that's how easy application is. Each shade features a metallic shine that's easy to glide without the need to drag or have a mirror at hand. Great for when you're in a hurry!
The infusion of vitamin E ensures your lids are hydrates as well as protected from free radicals.
The 24 7 eyeshadow by urban decay comes in a stick form that's retractable too! You get to choose from 7 wonderful shades with even three different fade proof finishes; matte, shimmer and metallic. The shades range from neutrals to bolds.
They are highly pigmented so a little goes a long way. The creamy formula makes application effortless and blending super easy too.
Apparently it dries down waterproof with crease free results for up to 24 hours which is where the name of this shadow is obtained from.
Revolution pro eye lustre cream eyeshadow pot
These tiny eyeshadow pots are great for traveling and on the go glam as well as trialing new products. The full range consists of five glistening shades, focusing mainly on gold tones.
Their smooth creamy finish makes then easy to apply, perfect for a quick flawless eye look. They are vegan and cruelty-free! Oh and super affordable too!
So do you prefer cream eyeshadows or are the powder compact your go to? Let me know in the comment section below!
If you don't want to leave then tap here to check out more awesome vegan eyeshadows in the form of palettes!
Or just as creamy are the liquid eyeshadows which you can view here!
Have a great day!
Please follow and like us: