It's useful having brush sets as you can usually carry them in one piece rather than individual pieces, where you end up loosing the brushes especially if you're like me, not an organised person! So for that reason I've decided to list a bunch of awesome vegan makeup brush sets, ranging from small collections to large ones!
These brands refrain from using animal by-products like fur instead they use synthetic fibres such as nylon or taklon!
These fibres work just as great and what's more is they don't carry as much bacteria compared to natural brushes!
Shall we begin?!
Here we go!
Nanshy masterful collection
The nanshy masterful collection is a set of makeup brushes consisting of 12 pieces. This set contains all the brushes you'll need for your eyes, face and lips!
They feature antibacterial, vegan and cruelty-free synthetic bristles which are said to give you a 'flawless application'! Cool right?! Nanshy state this pack is for everyone, including pros and beginners alike. Available in two shades, black and white.
If you want more information on the nanshy brush set then I suggest you click here!
Ecotools eye kit
If you are all about helping not only animals but the planet too, then you are going to love the eco tools eye kit! This eye brush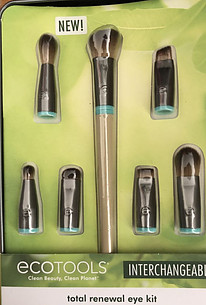 set features one interchangeable handle, which you can attach and change around with different brush heads making it ideal for not only traveling but less waste too!
This kit also comes with a reusable tin case to safely store your brushes.
Each brush contains soft synthetic bristles with the option of renewable bamboo handles and recycled aluminium ferrule.
Did I mention the outermost packaging is biodegradable!?
You should check their other brushes too, sets or individual brush, they are all eco friendly!
Tap here for the full review on the Ecotools eye kit!
Luxie 30 pieces rose gold brush set
The luxie 30 piece brush set features rose gold coloured synthetic, vegan and cruelty-free fibre bristles which can be used for every makeup look!
This super soft and high quality set though does comes at a high price tag, around $200.
The luxie large set offers a zippered case to store all your favourite brushes all nice and neatly.
Each brush is coloured in a baby pink shade with rose gold ferrule, making it a beautiful addition to your collection as well as a great gift for makeup lovers!
Elf professional set of 12
I think it's time to include something at an affordable price! Here's when elf comes in to save the day!
The elf professional set of 12 comes with brushes for the eyes, brows, lips and face, all for just $12! Now's that's a bargain!
Each brush is also said to be designed to fit comfortably in the grip of your hands so you don't have to worry about it slipping instead you are able to focus on your creativity!
What's your favourite brush set? Do you prefer sets or individual brushes? Let me know in the comment section below!
Have a great day!?
Please follow and like us: