I'm always reading labels and sometimes ingredients. Maybe you do too! So a while back, when dinosaurs ruled the earth, joking not that long ago, but a couple years ago when I used to come across cosmetics or in that case any products that had vegan and cruelty-free labels stamped on it, whilst on the other hand some products only had one of them labels, I used to get confused. But that confusion led me to question what's the difference between vegan and cruelty-free? Are vegan and cruelty free cosmetics the same?
I used to think and I'm sure some of you peeps did or do too ,that whenever a product says it's vegan it automatically means cruelty-free or vice versa but the real answer is…
NO! It doesn't mean that.
So below I'm going to explain what the differences are and what they really mean individually. (My sweet baby in the picture)
What does it mean when a product reads vegan?
Right let's get this straight. So when you see a produce stating happily that it's vegan it basically means that no animal ingredients or animal derived ingredients are used.
Examples of these common ingredients include beeswax which is produced by bees, Collagen from animal tissues of cows or other mammals, carmine from crushed beetles and many more.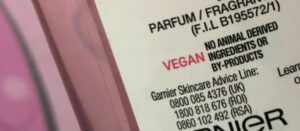 So what does cruelty-free mean?
A Cruetly free label means no animal has been used to test or gone through horrific pain and torture just to make that product.
Animals that are used for testing usually go through various degrees of pain such as being force fed, injected with burning chemicals and much more.
Cruelty free products are a little confusing sometimes unless you clearly see the 100% cruelty-free certifications like the peta or leaping bunny.
The reason why you may need to look out for these certifications (that's if you are after cruetly free items) is because without them, any of the ingredients in the produce maybe individually tested on animals even if the final product isn't.
And so by keeping an eye out for these labels you'll definitely know that with the product in your hand, no cruelty has taken place throughout the whole process of making and testing.
Cruelty free but not vegan
Yes that does exist!
Products that state they are cruelty-free and don't mention anything to do with vegan means that it weren't tested on animals however it does include ingredients which are animal derived which also kinda means animals sometimes could have gone through torture and pain.
There are many items that state they're cruelty-free but aren't vegan. So watch out!
Vegan but not cruelty-free
Products that are vegan may not always be animal cruelty-free even though it sounds like.
They may not have animal derived ingredients but have been sadly experimented on animals whether that be the individual ingredients or the final produce.
In some countries the law requires products to be tested on animals either themselves or by third parties which therefore makes the product not cruelty-free.
China is an example of a country which requires all products to be tested by law.
That's it you lovely lot, thanks for reading everyone and as usual if you have any suggestions or questions please feel free to comment them.
And if you don't want to leave then tap here to view some awesome affordable vegan makeup brands! 
Have a great day! ?
Please follow and like us: