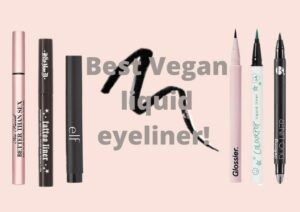 Maybe you prefer liquid eyeliners as they feel comfortable in your hands, or they allow for better control. They also seem like they deposit more pigment than a pencil, well whatever the reason here are some of the best vegan liquid eyeliner examples which I suggest you check out!
Whether you simply want to define your eyes or are after a more dramatic cat eye, these liners will surely be there to aid you and make your application journey and overall experience much more fun and easy for the pros and beginners alike.
Quick overview:
Kat Von d tattoo eyeliner
Too faced better than sex liquid eyeliner
Colour pop bff liquid eyeliner
Elf intense ink eyeliner
Glossier Pro tip eyeliner
Kat Von D tattoo eyeliner
The kat Von D tattoo eyeliner hasn't just gone and won beauty awards and become the best-selling for no reason, it's favoured amongst vegan and non vegans alike!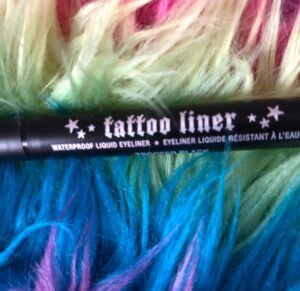 For reasons such as the ability to 'create any look imaginable on every eye shape' as well as it's all day long wear feature.
This eyeliner is great for beginners and pros thanks to it's ultra precise brush tip which makes creating the popular cat eye, as well as a range of other looks, so much easier and simpler.
Kat Von D state you won't have to worry about this liner going anywhere, thanks to it's waterproof and smudge resistant formula!
This eyeliner is available in two colours a troope black and brown.
If you'd like to really know how this eyeliner performs then tap here!
Too faced better than sex liquid eyeliner
Too faced literally say this eyeliner is better than sex! With it's 'ultra rich deep black pigment', you can now get amazing visible results with just one swipe. Yes you heard it One Swipe!

And apparently it's the easiest liner you will ever use. That's probably down to the dual fibre brush which doesn't only create a sharp, smudge proof line a few times but every time!
The long wearing 24 hour waterproof and non-fading formula makes this eyeliner perfect for anyone, whether you are going to work, just doing your day to day business or rocking to a party!
At least you won't need to worry about what might be going on with your eyes!
It's also flake proof!
Colour pop BFF liquid liner
If you love colour then you definitely would want to check out colour pops BFF liquid liner. They offer 8 different shades, they have the usual black and brown as well as pink, sapphire, yellow, red, white and green.
The flexible tip allows for an intense pigmentation in one swipe that's smooth and easy to glide without the need to skip and tug at your delicate eyes.
With this BFF liquid liner you can be sure you won't be let down with its transfer resistant formula that won't smudge, feather or run all day!
Did I mention how cool the packaging are, they literally look like coloured pens and can fit right in with them without anyone noticing.
Elf intense ink eyeliner
Just a quick warning for those who are after strictly vegan products, elf is fully cruelty-free but not all their items are vegan. Don't worry though as this intense ink eyeliner is both vegan and cruelty-free!

This liquid liner doesn't only have a rich pigment with a long-lasting effect but is also quick drying, great for those of you who are in a hurry but are after an all day long wear.
You can't go wrong with their smooth gliding and precision built felt tip that allows you to create lines, sleek or bold. That's of course without the trouble of feathering, smudging or running down.
Tap here to check out how the elf eyeliner actually performs!
Glossier pro tip eyeliner
The pro tip eyeliner by glossier is a liquid eyeliner which has a brush tip. The brush tip enables you to create a precise definition and an application that's easy and smooth, all from the help of its flexible fibre design.
To use this eyeliner you would have to shake it first as it has an internal ball shaker which apparently allows the formula to flow through freely and evenly, giving you a no drag application.
It's said this eyeliner has the potential to last a whopping 12 hours! And the formula is not only smudge resistant due to it being quick drying but also easily buildable and densely pigmented.

You can check out how great the pro tip eyeliner by glossier is by tapping here!
B. Superdrug pro duo eyeliner
Have you ever wished you were able to go from just defining your eyes to a more dramatic look real quick with just one liner!
Well then, you are going to love the vegan pro duo eyeliner by B. Superdrug!
It is a two ended liquid eyeliner, one side has a thin tip, perfect for adding fine definition whereas on the other end you have a thicker tip, allowing you to create depth and drama.
Only available in one shade which is black, this eyeliner is formulated to give you a highly pigmented and long lasting look. That also glides on effortlessly!
Fenty beauty Flyliner
Available in two shades, satin black and chocolate brown, the flyliner is said to be a 'fadeproof, water resistant longwear' pen that delivers 'everything you want in a liner, and then some', which sounds like a dream right?!
The water resistant formula means it is fast drying and keeps fading at bay along with 'crisp colour intensity' and smooth uninterrupted ink flow, what more could we want in a liner! It is also designed in a unique triangular shape which I think certainly provides a more comfortable hold!
If you'd like to see how it actually performs then I suggest you tap here for a full honest review!
If you prefer pencil eyeliners than tap here!
Do you currently own any of these eyeliners? What do you think of it? Drop them down below in the comment section below!
Have a great day!?
Please follow and like us: