If you want to see how this foundation really performs, well then my friends you're at the right place, continue reading this elf flawless finish foundation review and you'll find out!
I decided to purchase the flawless finish foundation as I was looking for a matte foundation which also catered for the oily side of my skin. This particular foundation is oil free so seemed like the perfect solution.
Plus elf state it's suitable for all skin types which I would say definitely convinced me even more as I have a somewhat sensitive skin and finding a foundation which ticks all these boxes is quite tricky.
Disclosure: This post may contain affiliate links which means that I may earn commission if click and make a purchase but no additional cost to you.
Quick overview:
Pros
Great consistency – not too runny neither thick
Easily blendable
Lastage is good
Wide shade range
Affordable
Cons
Dries quite quickly
Could do with more formula in bottle
Application/blendability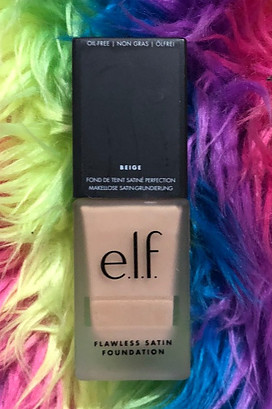 On the elf website, the brand recommend using a foundation brush or sponge which is exactly what I did.
I used the beauty blender to help achieve a medium coverage and it was pretty easy to apply.
I love the consistency it works well with the sponge. It's not too runny neither stiff, just right if you ask me!
Blending was okay. The reason why I say this is because it seems to dry quite quickly, other than that it would have been great as it does blend easily and evenly.
Because of the fast drying problem, I find it is wise to apply in steps, by this I mean spludging a little on the forehead and blending then on the cheeks and so on.
Application/blending = 7/10!
Lastage
Obviously you want a foundation that lasts all day if not at least just over half a day, so when I read that this formula is ment to stay on all day, I was excited to give it a go.
I have combination skin so my forehead gets really oily which usually decreases the overall lastage of many products quite a lot of the time.
I picked this foundation knowing that the oil free formula is going to be in my favour, plus the all day wear elf promise. I had to grab it! But was I right to trust it this much?
Well I can gladly relax being assured that it did provide a pleasant result. It got through most of the day without any major issues such as cakiness or patches. I did use a setting powder at the end to maximise it's stay power.
Lastage = 8/10!
Shades
Another of my favourite aspects of the elf flawless finish foundation is the shade range. It's quite broad with around 40 liquid shades, that includes various undertones such as cool, neutral and warm.
The shade selection is sorted into fair, light, medium, tan, deep and rich. The fairest is 'lily' which has golden undertone and the richest is 'ebony' with neutral cool undertones.
The shade that best suits me is 'beige' which is light with cool pink undertones.
It goes well with my skin tone and I'm glad I don't have to mix it with other shades as I have to with other foundations I've tried in the past.
Even if I have to it's not much of a problem thanks to the super affordable pricing.
The foundation has a nice fragrance to it which is another thing I like about it. Some formulas smell of paint making me not want to put it near my face let alone apply it!
Shade range = 9/10!
Heavy or lightweight?
The flawless finish foundation is said to provide medium coverage that 'delivers a lightweight semi matte finish'. But does it prove right?
Well, I wouldn't say it was lightweight but it didn't feel heavy either so I'm kinda stuck!
It's actually in the middle, it certainly doesn't present signs of a heavy foundation such as cakiness or a stiff face.
So if I had to put it into one of the categories it most likely would be towards the lightweight side.
Just to let you peeps know, I stopped at a medium coverage so I'm not entirely sure how it would feel with a full coverage, I'm guessing it may give similar results.
Feel = 7/10!
Does the elf flawless foundation oxidize?
Well the answer to that my friends is no Thankfully. I have opened it a while ago and the colour is still the same as it was when I first unscrewed it! Maybe it's the way the bottle is designed, a pump instead of the whole cap coming off most likely stops oxygen getting into it.
The downside (of course I have to find something) is that there isn't much product packed in the bottle.
I haven't run out of it yet but that's only because I don't use it everyday so imagine if I did then it would have finished within a few months.
Even if the whole bottle can be loaded it would make a difference, currently the liquid doesn't fill the whole thing due to the design taking more of the room. I think there is quite a bit of wasted space although it does look good.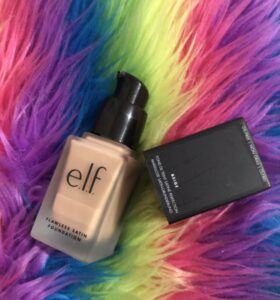 Overall
Overall I would rate this foundation a 8/10! It works pretty well on my problematic combination skin including the lastage and the ease of application. If you'd like to check out the elf flawless foundation for yourselves then tap here!
Have you tried any of elf's products? What's your favourite product?
Check out other elf products below!
Or the elf 16hr camo concealer which is recommended to use with the elf flawless finish foundation!
If you have any questions or suggestions let me know in the comment section below!
Have a great day!?
Please follow and like us: