You may have been looking everywhere for the best vegan concealer! up, down, right, left, centre but now your struggles stops here! As I'm about to give you a bunch of awesome and best vegan concealer that will surely do the job they were meant for!
I know how important and life saving they can be. Dark circles, pimples, under eye bags, whatever it is, we literally rely on this small tube to sometimes help bring up our confidence!
I'm going to try to include various concealers, some may be great for light coverage others heavy coverage or in between, as well as formulas best suited for oily, sensitive or dry skin.
So stay with me if you are on the hunt for a magical friend that's gentle and pain free!
Fenty beauty pro filt'r instant retouch concealer
Great for: all skin types, YAY!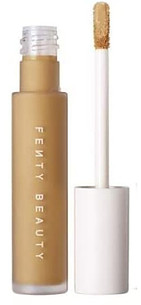 If you love Rihanna's Fenty beauty foundation range then you are going to definitely love their creamy concealers. They come in a whopping 50 shades. You're bound to find your shade!
This medium to heavy coverage is perfect for covering eye bags, tired eyes, dark spots, blemishes, you name it! Just apply and smile!
Being easily blendable and said to be as light as a feather all whilst producing full coverage, now that's what I'm talking about!
There's no settling into fine lines or wrinkles with this one as it's crease proof and long wearing!
Too faced born this way sculpting concealer
Great for: everyone really!
Available in 35 shades, this multi use concealer allows you not only to conceal but highlight and contour!
It's weightless, hydrating and oil free at the same time!
You can expect maximum coverage with a great natural finish making people think you literally was Born This Way!
Photo friendly and long wearing is another great feature of this product.

It's interestingly diamond doe shaped foot makes application easy whether you are after a thick spread or thin.
Urban Decay Naked skin Concealer
Great for: all skin type
The concealer that won the best beauty stylist award allows you to easily build a complete even coverage with a demi matte finish.
You can build to any amount of coverage you need without worrying of it settling into fine lines or creases.

The Japanese green tea infused inside allows the formula to give the skin a bright, more radiant complexion giving you a youthful appearance.
14 shades are available in this stay naked concealer. It comes in a slim bottle which you can easily fit anywhere.
For a full review tap here!
Inika certified organic perfection concealer
Great for: all skin types
If you are looking for a concealer that brightens and balances the skin whilst also covering imperfections with totally organic ingredients, then you are going to love this inika's concealer!

It has around 71% organic ingredients!
Their lightweight formula makes blending an ease for a flawless finish that's sure to provide your skin with many benefits thanks to the infused aloe Vera, Shea butter and jojoba seed oil.
The hydrating formula allows no creasing or caking.
Comes at a great price but shade range is very limiting with only 3 shades.
pacifica transcendent concentrated concealer
This mineral and paraben free concealer allows you to easily camouflage imperfections, dark circles and blemishes. You can pull out a light to medium coverage with this one.
With ingredients like coconut water, kelp extract and sweet iris extract you definitely would be getting skin benefits as well as concealing effects.
It's also really affordable coming at $16 or £12.16 or A$22.19!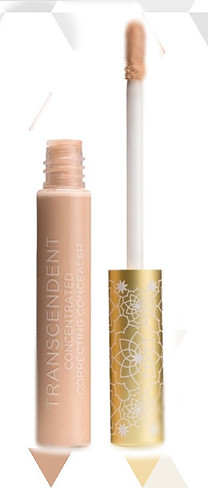 Milk makeup flex concealer
Great for: sensitive skin or dry
Coming in 24 shades for a range of skin tones, this milk concealer has some cool ingredients such as the elastic marshmallow root extract which helps the concealer become one with your skin without the caking or creasing.
It's also infused with blue lotus, oooo, which is there to moisturise whereas chamomile helps calm redness and soothe skin.

You should expect to get a medium coverage covering blemishes, hyper pigmentation,redness and many more out from this tube at a low cost too!
It has a useful doe foot applicator and a tube which allows you to squeeze out the last of this product.
BareMinerals bearskin Complete Coverage Serum Concealer
Great for: normal to dry skin

Providing a full coverage that has a silky smooth texture, the bare mineral's serum concealer is especially made for the delicate area under the eye helping to decrease the appearance of dark circles and imperfections.
It is a great choice for those of you who are aiming for a natural look.
The formula includes antioxidant lilac plant stem cells for a lustrous finish and an anti aging benefit with no parabens. This concealer is only available in six shades.
Barry M all night long concealer
The Barry m all night long concealer comes in 11 shades, all ready to give you that flawless finish in full coverage, minus the heavy feeling and you don't have to worry about showing up of fine lines, it completely takes care of that too!

This easily blendable concealer allows you to hide imperfections as well as illuminate your complexion with a smooth soft focus finish, that's luckily free from parabens and instead formulated with vitamin E to help moisture.
So if your skin needs moisturising then maybe the all night concealer can help you!
Kat Von D lock it cream concealer
Kat Von D states this concealer is everything one would want a concealer to be! It's super creamy, blendable full coverage and lasts all day!
Apparently you only need a few strokes to cover a range of imperfections, blemishes, correct discoloration and you'll be surprised, that's not it's only uses.
It's a multi tasking concealer as you can highlight and contour. And guess what? There's still more to it than that!
It's formulated with an 'ultra moisturizing hydra boost complex' which doesn't only keep your skin nourished but smooth too, all day long.
Just one coat can provide enough coverage but don't worry as it's lightweight so you shouldn't feel anything on your skin.
With over 20 shades, this concealer can be used by anyone and everyone, that includes a range of skin tones and undertones.
Plus you can customise your own shade using the clever 'white out' concealer. That sounds cool!
NYX HD photogenic concealer wand
Coming in around 21 shades, plus 3 colour correcting shades, yellow, green and lavender, this concealer is the brands best seller! Not surprised though.
NYX state this product is perfect for everyone and anyone looking for a formula that 'goes on like a dream'.
The photogenic concealer covers imperfections, colour corrects redness as well as any discoloration and under eye circles with the promise of no cakiness.
You get all of this apparently with no 'obvious' signs that you're wearing concealer, in other words 'natural-looking concealer coverage' with a great price tag, $6.
Elf 16hr camo concealer
Hey oily skin peeps! This one's for you, well for everyone but especially for us!
The 16hr camo concealer provides full coverage in a matte finish whilst also simultaneously moisturizing your skin!
It's formulated with avocado oil to help protect and moisture and also kaolin clay. This special ingredient is what 'helps control the excess oil and shine' that we naturally posses.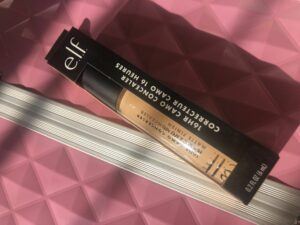 The camo concealer has the ability to cover imperfections as well as under eye circles without weighing down and settling into creases.
The camo concealer doesn't include '16hr' in the name for no reason, it's apparently built to last for around 16 hours. So you can go all day without worrying.
This concealer is available in 26 various shades, including a true white!
Rare beauty liquid touch brightening concealer
Great for: All! Suitable for sensitive skin peeps too!
The rare beauty liquid touch concealer created by the amazing Selena Gomez is a massive 48 shade range lightweight product!
It's a great option for anyone on the lookout for medium coverage that's not only buildable but with 'super long lasting' results too! It's said to be creamy making it a dream to blend, hydrating and sweat resistant too!
The liquid touch concealer has the ability to 'hide – blemishes, dark circles, redness, and fine lines' leaving you with a skin like finish! And if course as the name suggests to brighten your complexion too!
So there you have it peeps, a bunch of amazing vegan formulated concealers.
Do you have any of these, what do you think of them or what's your favourite concealer, I'd love to know! Drop them down below!
And if you liked this post, you can check out some of the best vegan mascaras out there, by tapping here!
Or why not check out concealers in stick form!
Have a great day! ?
Please follow and like us: