I know mascaras are easy to find but looking for a vegan and cruelty-free one can require a little search especially if you're not sure what you're after but don't worry as I'm going to be going through some of the best cruelty free mascara, just to make it easier for you peeps.
The mascaras listed don't contain animal by products and aren't tested on beautiful creatures or animals.
However, do know that some not all the products companies may be owned by a parent company that does test on animals.( All listed in this article are vegan and cruelty-free though)
I've tried to include a mixture of product features and prices so here we go!
Quick Overview 
Too faced better than sex
Eyeko lash alert mascara
Elf volumising and defining mascara
Eyeko yoga waterproof mascara
Pacifica Aquarian gaze water resistant mascara
KVD go big or go home volumising mascara
Inika long lash vegan mascara
Lily lolo black vegan mascara
Tarte lights camera lashes
Lime crime astronomical volumising mascara
Isamaya rubber lash
Too faced better than sex mascara
Too faced mascara is one of the best-selling whilst obviously being vegan and cruelty-free! Too faced is one of those companies that are owned by a parent company which aren't cruelty-free, Estée Lauder owns too faced.
Now let's talk actual product. Thanks to its collagen formula you'll have thickened, lengthened and curled lashes in literally one coat. It's no joke!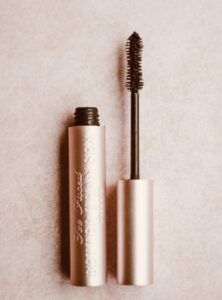 No wonder it's the best-selling mascara in the US. Not forgetting the hour glass shaped brush which makes sure every hair is coated and lasts all day.
Eyeko lash alert mascara
Eyeko mascara helps to nourish and condition lashes with Shea butter. It's suitable to use every day, whether you're looking for a natural look or going for a more intense look.
One coat is great for the natural look but keep adding to create an intense look. Eyeko claim they add extra volume instantly and full fluttery lashes with the available ultra black colour.
Click here to read the full review!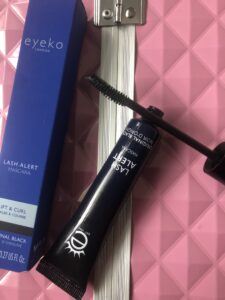 E.L.F volumizing and defining mascara
While too faced mascara is on the higher end of the price range, e.l.f is a affordable, 100% vegan, cruelty-free and pleased to say paraben free.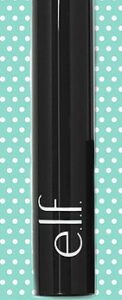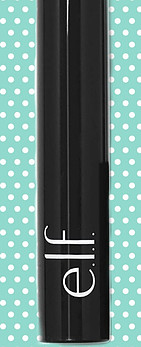 This mascara aims to create voluptuous and full lashes. Your lashes aren't only going to be nicely defined but also coated with vitamin B and E enriched formula.The brush is made from silicone which is different to other mascaras.
For a full review tap here!
Eyeko yoga waterproof mascara
This eyeko mascara is 100% waterproof. Eyeko as a company are vegan and cruelty-free totally!
This product comes with a lotus brush which eyeko state that it extends, lifts and curls your lash hair even the shorter lashes with its straight tip.
What I think is even greater is how they have compared it to a smoothie for your lashes all down to the Korean made waterproof formula infused with blended botanical fruit extracts including strawberry, blueberry, blackberry and vitamin E.
With all these fruity ingredients, eyeko had to be on the best vegan mascara list!
Click here for the eyeko yoga waterproof mascara review!
Pacifica Aquarian gaze water-resistant mascara
This is another waterproof mascara as you can tell by the name as well as being vegan and cruelty-free like the other products listed.
It's also free from nasties such as phthalates, petroleum and no crushed beetles.
With it being long-lasting and at the same time waterproof it's a great product for those of you who are active and don't want mascara to sweat with you.
Along with the wonderful ingredients included is coconut and vitamin B. Pacifica mascara can provide you with lengthened lashes and are available in deep blue and black.
You can read the pacifica full review here!
Kat Von D go big or go home volumizing mascara
Go big or go home mascara is great to add extreme volume as they state. In other words if you want the false eyelash effect then this is recommended.
Containing plant based formula from sunflower and olive oil you are sure to get that healthy volume to your eye hair. The bristles are designed to provide cover to all lashes with smooth texture.
See what this mascaras really like by clicking here!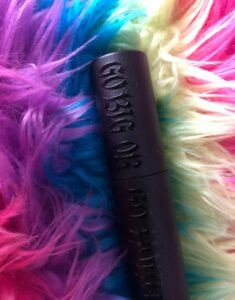 Inika long lash vegan mascara
Inikas mascara is not only vegan and cruelty-free but also certified organic. This mascara is even handy for those with sensitive eyes.
Their 100% plant derived and natural ingredients mascara are sure to give you a healthy, smooth lash.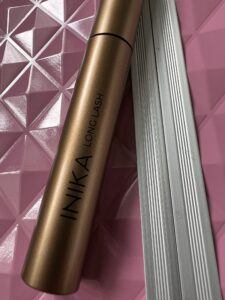 Inika mention their product being infused with vitamin E, magnolia bark extract and sunflower oil, so no worrying of bad chemicals.
The main job this mascara aims to fulfill is to add length and volume with just two coats.
Click here if you want to know what this mascara is about!
Lily Lolo black vegan mascara
This easy to apply natural mascara by Lily Lolo is great for those who are looking to define their lashes. It does this by adding length and volume with it's formula free from chemicals like parabens and silicon.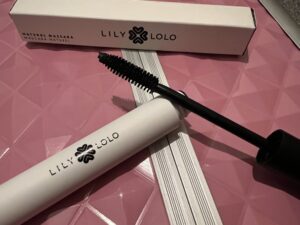 Ophthalmologically tested makes it suitable for sensitive eyes too.
Sadly it's only available in one shade which is jet black.
Anyhow if you want to see what the lily Lolo vegan mascara is about then tap here!
Tarte lights, camera, lashes
The lights camera lashes by tarte isn't your ordinary mascara, it's a 4 in 1, volumizes, lengthens, curls and conditions lashes! No wonder it's the brands best selling mascara.
With it's vitamin rich ultra black formula your bound to achieve a well conditioned, long lasting defined results. Other beneficial ingredients include rice bran, olive esters and carnauba.
A detailed review can be seen here!
Lime crime astronomical volumising mascara
For those of you who love colours, then guess what? You're going to enjoy these awesome mascaras! Oh and also if you are into space, these mascaras are designed with the galaxy in mind!
The lime crime astronomical volumising mascara comes in four different shades, blue moon, 51 which is a light green shade, nebula that's a purple and a black hue called supernova!
Don't worry they are not only about colours, they have more to them than that!
The lime crime mascara coats and separates each lash with a creamy formula that adds definition and drama with each stroke.
It even captures the tiniest of lashes that try to hide in the corners!
Isamaya rubberlash
The ismaya rubberlash mascara is a little different to your usual mascara in the sense it uses 'latex lift technology' to help stretch your lashes up and out! It promises to deliver upto 16 hours of wear that's smudge proof too.
Each lash is enveloped in 'flexible, glossy film' for a better hold that's free from flaking as well as smearing, whilst also managing to provide mega volume, this mascara is surprisingly 'light-as-air'.
Do you have any favourite mascaras and what do you like about it? Tell us in the comment section below or if you have any suggestions!
Right peeps that's all for now, there you have it some of the best mascaras!
But if you really don't want to leave then tap here for some awesome waterproof mascaras!
If you are a fan of false lashes then tap here to check out some awesome cruelty free options!
Have a great day! ?
Please follow and like us: