With Kat Von being one of my favourite vegan makeup brands out there, there was no way I was going to leave the kat Von d go big or go home volumizing mascara out.
But there's more to just being my favourite brand, as I'm about to explain.
So my mind was made to pick this kat von d mascara as my current mascara was starting to annoy me, I literally had to coat so many times at so many angles just to get all my lashes covered. Who's got time for that!
If you have had that problem you'd understand how time-consuming it can be and a mess it can create.
Okay enough of the problems, I didn't pick this item randomly, I had a read about it and here's what they have to say on this mascara:
KVD Go Big or Go Home Mascara is an 'extreme volume vegan mascara' that is thankfully formulated from 'plant-based fats', so no need to worry! It is said to 'last all day' with its 'smooth texture' and without smudging!
It's 'custom-designed fluff brush' is built in such a way so it can coat each lash for a 'fluffy full coverage'.
The main purpose of this mascara is to hit your lashes with a 'big, blown-out volume' effect.
Quick overview:
Pros
No clumping
Brush design is quite effective in coating all lashes
No visible smudging
Adds volume
Cons
A little flaking towards the end
Now onto my favourite aspects about this mascara.
Disclosure: This post may contain affiliate links which means that I may earn commission if click and make a purchase but no additional cost to you.
How well does it add volume?
Of course I'd have to start off by answering this question first as this mascara practically was made for this effect so I had to test the volumising area first and foremost.
Okay so on the first and second coat I didn't really get the result I was after, it was just about visible.
But I wasn't disappointed because my lashes are what is considered a little thick so a little more work is needed for them to pop out. I'd say the single coat is great for a natural look!
The fourth coat is when the magic happened, the lashes then appeared a lot dramatic and bold, all of a sudden which surprised me as I wasn't expecting the results that quick, judging by the first coat.
In other words, the more coats you add, the more drama it creates. If you have thinner lashes, then expect results on the first few swipes.
Clumping?
I think the formula is a genius, it gave a beautiful bold look after a few coatings without any major clumping.
Normally you'd expect a mascara to clump evenmore so if it's main goal is to thicken lashes.
I really liked the way the brush is designed, I think that's partly why each lash was coated evenly and there were no clumping.
The brush design fits nicely with the tube, what I mean by this is, when I pull out the mascara wand there isn't so much excess of product clinged to the bristles which means I don't need to keep swiping extra formula off to the sides, often creating a mess.
The lashes were left nice and fluttery and created a great separation. I can say 'fluffy full coverage' can be checked off the list.
Smudging
Kat Von D states that this mascara will not smudge so I was curious to see the outcome. I wore it for a whole day, by that I mean roughly about 8-9 hrs.
Now some not all mascaras do start to smudge recklessly as the hours pass or when you sweat however this was not the case with this product.
I didn't experience smudging or flaking but towards the end it just started to leave marks under my eyelid.
I'd like to think there was a reason though, I'd blame the yawning. Other than that it definitely was 'smudge proof' and can say it 'lasts all day'. Well most the day!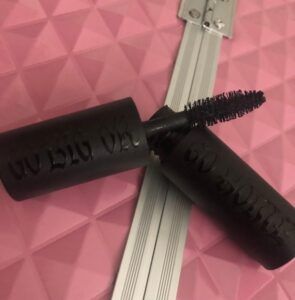 Removal- easy or a chore?
Now some people before buying this had told me that they had a hard time getting it off but some said it was easie peasie lemon squeezy, so who would I believe?
Well this ment I definitely had to try it for myself. I wasn't sure what to expect, so went in with a neutral feeling.
So basically I used water with one lash and for the other lash, makeup remover.
I found the makeup remover gave the best result but water was still usable, though it did take quite a few swipes.
Another feature which was good about this mascara was it's ingredients. It's blended olive and sunflower oil instead of beeswax!
The formula makes my feel comfortable knowing that I'm not just spreading any random mess on my precious lashes and I'm sure you too can relate!
If I had to pick on what I wasn't too pleased with I'd say it would be the effect of length it adds.
It didn't add much length to my lashes though it was noticeable, I'm not really complaining, the volume is enough and beside this product is mainly aimed towards volumising lashes which it certainly did achieve!
I'd also love it if another colour was available like a deep blue. Or am I just being to picky?
Overall this is a great product to buy more so if you're looking for a mascara that adds a significant amount of volume more than length. You can achieve a natural look and easily switch to dramatic with just a few swipes.
So is it worth buying?
Totally! If you aren't concerned about any of the problems mentioned above!
I would certainly repurchase after I'm finished with the current one!
click here if you have made your mind up of purchasing it!
Want to view more awesome vegan mascaras then tap here!
Or here if you are specifically looking for long lasting mascaras!
Do you have a particular favourite mascara? I'd love to know about it! Let me know in the comment section below!
Have a great day!?
Please follow and like us: