The best long lasting mascara has to be able to withstand our daily duties through sunlight and even a bit of darkness (well it really depends on when you applied it).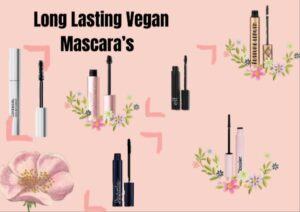 Most often than not these products are formulated to be water resistant as moisture usually greatly reduces the mascaras' lastage.
A good long-lasting mascara also should not clump, smudge or flake, I mean who wants a mascara which is still clinging on for dear life whilst you are there with all clumped up mascara, smudges and flakes all down your face. Definitely not me!
By the way have you tried out tubing mascaras, they are great for adding length and providing reliable results!
Let's begin shall we?!
Glossier lash slick
Glossier lash slick mascara is known to be one of the brands best-selling products! It's said to be able to create a visibly lengthened and lifted lash which gives a lash extension effect.
The water resistant formula allows you to get through up to 12 hours of your daily business without worrying of any smudging or flaking but when it is time to let go then gentle warm water can do the trick!
It's also perfect for everyday use thanks to the nourishing ingredients like pro-vitamin B5 and biotinyl tripeptide-1.
Too faced better than sex mascara
I know many of you peeps might have purchased one of these bad girls or at least have heard of the too faced mascara, after all it's Americas best-selling.
Too faced state this mascara is 'so amazing' that it's actually 'better than sex'. Just one coat is enough to leave you with a thicker, longer as well as curlier lash!
Purchasers have mentioned how this mascara lasts all day and stops them from looking like a raccoon by the end of sunlight!
I suggest you check out this mascaras full performance here!
Elf waterproof lengthening volumising mascara
This affordable product leaves its owners with a 'fuller, thicker-looking' lash without the irritating smudging or clumping appearance.
The new improved formula is designed to 'weather it all', staying apparently put through crying and swimming. Now that sounds sturdy!

The formula is created without harsh chemicals such as phthalates, parabens, nonylphenol ethoxylates and other junk so you don't have to fret about damaging your poor lashes!
The quick dry formula aims to separate and coat each lash to achieve maximum length and volume.
Barry m feature length
First of all let me start of by saying the design of this thing is fantastic! Now let's begin!
The Barry m feature length mascara mainly aims to ' separate and define lashes for super star eyes!' It's flexible tooth comb brush is able to bend, allowing each individual lashes to be coated in rich black formula for a long-lasting look!
Covergirl exhibitionist waterproof mascara
The covergirl exhibitionist waterproof mascara was created to keep your lashes ' bold no matter what comes your way'. I mean that sounds pretty interesting!
Its vegan formula is supposed to leave you with beautifully defined and soft lashes even with just one swipe!
There is also expected to be no smudging or flaking just pure bold, longer as well as longer lasting lashes!
Lune + aster stratosphere volumising mascara
Okay this one is quite new for me, I don't know how I haven't heard of it before, like HOW!? Anyways this brand has a small section dedicated to vegan only products, and this particular volumising mascara was one of them products.

The stratosphere volumising mascara aims to develop ' impressive lashes' with a formula that's filled with nutritious nutrients for the lash.
The ingredients we are talking about here is vitamin B5 which help nourish and vitamin C, which is the main reason behind your lashes being lengthened and strengthened.
Apparently your lashes are going to be encouraged to grow due to the peptides.
According to a few customers this mascara doesn't clump and essentially doesn't end up down their face by the end of the day!
Do you have a favourite mascara? I'd love to know drop your answers down below in the comment section!
Or if you don't want to leave yet then tap here for more awesome vegan mascaras'!
Or if you want to lengthen your lashes then check out these cool mascaras!
For smudge proof mascara I think you'll find this interesting!
Have a great day!?
Please follow and like us: