The glossier ultra lip came to my grasp after searching for a formula that is quite light, I'm talking about lighter than the generation g lipstick which is a sheer matte finish. The ultra lip is defined as a unique one, it combines the best of 3 different lip products, balm, gloss and even lip tint!
Anyways if you'd like to know how this product performs than I suggest you carry on reading!
Quick Overview
Pros
Easy to apply
Smooth consistency
Buildable formula
Decent amount of shades available
Cons
Not as long lasting
Pigmentation is light
Description
This top rated lipstick according to the brand features characteristics from your favourite products, the 'rich moisturise' of a balm whilst providing a sheen of a gloss! Not only that, it provides buildable colour similarly seen in lip tints, apparently limiting the hassle of layering multiple products!
Sounds like a perfect and interesting mixture for those of you who are fan of subtle hues! All these features means the lipstick should feel 'luxe, and plush', comfortable to wear too!
With the glossier ultra lip you have the possibility of creating not only a sheer look but the potential for a bolder look too! Talk about flexibility!
To make the most of hydration this lipstick is enriched with 4 molecular weights of Hyaluronic Acid that draws in and 'holds onto moisture like a magnet' to ensure you are left with revitalized lips!
There is also a blend of 3 oils going by the names; 'Meadow foam, Jojoba, and Watermelon' for a soft and supple lip!
These lipsticks are formulated without fragrance and are dermatologist tested too, so I guess it should be suitable for sensitive skins!
Shades
The glossier ultra lip offers 9 shades in its range, ranging from soft pinks to deep mauves. The shade spectrum means there are hues available for natural looks or evenings out! The shades include':
Lucite', a soft peony pink, probably the lightest
'Portrait' a cherry blossom pink
'villa', dusty rose
'Fete' a watermelon red
'Coupe' that is blood orange
'Cachet' a walnut brown
'Trench' toffee brown
'vesper' is a rich fuchsia
'Ember' a deep mauve
The shade which I decided to go for was 'portrait', a beautiful cherry blossom pink shade which I find perfectly complements a natural look. It radiates gorgeously on you without wearing makeup too, a nice close to real lip shade I would say.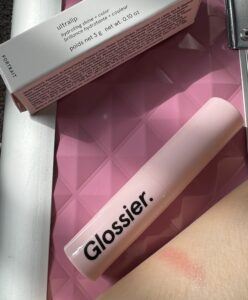 Application
Application must be easy since the formula is described as buttery soft, plus the hydrating properties surely must give this product an extra boost right?
Correct, I found application to be overall effortless, from the size of the lipstick allowing me to line my lips perfectly instead of creating mess out the border to the smooth gliding of the rich colour.
So once applied how does it feel? Judging by the 'buttery soft' description and the comparison to lip balm, I shoudn't experience anything heavy or sticky.
The lipstick texture is on the creamy side though not as thick as you are probably imagining, think more sheer. On the lips you can't really feel it, proving their claim.
I smothered the lipstick once over which wasn't really too visible so I went for another round, this time happy with what I saw. For a more richer tone I would say around 3 coats will be sufficient. But if you prefer a more dramatic look then you would benefit from a more pigmented shade such as ember or cachet.
Lastage
The lastage for this product is as I was expecting. As you maybe aware products with light tints aren't so strong in the stay power game.
At most, they offer around 2-3 hours or less before they need re applying, depending on the shade as well as how often you're eating or drinking. They aren't built to provide long-lasting results, they're more of a hydration shot.
So how long did I mange to push this ultra lip? I'd say it was the 3rd hour I felt the results weren't to my expectation so I had to whip out my weapon and swipe. Thankfully it is actually buildable so reapplying is easy and doesn't cause a messy appearance.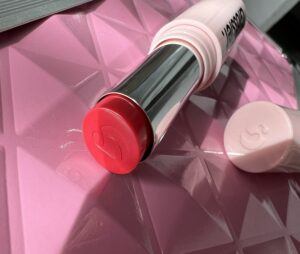 The main issue which prompted me to reapply was the fading. I am not too sure how the deeper shades will put up. I'm imagining the lighter shades will most likely give up before this time since they are quite delicate in hue.
Overall
So am I satisfied with the glossier ultra lip or can I happily call it my go to product? I would definitely say it is an ideal choice for individuals who are looking for some hydration yet some colour. The decent sized shade range means you can pick day and evening hues. The pigment is lightly saturated which isn't a problem.
I think I would purchasing consider other colours especially the deeper ones. And giving this product a rating of 9/10 further proves my intentions of adding another to the collection!
Have a great day!
Please follow and like us: