The rare beauty liquid blush believe it or not is my first liquid blush so as you can imagine of course I was excited to try it out! Plus it is labelled to be suitable for sensitive skins which is an important factor when considering a product as my skin is delicate and often gets aggravated with certain formulas.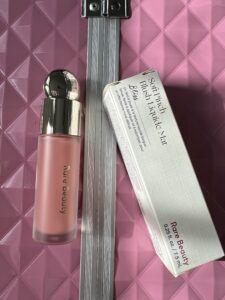 The soft pinch liquid blush is a best of beauty award winner by allure, vegan and cruelty-free, plus it's created by the one and only Selena Gomez! What's even more amazing and generous is that, 1% of rare beauty's sales annually are used to support the rare impact fund, a mental health charity.
Continue reading if you would like to know my favourite aspects of this blush and if there is anything I weren't a fan of!
Disclosure: This post may contain affiliate links which means that I may earn commission if click and make a purchase but no additional cost to you.
Description
The rare beauty soft pinch liquid blush by Selena Gomez is described as an 'airy weightless, long-lasting' blush that as you can tell by then name is in a liquid form. They are said to blend effortlessly as well as build beautifully leaving a 'soft, healthy flush'!
With the rare beauty blush you have the choice of picking between 2 different finishes; a matte and a dewy! Each shade offers high pigmentation which means a little certainly goes a long way! They are long-lasting too according to the brand, set to last all day long.
And if you use powdered or liquid formulated makeup products then you shall not worry since this blush are made to layer without any issues or disruption to your makeup.
Shades
The shade range of the rare beauty blush is one of my favourite aspects since it is quite varied! It offers around 11 beautifully rich hues that produce 2 different finishes; dewy which I think is great for adding some glow and matte for a more richer effect.
There are light hues like 'hope' and 'happy' as well as deeper ones such as 'faith' or 'love'. The shades are:
Bliss – a nude pink that holds a matte finish
Hope – a dewy nude mauve
Happy – cool dewy pink
Encourage – described as a soft neutral pink in a dewy finish
Lucky – A dewy hot pink
Grace – a matte bright rose mauve
Love – a terracotta matte
Believe – true dewy mauve
Joy – a dewy muted peach
Grateful – rich red in dewy finish
Faith – a deep matte berry
I initially wanted the shade 'happy' or 'bliss' basically something light and natural fitting however they had been out of stock for quite sometime. So instead of being patient I decided to go for the shade 'encourage' which is a soft neutral pink in a dewy finish. It is a similar alternative and works well with my skin tone!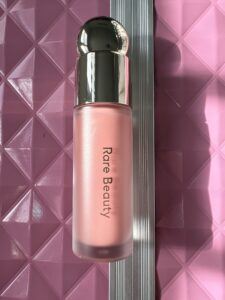 Application
I haven't really tried out liquid blush before. When I do occasionally wear it, it is usually powder form. The thing with powder forms is that they don't really appear as natural on a bare face on my dry cheeks so therefore decided that a liquid finish would be splendid since it has some moisture to it.
You only need around 1-2 drops on each cheek for it to show it is true potential since it is quite pigmented so that should be enough. I went for one drop at first as I was going for a natural effect, I wasn't wearing makeup at all so 1 was sufficient for me. However, when wearing makeup I tend to use 2 drops.
So how was applying this blush? Well I definitely enjoyed blending it compared to the dry powder. The rare beauty infused nicely against my skin. There were no issues of unevennesses even on my bare no makeup face. It felt nice and airy just as the brand stated.
Blending was effortless too, easily following my commands. It should be blended with fingers as rare beauty suggest. It allows more control and plus I think the brush would just absorb most the product up, therefore fingers would be a wise choice.
Oh forgot to mention I love the little 'you are rare' message you see as soon as you open the product, it actually means a lot to someone like me who sometimes doubts themselves!
Lastage
Rare beauty promise their soft pinch liquid blush would provide you with all day wear which for me isn't too convincing after trying numerous products that have disappointed me. So I've learn't not to believe until tried and tested, which I'm pretty sure many follow.
So anyways how did it go? Well with bare face it fades quicker than it does with makeup on, which includes primer and setting spray or powder. Without any makeup on, the blush roughly got through 5 hours which is pretty good but if you compare that with the 9 hours that it sticked around for on a full makeup look, it is a big difference!
It could have possibly gone on for longer however I decided that's enough. Throughout the wear time I didn't experience any major problems such as fading so I guess rare beauty were telling the truth. However, having said that there was a slight problem with the blush fading on a clear face towards the oily area of my face.
To buy or not?
So overall I give the rare beauty soft pinch liquid blush a massive 9/10! It was my first liquid blush and what can I say, definitely a positive experience. On a bare face it fitted perfectly, giving off a soft natural look and with makeup on the rich pigment balanced the whole look without any issues of fading for most the part!
I think this blush is a perfect option for any individuals who are looking for a long-lasting easy to apply as well as blend product. And if you want to achieve a natural finish whether that be on a bare face or makeup, it performs well! I find it pairs nicely with the rare beauty tinted moisturiser for a natural no makeup look! You can check out how the moisturiser performs here!
If you would like to view the rare beauty blush for yourself then check out here!
Why not check out other awesome vegan cream blush whilst you are here!
Have a great day!
Please follow and like us: