The glossier solar paint is one of those products in my circumstances which I would probably hardly use, not a personal thing against the brand, you see I don't use contours much. It maybe more of a 6-month gap between the next usage so as you know by then the product could loose its true potential performance but here I am with it!
So shall we see how it performs anyways? I mean I think so! Do continue reading if you would like to know as I go through my favourite aspects as well as anything I weren't a fan of!
Description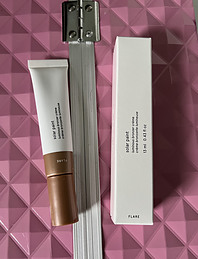 The glossier solar paint is a 'luminous bronzer crème' created to allow you to achieve a sun kissed skin instantly! The bronzer is supposed to be weightless and provide a finish that is natural looking with a gel creme consistency.
The 'multi coloured light reflecting' pearls in gold and copper tint create a realistic sun kissed effect that you've been dreaming about!
The solar paint is said to feature a formula that is blendable, buildable and easy to use too so you can whip it out and rock the sun kissed look anywhere!
The cool infusion of jojoba, aloe baobab as well as watermelon helps to not only condition your skin but nourish too. The formula is non comedogenic and being dermatologist tested, it means its suitable for all skin types even sensitive!
Application
Application was one of the easiest, all you need is a clean finger and the glossier solar paint! Going into a little more detail, you twist open the product, grab some creme onto the doe foot applicator and dot where you need to add some warmth and definition, on the nose, cheekbones, jawline, forehead, I think you get the idea! And then blend, blend, blend!
And that is the same process I followed, dot and blend. The creamy consistency which isn't too watery makes blending an effortless task. I noticed you only need a small amount to achieve the sun kissed effect. Even if it seems less you can always go in for more afterwards, besides the formula is easily buildable too! Better safe than sorry!
Performance
The main role a bronzer plays is to obviously achieve that warm and defined look, the type you would see from lounging in the sun all day!
Anyways did it manage to achieve this? Well that depends on the shade you go for. If you get the correct hue, dependent on your skin tone then the glossier solar paint does tick the box and fulfills its role. I went for the shade flare which is the lightest in their range and it seemed to achieve what I wanted.
Though the shade was somewhat lighter compared to the usual I would settle for, I was happy with the results. It allowed me to achieve a subtle warmth rather than a more defined effect which is something I prefer.
I think it would produce a great 'lit from within' glow for any individuals with fair to light skin tone. My skin tone I would say is medium light with a cool undertone for those of you may be wondering.
Lastage
Moving swiftly onto it's lastage…
The lastage for the glossier solar paint was a little surprising for me, in a good way though. You see the brand don't mention how long or even if this product is long lasting so due to that I was expecting only a few hours, maybe around 4 hours.
However, when I received roughly 7 hours of great shine, of course I would be amazed. At that stage I was still able to see some definition though if I'm being honest it wasn't as obvious but for me it was somewhat the result I needed and got! I did prep before and after so maybe that helped reach the solar paints full potential.
Around the 6-7 hour the results do seem to fade so if you want that full sun kissed look going on strong then it is definitely a good idea to reapply. Thanks to the glossiers buildable formula, this is quite an easy and simple task!
Overall
Overall I give the glossier solar paint an 8/10! It has a beautiful consistency that is easy to apply along with build and blend. The formula doesn't feel tight but light with a lastage that is surprisingly good!
The only complaint is the small product amount, I mean its fine for me since I don't use it regularly or much however it you use contouring often then prepare to have a back up soon!
Right that's it for now peeps!
But if you don't want to leave then I suggest you tap here to check out more awesome bronzers here!
Have a great day!
Please follow and like us: