The Anastasia beverly hills brow gel has quite a simple but lovely looking packaging, it's what caught my attention obviously apart from me needing a gel in the first place, the appearance is what actually got me picking it up and considering it as a purchase!
Anyways if you'd like to know how it performs then do continue reading to find out my favourite aspects as well as anything I weren't a fan of!
Starting off with the description!
Disclosure: This post may contain affiliate links which means that I may earn commission if click and make a purchase but no additional cost to you.
Description
The Anastasia Beverly hills brow gel is a 'lightweight eyebrow gel' that has the ability to set brows providing not only a flexible hold but a tinted finish too. The gel features a 'light reflecting' pearls which adds a natural looking dimension.
The brand state the gel can be used to add a little tint as well as be used as a topcoat for a 'long-lasting, wearable hold' in a matte finish.
Shades
This brow gel is available in 7 shades. The shades are mainly brown with the lightest being 'blonde' suitable for blonde hair with warm or gold undertones. The deepest shade on offer is 'granite', that's for black hair with cool undertones.
The shade which best suits my brow is 'granite' and I think it goes quite well with my natural hair colour. I like how they have created shades with different undertones in mind as sometimes the shade which I think would go nicely with my tone actually ends up looking a little off, most likely the issue being the undertone.
Application
Brow gels are my favourite type of product as they are so simple and easy to apply, you literally don't need any other tool, just whip the product out and get applying.
The Anastasia Beverly hills brow gel is no different, it's travel friendly and easy to apply, with no mirror required. The applicator does a good job in getting the product onto the brows though at first I did struggle to get the angle right but in the end I did it!
'Brushes long bristles allow you to apply without touching the skin'
The brush is a decent size too, not too large that the gel ends up above the brows but the right size, with one swipe covering most the brow. It's ideal for thicker brows especially, which I have. The dual ended brush has a long side along with short too which Anastasia state is for adding precise detail.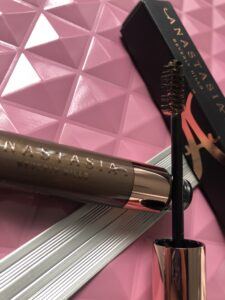 I think what the brand mean by 'apply without touching the skin' is that it captures the hair coating it in pigment instead of creating a mess around the brow but do know that if you aren't used to using brushes with a little shape to it then it can be messy at first.
The pigmentation is perfect with literally one swipe providing enough colour, less is certainly more here! The tint is just right, adding the definition required whilst also giving brows a whole new soft look.
Lastage
Anastasia do mention that their eyebrow gel is long-lasting with a wearable hold, so is it?
Well I can certainly say it is long-lasting as I had applied it around half 9 and had to fix it a little at 4 as the pigment started to fade due to my constant touching but other than that it definitely has some serious stay power!
I didn't experience any flaking or transferring!
So overall I rate this gel an 8.5/10! And that trust me is a great score coming from me! I loved the lastage, and how it performs including the pigmentation, the packaging is pretty decent looking too! The shade range is great as well.
Just a little issue with me getting it on neatly at first but other than that it's a thumbs up!
If you'd like to check out more awesome vegan brow gels then I suggest you tap here!
Or if you've made up your mind about wanting to grab your own then check out here!
Have a great day!
Please follow and like us: