Let me guess you're here for the best eyebrow gel? Actually wait, more specifically a vegan eyebrow gel or whatever brow gel, then guess what! You're at the right stop!
We're going to be going through some cool gels so if you're not a fan of gels then scoot out! JK! You can check out some other posts featuring various forms of eyebrow product types!
Now let's get going!
Quick Overview 
Refy brow gel
Gen See arch support brow powder gel
Beauty bay brow fixer gel
Kosas air brow gel
Beauty pie arch-ology tinted eyebrow sculpting gel
Refy brow gel
An award winner of the Cosmopolitan summer beauty awards in 2021, this brow gel allows you to set as well as shape your hair with a formula that's a perfect balance between 'wax and a gel'!
The formula features carnauba wax making the gel soft and easy for you to apply but still firm enough to keep hair in place. The applicator comes with a double ended brush, a comb on one side and a brush on the other. It is long-lasting too thanks to the waterproof and flake free infusion.
For a more in depth review tap here!
Gen see arch support brow powder gel
This is a unique type of formula, a mixture between a powder and a gel. Basically you get the best of both worlds! The arch brow powder gel helps create 'fuller, natural looking groomed brows'. It provides colour along with tint and an all day hold which does leave your brows with a crunchy feel you get with gel formulas.
The formula is lightweight too which makes wearing it is soft and natural instead of the dry stiff feel. You can pick from 3 different shades; taupe, medium and dark brown.
Beauty bay brow fixer gel
With six shades to choose from, the fixer gel offers a 'flexible, long-lasting hold' helping to thicken brows to all due to its inclusion of tiny microfibres, adhering to the skin and hair, leaving not only a natural looking finish but one that lasts long too!
The gel is enriched with vitamin E and castor oil to guarantee a soft and fluffier brow. If you are after thicker looking brows then this gel could be your next friend! Plus it's affordable too!
Tap here for a full review on the beauty bay brow fixer gel!
Kosas air brow
A good deal of shade offerings, 10 awesome colours, the air brow isn't your usual gel, it's a volumizing treatment gel. Brows are said to be left conditioned and appear healthier!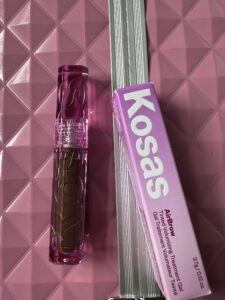 The tinted 'moussey gel' is created to provide 'airy and feathery brows' with caring qualities too, that being in the form of hair care actives like biotinoyl tripeptide -1 and panthenol pro vitamin b5! So if you are looking to not only add colour but some extra benefits too then could this be your answer!
You can view the full review here!
Beauty pie arch – ology tinted eyebrow sculpting gel
The eyebrow gel according to beauty pie is the 'best tinted brow gel', it's said to be easy to use, buildable, allowing you to create from 'slightly bolder to really bolder' brows! It's unique oil absorbing and hair mimetic pigment creates a 'natural and strong' eyebrow definition.
The micro precision brush also means coating your brows is much neater and simple. This gel is a 'all in one' with the possibility to not only tame and sculpt but also thicken, groom and tint!
Beauty pie state you only need a 'few strokes' to sport the 'very now brows'!
Have a great day!
Please follow and like us: