Are you looking for the best eyebrow powder to help achieve that soft effect which lasts long too! Then my friends you're at the right stop!
Brow powders are great at providing a naturally full brow but with lightness to them instead of a dark heavy effect. Brow powders cover more area so are therefore a good option if you are in a hurry, plus they are easy to remove since they aren't as stubborn as gels or pomades.
Here are some cool vegan and cruelty-free eyebrow powders to help fill in those sparse gaps with ease. Let's begin!
Quick Overview 
Gen See arch support brow powder gel
Zao eyebrow powder
Body shop brow and liner kit
PHB ethical beauty pressed mineral eyebrow powder
Mo mineral eyebrow powder
Gen see arch support brow powder gel
"Frame your eyes and your face beautifully"
As the name suggest this is a cool unique form of eyebrow powder, it is a powder and a gel so you get the best of both worlds! Great for those who can't decide which to go for and are a fan of powder and gel!

Anyways about the product, gen see state their formula goes on easily for creating a ' fuller, natural looking groomed brows'.
It's supposed to create a hold that lasts all day with no ' crunchy feel' associated with gels and is lightweight too! This 2 in 1 also means you don't have to carry a pencil nor a gel around.
Zao eyebrow powder
If you are about the sustainability as well as interested in using natural or organic products then you're going to want to hear this as the zao brow powder fulfills all of that and more!
This brow powder features a refillable packaging with a sustainable bamboo case and even comes with a reusable pouch too! As for the powder itself zao state it's perfect for 'delicately shaping and defining your eyebrows'.
The addition of macadamia ternifolia seed oil means a moisturizing and softened brow whereas bambusa stem powder helps regenerate epidermis!
Body shop brow and liner kit
The body shop brow kit is a brow and liner powder, with a dual ended brush applicator to help 'define, shape, fill and line'!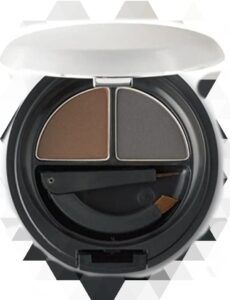 As well as a double ended brush, the body shop brow and liner kit comes with two shades too! The powders are fine textured and leave a 'silky smooth' finish. The only thing is it's available in a really limited shade range with just two shades!
PHB ethical beauty pressed mineral eyebrow powder
The PHB ethical beauty pressed mineral eyebrow powder is 100% pure mineral and organic brow powder. It provides you with a natural looking, smudge proof colour to help 'highlight facial features and frame the eyes'.
Thanks to the natural ingredients this powder is also great for sensitive skin!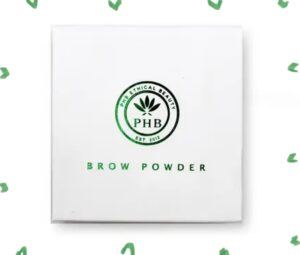 The ethical beauty powder is said to be long-lasting too so you don't need to worry about any fading problems. The formula is richly pigmented which means a little goes a long way! There are four shades available!
Mo mineral eyebrow powder
'Achieve a full, defined and lengthened eyebrow' with this mineral brow powder by mo mineral. It features a highly pigmented powder for your brows, that's not only said to last long but also is smudge proof.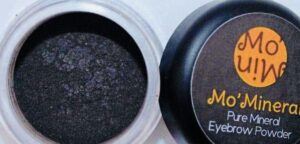 The non comedogenic formula is free from chemicals, preservatives and dyes as well as containing 100% natural ingredients it's definitely great for sensitive skin individuals!
That's it for now peeps! But if you don't want to leave then tap here to check out more awesome vegan brow products in the form of pencils!
Or if you much prefer the creaminess of pomades then you can view them here!
Have a great day!
Please follow and like us: