If you love the creamy and smooth textured formulas of pomades or need something long-lasting then I guess you're at the right place! Check out these best eyebrow pomade which are vegan and some cruelty-free too!
These brow pomade are said to last all day so you'll know your hard work won't give up that easily! Let's check them out!
Quick Overview
Refy brow pomade
Madara brow pomade
Anastasia Beverly Hills dipbrow pomade
KVD super pomade vegan brow pigment
Refy brow pomade
The refy brow pomade is a vegan and cruelty-free pomade which instead of being situated in a small pot, comes in a tube similar to a mascara. You apply it using an angular brush.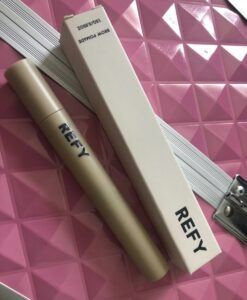 Refys pomade allows you to add depth and shade to your brows using a 'cream based formula', that makes applying smooth and quick. It's available in 3 matte finish shades which apparently you can 'build up each colour' to create different shades! Sounds cool!
It's said to be long-lasting as well as smudge proof, staying in place until 'washed out'.
For a more in depth review of the refy pomade tap here!
Madara brow pomade
This brow pomade is made from a brand which is organic and uses 100% green electricity which also means they use 100% recyclable packaging too.
Anyways back to the product, the madara brow pomade aims to deliver 'long-lasting precision lines' with their natural certified 'hi definition' formula.
You can fill in sparse areas or completely renovate your look, the choice is yours!
Anastasia Beverly hills dipbrow pomade
Coming in 11 various shades, the dipbrow pomade features a waterproof and long-lasting formula allowing you to create natural brows or dramatic looks thanks to its buildable shades.
You can achieve whatever you desire from 'natural-looking hair like texture to bold outlining and filling'! No wonder it's #1 brow brand in the US.
It allows you time to blend and perfect your brow look before settling down to a full pigmented matte finish. The formula 'glides on smoothly' and is full pigmented so you won't have to put in much effort or drag to achieve rich colour payoff.
Kvd super pomade vegan brow pigment
You could say I kept the best brow pomade to last! The Kvd pomade is available in a massive 17 shades which does seem too big for a brow pomade, that's because it actually a 3 in 1!
You can use it as an eyeshadow, eyeliner and for your brows too! Cool right?! This means the formula is also extra creamy and smooth to allow for easy application.
If you are creative then this will definitely help accomplish your creative designs, there are dark and bright shades, the sky's the limit with this one.
The pigment is said to be rich and comfortable. You don't have to worry about your hard work melting off as this formula is waterproof as well as long wearing.
Are you a fan of pomades or do you prefer pencils or do you use brow products at all? Let me know in the comment section below!
If you'd like to check out smudge proof eyeliners that'll get you easily through the day then tap here!
Have a great day!
Please follow and like us: