OMG! how many brushes are there? Where do I use them? How should I use them? Why are there so many? I could continue, but these are just a few of the thoughts that might come to your head especially when you see or hear about the many different types of makeup brushes and their uses.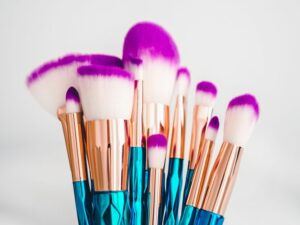 But don't fret I'll be going through the various types, hopefully answering any questions you may have on your mind!
There are a wide range of brushes available at various prices, for different uses as well. So it's quite useful to know which brush performs best at what and why.
As you may know there are many brushes available but this doesn't mean you have to use all your money and purchase loads of whole collections as you'll find quite a few are actually the same brushes but just designed in many ways, of course if you want to and need them then you may.
Okay let's get started shall we?
Foundation brush
What is it used for?
A foundation brush is obviously used for applying foundation. There are different variations of foundation brushes depending on the texture of the foundation. This brush is used for not only applying but blending too. A high quality brush would make sure blending and application is easie peasie and help create a flawless base. 
How to use it?
This brush is usually worked by buffing in circular motions after the foundation has been spreaded evenly around the face, making sure to cover the whole area and leave no harsh lines.
Appearance
They come in various shapes but commonly have medium lengthened bristles that are rounded from the top or dome shaped. They can also come flat topped which is best for buffing.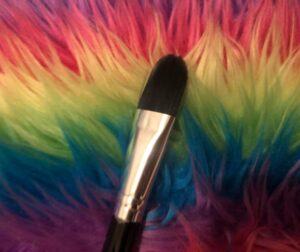 Concealer brush
What is it used for?
As the name suggests the concealer brush is used to apply and smoothen out concealers. It's used to hide imperfections or brighten areas of the skin.
How is it used?
Concealer is applied and then lightly dabbed or patted onto the skin that requires concealing. By gently patting, you make sure the foundation isn't moved around or messed.
Appearance
Similar looking to a paintbrush, it's dense and has firm bristles. It is small to allow precise application. It can come in a domed or round shape.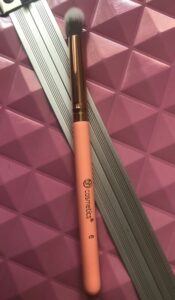 Stippling brush
What is it used for?
A stippling brush is used for creating an airbrush, high quality look. This brush can be used with foundation, bronzer, powder or blush. You can use it for liquid or powder products.
How is it used?
This product is used by brushing in circular motions to really work into the skin leaving a smooth even coverage. This brush is great for buffing.
Appearance
The stippling brush has a flat top which allows for a smooth natural coverage and the top bristles are usually very light and soft compared to other brushes.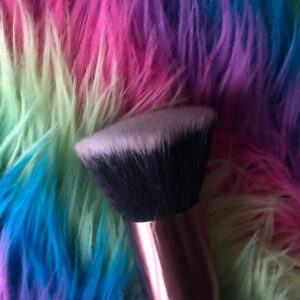 Blush brush
What is it used for?
The name gives you a massive clue, well the answer actually. Its used for applying blush on the apply of the cheeks. A blush brush is especially great for using with powder products.
How is it used?
When using this brush make sure to apply a little product and then build as you can easily overdo it and not end up with a natural finish but instead looking like a clown.
Then sweep lightly on the apple of your cheeks, which is easier to locate when you smile, going out towards the temple.
Appearance
This brush is similar to the powder brush except it's a little smaller and normally has small dome shaped bristles to ensure it fits on the cheeks easily. You will also notice that they are soft to the touch.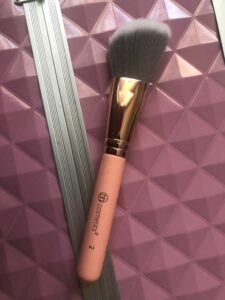 Powder brush
What is it used for?
You guessed it! A powder brush is used to lightly sweep powder across your face to make sure your makeup stays put for the longest time possible. Powder could also come in compact form as well as the usual powder formula you see.
How is it used?
You lightly dab the brush into the product whilst making sure you tap the excess off as you only need a tiny bit then sweep across your face wherever needed. A bit how you would with the blush brush.
Appearance
This brush is light as well as fluffy. The dome shape makes sure product is evenly distributed. It looks similar to the blush brush.
Looking for the best vegan powder? Then I suggest you tap here!
Contour brush
What is it used for?
The name again gives it away! It's used to contour or sculpt the face. Contouring must be done by a brush unless you are wanting an unnatural look.
Some people use other brushes but this particular brush leaves you with a smooth finish. As it's made for contouring this bristle gives you the bestest result.
How is it used?
Dab some product, then apply to the hollow of the cheeks which can be easily located by sucking in your cheeks, then apply using a dotting motion, once product has been situated you can then blend in a circular motion making sure to stay in the area where you need contouring.
Appearance
This brush is the same size as a blush brush but made with bristles that are angled and more dense to effectively target the area where contouring is required.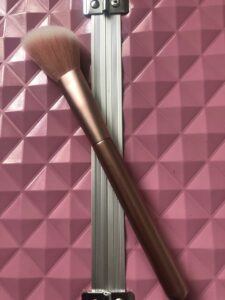 Bronzer brush
What is it used for?
It is used to put on bronzer, applied when you want a sun kissed look without the need of sitting in the sun, harming your skin in the suns ray.
How is it used?
You dab a little of the product onto the brush and then sweep some onto the hollow of the cheek, temples and jawline using the 3 shape, a little on the forehead too and then buff out till a natural soft look is achieved.
Appearance
Looks a bit like a blush brush but a lot wider and fluffier and rounded which ensures that the product is evenly spread for a natural look.
Beauty blender
What is it used for?
A beauty blender can be used instead of a foundation brush. You can use this to apply foundation as well as other make products. They may be liquid, cream or powder.
How is it used?
With a beauty blender you would usually keep dabbing the product on the face until smooth and blended. You may also wet the sponge depending on the coverage needed.
Appearance
A beauty blender is a egg shaped sponge that comes in many colours. It is soft and spongy.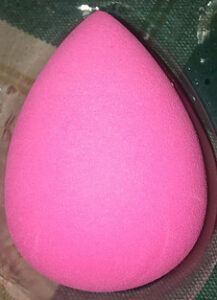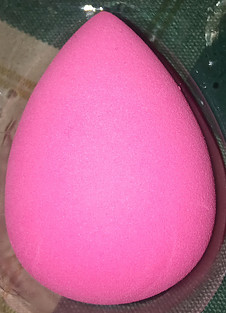 Eyeliner brush
What is it used for?

This product is for those of you who want the perfect winged look or any eyeliner in that case as it has a small, thin tip. It's great for achieving a clear defined eye look. You can use it with gel or liquid eyeliner.

How is it used?

For this you will need to dip the brush in the product or roll it a little around to grab enough product, then gently create a line following the natural eye curve, you can first just lightly dot where you are planning on applying to make it easier.
To create a wing follow where the bottom lash line would go towards the eyebrow tail.
Don't worry if it doesn't come out as expected as it requires a lot of patience and steady hand especially at first.

Appearance
Liner brush is tiny with short bristles and a little dense. It has a sharp tip to allow easy precise application.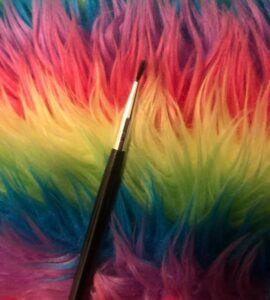 Highlight brush
What is it used for?

It is used to dust a highlight or pop out the cheekbones, nose tip, Cupid's bow or other areas of the face.
How is it used?

You only need a little product and then gently sweep back and forth on the area that requires highlighting. That's it simple and easy!
Appearance
I find this is the easiest to spot by appearance as it's shaped like a fan and has really thin bristles that are spread apart.
The thinness of the bristle allows for a nice even application instead of a round shiny ball appearance.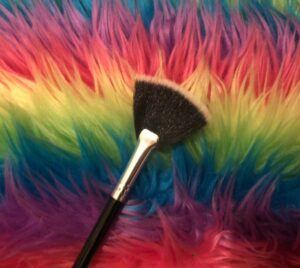 Eyeshadow brush
What is it used for?

Eyeshadow brush also known as lid brush is one of the few eyeshadow brushes which you use to help you create an amazing eye look.
This specific brush is mainly used to pack the product onto the lid. It can also be called a flat brush.

How is it used?

Grab product onto the brush and then gently pat on your lid making sure to cover the lid area with the powder. You can tap the excess off before applying.

Appearance
Its flat and densely packed with firm bristles to allow for a decent coverage. It can look like a mini foundation brush.
Eyeshadow crease

What is it used for?

Part of the eyeshadow brush team, this specific item allows easy application of eyeshadow to your crease.
How is it used?

You basically dab it in a bit of colour, tap excess product off and then sweep in a windshield wiper motion inside the crease.
You should only use a little colour first as you can easily overdo it so by using a specific amount you can then easily build on top.
When applying focus on the outer edge and mid of the eye crease, going back and forth until you get a soft appearance, you can then blend in circular motion into the other colour you may have applied.
Appearance

This brush has a little angle to it or a point to ensure you get the product in the right place. It also is a little dense.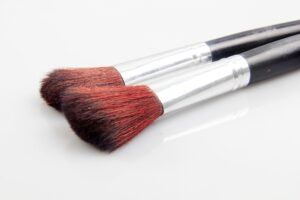 Eyeshadow blending brush
What is it used for?

This eyeshadow brush is really useful for getting that desired smokey eye look or any other design in that case. It is used for blending on the lid or crease or other small area.
How is it used?


Wherever you have colour which needs blending go over with this brush to get the colours softly infused or blended.
Using circular motions on the lid and wiper like motions by the crease you can achieve a nice, soft blended eyeshadow look. You could blend outwards to get the smokey look.
Appearance
It has a soft feel and usually is fluffier to make blending easier and help achieve a soft appearance quicker.
Lip brush
What is it used for?

Some people may not have this brush, they may just directly apply it from the lipstick or other ways but having the lip brush ensures you get an accurate neat lip line and lipstick. It allows you to have a beautiful finish as well.
There are also disposable lip brushes, similar looking to a q tip that you can just chuck away once used. No washing required!
How is it used?

To line your lips you choose a colour that matches with the chosen lipstick and carefully coat the bristles in the colour.
Then carefully, keeping a steady hand follow just above your lip line, that's if you are trying to create a fuller lip otherwise trace your natural lip line where your lipstick has been applied with the brush.
Go over a few times if you haven't achieved the desired pigmentation.
Appearance

It kinda looks like a thin paintbrush with slim bristles. It's quite small and has a point for accurate lining and applying.
You can check out awesome lip brushes by tapping here!
Mascara wand
What is it used for?
A mascara wand is like a brush for your eyelashes. You use it to easily separate and curl the lashes whilst applying product. Sometimes a spoolie may come with a mascara wand on the other end.
How is it used?

You just dip it in the mascara tube and then brush your eyelashes in a zigzag pattern. Or if you want to use it to tame your eyebrows or gel then just brush your brow and neaten them up.
Appearance
It looks like a little brush which runs all the way around with bristles that are firm.
Eyebrow brush/ spoolie
What is it used for?

They can be used for the same reason as the mascara wand or to brush your eyebrows or apply products as well as to neaten up the hairs or to ensure product is applied evenly. Usually they come on the other end of a mascara wand.
How is it used?

Brush it like you would with a mascara or other hairbrush, in the same direction the hair is growing towards. They do snap easily so replacement is needed quite often.
Appearance

Similar to the mascara wand, it's like a little brush for your eyelashes or brow. With firm bristles.
Well there you have it peeps! Hope you enjoyed or understood what I was trying to talk about.
If you have any questions or suggestions please do let me know in the comment section below.
Check out the nanshy masterful collection brush set, it's probably the only set you'll need!
Or if you are after a travel friendly option, the bh cosmetics mini brush set might be ideal!
Have a great day!?
Please follow and like us: