Blush stick are not only travel friendly due to their slim small size, they're also usually multi functional like the ones discussed below! Blush sticks can come in a powdery form suitable for oily areas or a creamy texture which suits skins needing hydration best.
Anyways I think we should check out those vegan blush in stick form now right?!
Quick Overview
Makeup obsession cheek and lip tint
Pearl beauty put together multipurpose lip and cheek stick
ELF monochromatic multi stick
ZOA blush stick
River organics vegan blush stick
Starting with…
Makeup obsession cheek and lip tint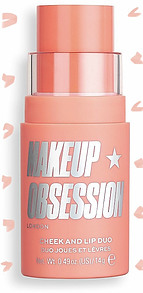 The makeup obsession cheek and lip tint are super affordable at just around £4. They come in 7 awesome shades made to not only be applied on the cheeks but lips too, 2 in 1, how awesome! Shades include soft peach, dusty pink, sheer berry, and neutral mauve to name a few.
This handy stick features a creamy formula that is said to melt into your skin upon application for a 'fresh, flushed look'! It's build ability means you can be not only worn as sheer coverage but swiped to build up the colour for a richer effect.
The obsession cheek and lip stick is vegan as well as cruelty-free!
Pearl beauty put together multipurpose lip and cheek stick
This creation by pearl beauty is 'perfect for the everyday makeup look'! Available in 4 shades, the formula is said to be ultra hydrating combined with its creaminess, blending is incredibly easy! It can be applied with your fingers in a patting motion or blush brush, the choice is yours, keep building until you reach your desired results!
Each of the 4 shades is 'versatile, and buildable', perfect for riding in your purse! These multipurpose sticks are free from paraben, silicone, sulfates as well as other junks. The clean ingredients mean this product is ideal for sensitive skin peeps too!
ELF monochromatic multi stick
Coming in 5 berry hued shades, the monochromatic multi stick by elf can as you can tell by the name be used as more than just a blush. Why not apply it as an eyeshadow or want to add some tint to your lips? Then go ahead with this versatile stick! It's small size means you can whip it out anywhere, perfect for touch ups on the go!
This stick features the best of both worlds with its unique formula, applying as a cream but drying down to a powder finish. It not only delivers a 'highly blendable' colour, the formula is lightweight as well as non greasy! The addition of shea butter and Vitamin E gives the blush stick moisturising properties ensuring you are left with 'fresh and flattering finish'!
ZOA blush stick
The blush stick by ZOA is not only vegan and cruelty-free but certified organic with being 100% natural origin. Plus they are refillable and recyclable, eco friendly!
The main objective of these blush is to provide 'immediate healthy glow to your complexion' with it's light and creamy texture. You can intensify your look thanks to their adjustable coverage whilst also being 'easy and precise to apply'.
Like the other blush sticks mentioned, the zoa blush can be doubled up to add subtle colour to your lips, allowing you to pick from 3 hues. A formula enriched with castor oil and jojoba oil give this blush softening and repairing properties, perfect for those who have delicate skin!
River organics vegan blush stick
These 'super soft hydrating blush sticks' suitable for dewy skin. Each stick is formulated to not only hydrate the skin but to protect as well as soothe it too. These sticks apply as a creamy colour but dry down to a soft powder helping achieve a subtle glow on your skin.
The addition of organic plants like 'Sunflower, Safflower and Jojoba oils' stop pores from clogging and the gentleness of them means its certainly sensitive skin friendly. They protect the skin from environmental toxins and stresses along with providing colour. How cool! As the name suggests the blush stick are certified organic too and don't require any tools just apply directly from the stick.
Right peeps that's it for now!
But if you really don't want to leave then check out these creamy vegan blush by tapping here!
Have a great day!
Please follow and like us: