So what made me go for the rare beauty tinted moisturizer apart from it being created by the amazing Selena Gomez? Well the 'no-makeup makeup in a bottle' as well as the 'easy to throw on' with just the fingers certainly grabbed my attention since it's exactly some of the features I'm looking for in an ideal tinted moisturiser!
So if you'd like to see how it performs including my favourite aspects as well as anything I weren't a fan of then tag along!
Here goes!
Disclosure: This post may contain affiliate links which means that I may earn commission if click and make a purchase but no additional cost to you.
Quick Overview 
Pros
Good shade range
Has the ability to provide medium coverage
Lightweight
Smooth application
blendable
Cons
Description

The rare beauty tinted moisturizer is described as a 'flexible' product providing 'Broad Spectrum SPF 20 sunscreen', great benefit to have whilst rocking a no makeup look, enjoying the sun! It also is said to contain vitamin E and promises to not feel sticky or greasy instead 'feels nice and moisturized' unlike the traditional sunscreen.
This moisturiser not only supposedly 'Instantly blurs' and evens out skin tone it also reduces the look of pores along with fine lines, sounds like a match for oily skin peeps too or combination!
The positive light tinted moisturizer according to the brand should be weightless whilst providing long-lasting coverage. Since it is meant to be flexible, actually moving with your skin, it should certainly feel like a second skin or as rare beauty state 'always look and feel like you'!
With the addition of 'botanical Blend of lotus, gardenia, and white water lily' everything should seem smooth and soothing.
Shades
The shade range in my opinion is quite a decent size, with around 24 shades to choose from, with cool, neutral as well as warm undertones. Each shade is identified by numbers and a letter, for example 10N is the fairest shade with neutral undertones whilst the deepest is 58N with neutral undertones.
The letters represent what undertone the shade is which makes it easier to not only remember but also to pick the correct shade. The shade that closely matches my skin tone would be 28C which is a light medium with cool undertone since I do have a cool undertone. Though I was initially thinking to go for 16C since the 28C appears to be a little dark compared to my tone.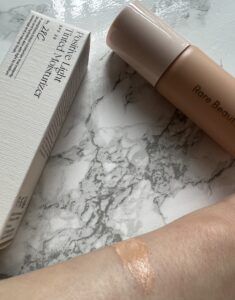 For me the 28C doesn't perfectly match, so I am actually going to have to mix another lighter shade. I think the 16C would have been a better match, oh well maybe next time I should listen to my gut instinct. It would be great if there was more cooler undertone options in the medium to light shade range though but other than that the shade range is great for a tinted moisturiser.
Application / Performance
You know what else drawed me even more to add this item into my basket, the phrase 'moves with your skin instead of settling into it'! With the ability to blur and even out skin tone along with reducing pores.
It is something I have been searching for far and wide! So did I finally find it?
I can happily say yes, well the closest so far! I like how this product though is a tinted moisturiser is able to provide not only light coverage but medium too by building and blending.
I applied the moisturiser with my fingers just like the brand state which is also how I usually apply light coverage products, the experience was positive. It felt creamy with a perfect consistency, nothing too runny nor thick, which made blending a dream too!
Once applied, the foundation didn't feel to obvious, more light and breathable with a light coverage. I am not too sure about building to a medium coverage since I prefer single layers but I can imagine it would be just the same airy and flexible feel. I can definitely understand what rare beauty mean by 'actually moves with your skin'.
It doesn't tighten my skin or feel suffocating like some formulas I've tested in the past. It gives a soft and supple feeling which I think could be partly thanks to the addition of 'Botanical Blend of lotus, gardenia, and white water lily', known to nourish and soothe skin.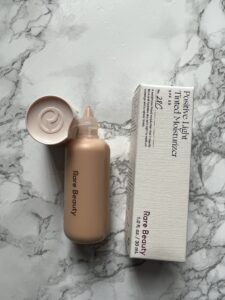 As for its performance or its abilities, the positive light was able to conceal my uneven pigmented areas and the darkness at the corner of my eyes with a single layer which is pretty impressive. I also like how once you've blended it, it gives off an even and smooth appearance minus the greasy look, exactly what I'm after!
Lastage
So what does rare beauty mean by long-lasting? From what I know about tinted moisturizers, they of course won't be near as long-lasting as full coverage foundations. So how'd it do?
Overall the rare beauty tinted moisturizer lasted a while. It gave me approximately 5 hours of even coverage which I found pretty impressive for a light coverage foundation. The first point of weakness was my oily t-zone which doesn't surprise me at all. Me trying to absorb the oily didn't help either, instead it just wiped most the foundation off which probably also partly explains the patches.
The dry areas on my face on the other hand did pretty well. There weren't no obvious issues. They were kept hydrated and smooth in comparison to my usual dry look.
Overall
Overall I give the rare beauty positive light tinted moisturizer a big 9/10! I would certainly say this moisturiser is the closest to my dream product, it's lightweight giving the impression of a no makeup look of you pick the correct shade, sensitive skin friendly, doesn't leave you with the typical stickiness and certainly wears smoothly whilst providing long-lasting coverage!
I would definitely recommend this foundation for anyone who is looking for a formula that is almost skin like, able to ultimately provide a 'naturally radiant finish' with extra benefits!
If you would like to check out the rare beauty tinted moisturiser out for yourself then tap here!
Liked the rare beauty moisturiser then maybe you'll find the glossier skin tint interesting too!
Or for more awesome vegan tinted moisturisers than click here!
That's it for now peeps!
Have a great day!
Please follow and like us: