I am guessing you are here to find the Best gel pot eyeliner for yourselves, well then you are at the right place my friends! Fret not as these liners are vegan and cruelty-free too!
Right lets get started!
Quick Overview
Illamasqua precision gel liner
Inglot AMC eyeliner gel
Revolution gel eyeliner pot with brush
Anastasia Beverly Hills waterproof creme colour
Glisten cosmetics wet liner
Illamasqua precision gel liner
'Create a professional eye makeup look' with the Illamasqua gel liner! This pot features an intense formula so that you can accentuate your eyes immediately with a single stroke! Create defined eyeliner or a smoked out look through blending for a softer effect.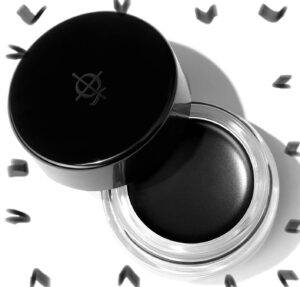 This precise liner is long wearing so you don't have to worry about your work melting away, paired with water resistant properties too! The texture is on the thicker side with creaminess which allows for a super easy and an application that is more in control. Ideal for beginners that means! Some good news too, Illamasqua are working to expand their shade range which currently only holds a black shade.
Ingot AMC eyeliner gel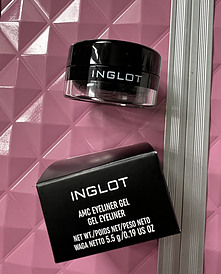 If you love adding some colour here and there, then you should be delighted to know the inglot pot liner range holds around 18 shades! Do be aware though not all their shades are vegan, they are distinguishable through the labels.
Each shade holds a highly intense pigment that leaves a rich hue with just one application! The formula is long-lasting and possess creamy consistency which quickly dries down to leave a smudge proof as well as crease proof finish. As well as being vegan, these liners are also cruelty-free too!
For a full review on the inglot gel liner tap here!
Revolution gel eyeliner pot with brush
As you can tell by the name the revolution pot eyeliner comes with a handy brush too! According to the brand if you are looking for a dramatic wing then this is the pot for you! The high pigmentation is designed to last all day through your hard work without cracking or crumbling!
This pot is vegan as well as cruelty-free. With the pot comes an angled liner brush so you can create the sharpest flick right there and then. It only offers a black shade currently. Reviews mention this product to be easy to apply and smooth!
Anastasia Beverly Hills waterproof creme colour
If you want something strong, then the Anastasia waterproof creme pot is your best bet! It is described as a 'professional-quality, full-pigment cream color'. It has the ability to provide high coverage making it ideal for a range of eye looks alongside eyeliners and eyeshadows, whether you are after something simple or bold!
The formula is of creamy consistency that blends with ease and allows you to create full coverage of intense pigment that dries down to a matte finish for a budge free result! Though a brush isn't included, you can add it to the bundle.
Glisten cosmetics wet liner
Another brand which has the option of choosing between an array of colours, that's over 30 shades, many of them being vibrant! The glisten cosmetics pot liners are a little different. These liners are single water activated which means you need to add a little bit of water, give it a swirl and you are all set to go!
If you are a liner obsessive fan then they need to be added to your next haul according to Glisten. The many colours mean the sky is the limit, plus they are super creamy, pigmented, and have a nice shine to them. What more do you need!
Right that's not for now peeps!
Have a great day!
Please follow and like us: