I decided to grab the Maybelline vinyl ink lipstick after the words 'super stay' caught my eyes in the store! They certainly did a good job in designing the board, but was it speaking the truth or nay!
Well now of course I know, however if you'd like to know how this lipstick performs then please do continue reading!
Quick Overview 
Pros
Good pigmentation
Decent stay power
No transferring
Cons
Limited shade selection
Little fading
Starting with the details…
Description
Maybelline state this lipstick features a transfer and smudge resistant formula, for up to 16h whilst 'providing an instant shine finish!' That does sound impressive!
Their formula apart from being vegan is also said to include 'vitamin E and aloe vera' which apparently is what gives its comfortable feel.
Shades
The Maybelline vinyl ink lipstick is available in 10 vinyl shades which are all mainly different hues of berries, reds and pinks!
Being more specific you can pick a peachy shade, red, purple, pink, browny shades too!
The shade I went for is unrivaled, a deep red basically. It leans on the darker side of red. The colour is pretty much quite similar to what is displayed but maybe a tad lighter. I think it's a great colour especially for evenings out thanks to its rich pigment.
Application
The applicator with the lipstick is the usual a little fluffy one you get with most lipsticks. It is slanted towards the tip making getting the colour on precisely easier.
Maybelline suggest shaking for at least five seconds before applying, which I didn't do to be honest however still got decent and even results.
Application I'd say overall is easy with this lipstick, just remember to let it dry before doing anything like drinking. Of course who'd do that anyways right after getting it on!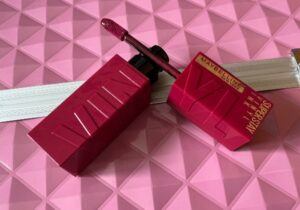 The formula isn't as drying as I was expecting which did surprise me as usually my lips start cracking up with formulas of similar finish.
However, to be sure I'll have to test it when the weather is a little warmer or the conditions humid as so far I have been a little unfair and using it in cool settings.
Pigmentation
I'd like to say the pigmentation is awesome! It is rich and doesn't fade quickly even after a decent amount of time. The super stay ink does have quite some strength since the colour stains even after removal on the lip. So that's where it gets it's name from!
It doesn't transfer either that's once you let it dry to a beautiful shiny finish, which takes a few seconds.
Lastage
I wore this lipstick in the morning and decided to wipe it off in the evening, so let's say around 9 hours and I was pretty impressed!
The lipstick did stay intact all throughout without requiring any touch ups. Even towards the late evening there weren't any uneven patches however I did experience a little bit of gentle fading.
The reason why I describe it as gentle is because I actually don't mind gradual fade, it kind of fits nicely with my natural lip colour. I mean surely gradual fade is better than those lipsticks that just out the blue disappear or leave uneven patches here and there!
Below is the Maybelline lip vinyl swatch!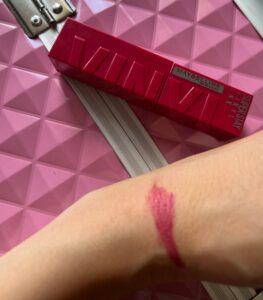 Anyways I'm happy with the lastage as well as the performance. The pigmentation is awesome too so for that I give this lipstick a rating of 8/10! I would like to see more shade variety including light hues of other colours of the spectrum!
Anyone who is looking for a high pigmented lipstick with a good wear time and not much issues then I recommend you see for yourselves! If you'd like to grab yours then you can check out here!
Why not check out other awesome vegan liquid lipsticks by tapping here!
Have a great day!
Please follow and like us: