The hourglass phantom glossy balm caught my attention in particular the deep shade after I had ran out of my current go to gloss.
I saw the hourglass phantom volumizing glossy balm was a 3 in 1 so of course I were going to check it out! That's a pretty useful product, that is! Anyways if you'd like to see how it performs then do continue reading as I go through my favourite aspects as well as anything I weren't too keen on the hourglass plumping gloss!
Description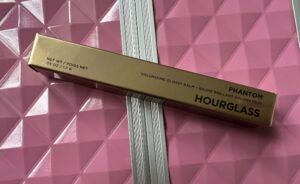 The hourglass phantom volumizing glossy balm is a '3 in 1 hybrid' which not only hydrates like a lip balm but also plumps 'for a fuller looking lips' and provides a high shine finish just like a lip gloss.
Lips are supposed to be left soft and smooth all day thanks to the addition of their 'conditioning complex formula' featuring a blend of oils and emollients. Application is said to be smooth with a comfortable wear that's free from stickiness or tackiness.
Fret not as this product is vegan and cruelty-free!
So shall we see how it actually performs?
Shades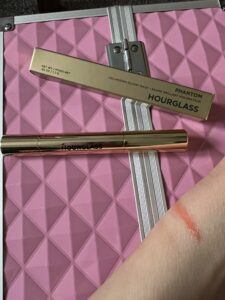 The volumizing glossy balm comes in 8 shades, packed in a sleek pen which opens in a twist motion. The shades are mainly berry based however do include a beige and soft coral. The rest of the shades are fuchsia, deep berry, pink, mauve, rose and of course red.
I prefer deep shades so of course I were going to pick the 'deep berry' lipstick which is a dark purple colour. I have quite a few neutrals so thought I'd pick something I actually like for once. I like the shade selection, it's actually cool if you think about it glosses don't usually come with choices.
Shade selection = 8/10!
Application
To apply the lipstick you have to give it a twist from the base, displaying the amount required. To close it, you give it a twist the apposite direction.
The lipstick is quite slim which for me is a good thing as I have small lips so at least I won't end up with product above my lip. Plus the slim shape allows for more precise application too! You can easily get down colour in the smaller places too.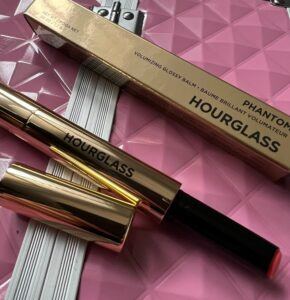 As for how easily the formula goes down, I'd say it's fairly smooth. I use a moisturizer beforehand to make the most of any formulas hydrating effect, I have naturally dry lips so prep is a must for me. It also helps deliver a more rich colour and provides an even base.
Okay more about the phantom glossy balm, it definitely goes on smoothly, and gives my lips a soft feel however I'm not too sure about the plumping effect, though I do feel a little of the cooling sensation.
I mean my lips do appear a little plump which I think is down to the over lining rather then the formulas work, I'm not too sure though!
The lipstick doesn't have a sticky or tacky feel to it which usually glosses are prone too, so that's the box ticked!
Application = 8/10!
Lastage
Moving onto lastage, hourglass do state that your lips should feel 'nourished all day', it is a gloss and a balm after all! So how'd it do?
Well I wouldn't say all day as I did have to top up half-way through the day to ensure my lips didn't appear thirsty as well as to keep the colour going strong. However, it did well for 6 hours which for me is fine as I don't usually wear lipsticks for that long, plus retouch up is easy too thanks to the thin shape.
The colour did fade towards the end gradually with the corners going first. I did eat and drink throughout the wear too however not as much drinking. I'm guessing it could possibly decrease the lastage with drinks.
Lastage = 7/10!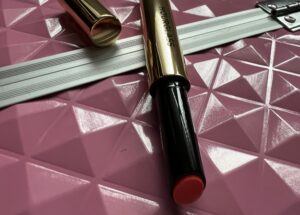 Overall
So overall I rate the hourglass phantom glossy balm an 8/10! I do prefer it over most of the glosses I've tried due to the fact it has a more richer colour whilst also providing a shiny gloss effect. The lastage is decent and the formula leaves lips soft and moisturized.
However, I think the plumping effect would be awesome if it worked as well as some new addition of colours! Oh and because it's retractable I have issues with putting the gloss back in, I was millimetres away from ruining my balm the other day!
I'd personally wear this balm on a casual day out due to the ease of application as well as the comfortable feel on the lips!
Do you prefer lip glosses or are you a fan of the more richer colours coming from mattes or liquid lipsticks. Let me know in the comment section below!
And if you'd like to check out more awesome lip glosses then I suggest you tap here!
Have a great day!
Please follow and like us: