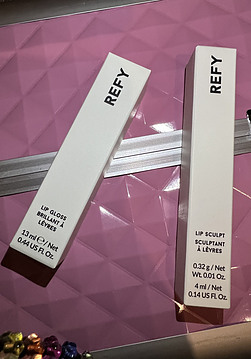 The refy lip gloss I bought alongside the refy lip sculpt as a duo since it was at a decent price if I purchased them together, a wise choice, plus apparently the gloss complements the lip sculpt perfectly so thought why not check it out!
If you'd like to know how this gloss performed then please do continue reading as I go through my favourite aspects as well as anything I weren't a fan of!
Description
The REFY Lip Gloss features a high shine finish like a gloss but with the 'benefits of a balm'. The gloss is clear tinted leaving a glass like finish. Unlike other lip glosses that sometimes come with the issue of stickiness, the Refy gloss promises to not!
The addition of Hyaluronic Acid helps keep lips hydrated by locking in moisture which according to the brand gives off the appearance of a fuller lips. It is also formulated using natural jojoba oil, known to boost collagen whilst helping 'nourish and condition lips'.
Along with the lip gloss comes a metal applicator which is meant to leave lips feeling cool as well as refreshed. It's designed to work perfectly, adding shine to any refy lip sculpt. This apparently gives not only a long-lasting effect but a smudge free finish, up to 10 hours! You could also use it on its own too!
Application
Application is pretty simple and easy, all you have got to do is give then tube a squeeze and out comes the gloss. The design of the product is quite unique, it doesn't come with your usual doe footed applicator instead it features a small metal piece attached to the tube which surprisingly works well in getting an even product deposition.
Like Refy stated it gives a nice cool feeling especially when it first hits your lips. The texture is almost gel like and not too runny that it runs down your lip should you mistakenly pour out extra, it is a good consistency overall.
Performance
Right now time for some real talk! So how is the Refy lip glosses performance overall? Does it do as it says?
Let's start off with the hydration aspect since it is one of the main features of a gloss. So in terms of keeping my lips hydrated I would say it is quite good considering I have one of the driest lips. I'm surprised at this one as quite a few glosses or even lipsticks that state they provide hydration don't even work on pout. With the Refy gloss my lips were kept hydrated similarly to a balm so I guess they were right when the said 'benefits of a balm'! The ingredients were a good pick for sure too!
Now how about it's performance with its duo, the Refy lip sculpt which I had gotten as a pair? This one was going to be interesting since I for some reason don't believe another product can actually elongate a lipsticks colour more than it is actually made to last. It just seems like another selling point to get people to buy an extra product, peeps don't come at me! Anyways was I proved wrong!
Well I would like to say my point was…..
Invalid! In a way you can say since it did actually manage to add an extra hour or two of stay power onto the lip sculpt. Now to some it may seem like merely an improvement but for someone like me who wouldn't believe it can work in the first place, it's actually a big difference!
Lastage
Now coming onto the lastage. The lip gloss provides up to 4 hours of shine which if you think about it is actually a reasonable time. Glosses aren't really designed to last very long even more so if they're tinted. The moisturising properties too lasted that long.
As mentioned before the lip gloss does increase the wear time for lipsticks too. I wouldn't be too sure about other brands however I know for sure it fits well with the Refy lip sculpt. With the lip sculpt, whilst using the gloss I also didn't experience any smudging, okay maybe a little here and there thanks to my face touching habit but other than that it does wonders!
So a keeper?
So I give the refy lip Gloss a solid rating of 9/10! It manages to get a higher rating mainly thanks to its ability to keep my often chapped lips hydrated for a significant amount of time. I also like how it doesn't feel sticky, lasts a while and provides a nice glow. So if you are looking for any of these features in a gloss then I would definitely recommend the REFY Lip Gloss!
Check out other vegan lip glosses here!
Have a great day!
Please follow and like us: