If you love subtle colour or glossy shine then I guess you're a fan of lip glosses or should be. Isn't it awesome how one swipe can add such a magical touch! Plus you can use them on their own or with other lipstick finishes! Anyways let's get into it, check out these best vegan lip gloss which don't just add colour but moisturise too!
Hourglass unreal high shine volumising lip gloss
Hourglass state this product is 'the ultimate lip gloss that breaks all the rules'. It has a decent colour collection with around 18 shades which include clear, nudes, pinks, berry and red.
The formula is created so you aren't left with a sticky feel but with long-lasting instant hydration thanks to the addition of Shea butter and avocado oil.
And if you aren't a fan of the sting which often comes with the plumping effect then this product is just right for you as this gloss leaves your lips fuller without any pinch.
PHB ethical beauty organic lip gloss
If you are all about natural and organic products then I guess you are going to love the ethical beauty lip gloss! It is one of the best lip gloss in terms of organic ingredients!
It's said to be one of the most purest vegan lip glosses out there! Made from 74% organic ingredients and 100% natural colouring, this organic lip gloss is some serious stuff.
You have the choice of picking from 14 moisturizing shades which are created to suit all skin tones, moods and protect from dryness. A lot of hard work has been put into these glosses too as they are hand made with Shea butter and jojoba oil.
Urban decay vice plumping lip gloss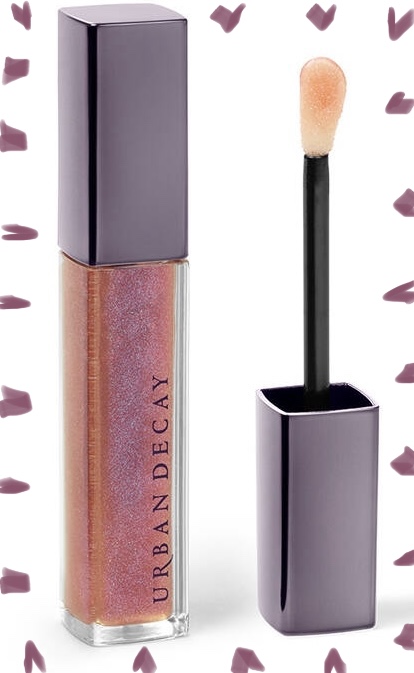 The vice plumping gloss 'feels like a weightless lip balm but looks like a colour lip gloss'. Sounds promising right?
This plumping gloss glides on smoothly leaving you with a silky moisturized pout that doesn't feel sticky or tacky. It's available in 7 buildable shade which consist of a red, pinks, a terracotta and a clear gloss.
The vegan formula contains Shea butter and passion fruit oil.
If you want to add extra colour just swipe a matte lipstick underneath and voila!
Pacifica enlightened gloss
Pacifica promise a 'smooth and non sticky with nourishing hydration' product that's also supposedly ment to leave you with a long-lasting natural colour.
The enlightened gloss features an added benefit of 'superior lip health' coming from the infusion of coconut oil, vitamin E and antioxidants.
It smells scrumptious too, coconut and vanilla!
For a more in depth review of Pacifica enlightened gloss tap here!
Glossier lip gloss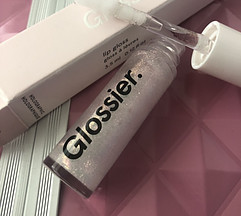 A comfortable, long wearing lip gloss' that leaves a glassy finish is the best way to describe the glossier lip gloss. They are available in 4 shades, gold, red, clear and a holographic.
It features a fuzzy doe foot applicator which makes picking up the right amount of product easy without any mess.
The addition of vitamin E and jojoba oil help keep lips soft like cushions as well as moisturized.
And if you'd like to check out how glossiers lip gloss performs than I suggest you tap here!
Fenty beauty gloss bomb heat lip luminizer
This lip luminizer by Rihanna is actually a 2 in 1, it's a lip gloss and a plumper or as Fenty state a 'lip luminizer and plumper hybrid'!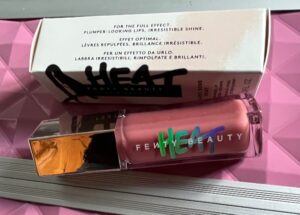 This gloss bomb delivers a hint of tint along with fuller looking lips, and a blend of awesome extracts including ginger root oil, capiscum fruit extract, Shea butter as well as vitamin E which bring the conditioning and moisturizing properties to this gloss.
This gloss bomb features a gentle peach scent so nothing too bothering, along with its lush, smooth texture it should be a comfortably easy application, that's layerable too, alone or with other lipsticks of your choice.
You can check out how the Fenty beauty lip luminizer performs by tapping here!
100% pure fruit pigmented lip gloss
Coming in five berry shades, the 100% pure lip gloss are an 'ultra shiny' lip glosses made with not only vitamin E but also 'real fruit pigments'. It's as fruity as a gloss can get!
These lip products help soften as well as moisturize your pout whilst delivering a silky smooth finish with the potential of a semi sheer coverage.
Not satisfied? Well I think you'd want to know these fruity glosses contain key ingredients such as turmeric extract, pomegranate, red wine and bilberry, all helping to fight inflammation, protecting against signs of ageing and free radical damage!
O right peeps, that's it for now, these were some of the best lip gloss in my opinion!
It's your turn, what lip finish do you prefer, gloss, matte, satin or just the plain balm?
If you prefer matte lipsticks then tap here to view some awesome vegan examples!
Have a great day!?
Please follow and like us: