Glossier is an awesome brand which doesn't only offer makeup products but skincare, fragrances and much more!  I'm not entirely sure as to how good their products are, apart from reading some reviews, as I'm just starting to get to know them. So to first time try one of their products I decided to go for the lip gloss.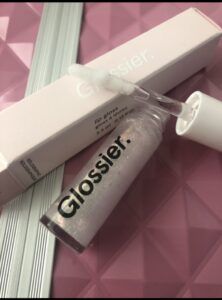 If you'd like to know how this product performs then continue reading this glossier lip gloss review!
By the way, they are a cruelty-free brand however not all their products are vegan, you'll have to look out for the vegan logo to make sure.
Quick overview:
Pros
Great applicator size
Easily removable
Leaves lips soft and moisturised
One swipe is enough
Cons
Limited shade range
Felt a little sticky
Shades
There are originally 3 shades in the glossier lip gloss line however they decided to add a limited edition colour.
You have a choice of purchasing between a 'clear' hue, 'holographic' which is a silver shade, 'red', that's of course a red, almost translucent and last but not least a 'gold' that is limited addition. Since the gold is limited edition it most likely won't be available for long.
I decided to buy the 'clear' one as I can use it on top of other lipstick finishes to add colour.
I mean to be honest they all have the see through element to them so technically all can be used on top of other lipsticks but the clear shade is just my preference.
Shade selection = 5/10!
Application
The glossier lip gloss comes with a doe foot applicator which is fuzzy, just like the usual lip products I have. The brand mention how the applicator scoops up the right amount in one swipe but did I find this to be true?
Certainly, I found that I only needed one coating to give me the shine that I wanted. The applicator size is just right too for my thin lips, not too big neither too small.
Applying it over other lipstick finishes is just as easy as applying the gloss on it's own. When applying on top of matte or other lip products I recommend prepping well beforehand.
Application = 8/10!
Lastage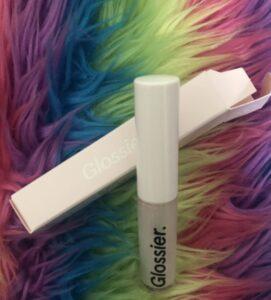 I find many lip glosses tend to not last very long, the most probably being around 5 hours before they need topping up again.
The glossier lip gloss is no different, it sticked around for approximately 4 hours till it was visible no more. The glassy finish seemed to gradually fade towards the 3rd hour.
I did notice the lastage was drastically reduced when eating or drinking, lasting a total of 2 hours.
Lastage = 7/10!
Texture
Glossier state their lip gloss is a 'high shine without the stickiness', which to me sounds very appealing.
I know from collecting different lip glosses that they often suffer from the same problem which is the euak sticky feeling!
So was this lip gloss any different?
To some extent, I'd say it was 50/50. At first, I didn't experience any issues with the texture however when I started to reapply due to the results fading as well as lose of performance, my lips felt sticky. My hair did get stuck as well in the formula after a while of wearing it.
The consistency of the glossier lip gloss is not bad though. It is a little gloopy which I'm not too bothered about as long as it is not runny then that's fine.
Removing this product is pretty easy using a makeup remover. Water alone leaves a little formula behind so I think it's not the best option to get rid of it.
Another thing I liked about this item is the ingredients. They were quite gentle with my lips and actually kept them moisturised for a little while.
I have really dry lips so crack often, sometimes even when moisturizing beforehand.
I think this is down to the gloss being made with 'vitamin E acetate' and 'jojoba oil' which is known to leave lips feeling moisturised and soft.
Texture = 7/10!
The verdict?
So overall I give the glossier lip gloss a rating of 7/10! I like the subtle sheen, the cool ingredients as well as moisturising effect. However it would be great if there were more shade's available.
I think this lip gloss would be suitable for anyone looking for a moisturizing high shine gloss who isn't deterred by a little stickiness! However if you are going to be eating and drinking quite a bit then I wouldn't recommend unless you don't mind reapplying since it does seem to vanish as you consume!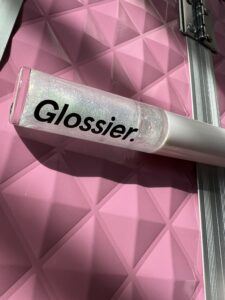 Have you purchased any of glossiers products? What do you think of them? Let me know in the comment section below!
Oh and whilst you are here, you could check out my review on the Glossier liquid eyeliner, both bought at the same time!
Or if you prefer lipsticks then I suggest you check out glossiers generation g lipstick!
Have a great day!?
Please follow and like us: