I decided to purchase the glossier generation g lipstick after experiencing how good their lip gloss and pro tip eyeliner was.
Next I wanted a lip colour which wasn't too rich but still showed enough colour to be noticeable so I guess that's when the gen g popped up!
Stay with me as I go through what I liked most about this lipstick as well as anything which could have done with some improvement!
Quick overview:
Pros
Easy to apply
Good for not overly dry lips
Great for daily and casual use
Cons
Not as long lasting
Would love a wide shade range
Description
The glossier generation g lipstick describes it's self as a 'sheer matte lipstick' which gives as well as finish of a blotted lipstick, 'just-blotted lipstick, without the blot'.
For those of you who aren't aware a blotted lipstick is one which leaves quite a light subtle colour.
It's colour diffuses into your lips so it looks like a lip stain, it's great for an everyday natural look.
The generation g lipstick is available in six shades including a peach, pinks, red, a brown and a dark berry. It's said to go down easily too!
Right let's get into how it actually performs!
Ease of application
Glossier state their lip colour is easy to swipe thanks to its diffused matte texture, which just means it's a matte that's got a toned down pigment, they even go as far as saying you won't need a mirror!
Now that's some confidence!
So how did I find it?
Well I can certainly say it was easy to get on but you must use a moisturiser beforehand or lip balm if you have overly dry lips like me!
Otherwise, the road will be quite a bumpy one!
But I will say it was easy to apply and about not needing a mirror, well I had to use one thanks to my tiny lips which even if I blink and apply, the colour will end up on my chin or above the upper lip!
The colour it leaves is a beautifully subtle shade which does in my opinion appear quite natural especially the shade I've purchased called 'like', a light cool pink.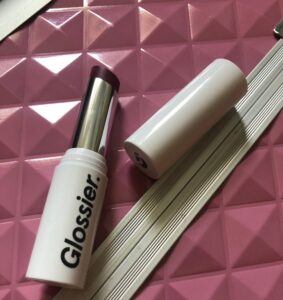 Is it drying or moisturizing?
With ingredients like safflower oil and blue agave, the generation g lip colour aims to keep lips soft and smooth by preventing moisture loss.
However, despite this my lips still managed to become thirsty. The lipstick did well for the first 2 hours however after that my lips became chapped.
I'm not too disappointed as I expect this, it happens all to often with many lipsticks when I don't moisturise or prep beforehand.
I found the best solution to apply lip balm or any moisturizer first and then the lip colour.
And then when the colour becomes less visible to reapply both products in the same order. I sometimes use honey underneath as a base as it's a great natural moisturiser! (Tasty too)
I feel anyone who doesn't have a naturally dry lips will definitely find this to be hydrating enough, well hopefully.
Colour lastage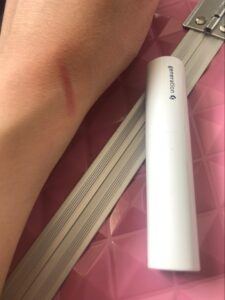 This is a sheer matte finish with dialed down pigment too, so straight away I knew lastage wasn't going to be it's strongest feature. Was I right?
Yep! Naturally this lipstick has a light pigment to it, so would you expect it to still be going strong after a couple of hours? I wouldn't or at least I wouldn't be surprised if it didn't.
So for me this lipstick had to be reapplied every 4 hours, not bad to be honest.
The generation g lipstick has a scent to it, a rosy smell which is actually said to be a 'lychee rose' scent. It is not strong, subtle and indeed fresh just like glossier state. I like the fragrance overall, quite pleasant, it's not bothering unlike some products which have quite a strong smell.
Did you know glossier now have a lipstick that is ultra sheer, a perfect option for individuals who love the moisture of a balm but colour of a lip tint! Check it out here!
Overall
Overall I rate the generation g lipstick an 8/10! I really love the subtle colour and the shades. I find it cool how on each individuals lips it's a unique shade because of its dialed down pigment.
The only slight downside for me was that it wasn't hydrating enough but other than that it's a thumbs up from me!
I'm definitely willing to try the rest of the shades especially the deep berry one named 'jam'.
It's great for anyone who is looking for a matte finish but with less boldness. It's also ideal for an every day or casual look, definitely blends in well with my lip tone. The shade 'like' fits perfectly for a no makeup effect since it it resembles a natural lip colour.
If you need to add a hint of quick colour wherever you are, then it would definitely prove useful!
What finish lipstick do you prefer and why? Let me know in the comment section below!
And if you want to check out more vegan matte lipsticks then tap here! Otherwise…
Have a great day!?
Please follow and like us: