I know we all have an artistic side to us hiding in there somewhere so why not let our creative minds run free! Check out these best colored liquid eyeliner which will surely bring our imaginations to life!
Besides our imaginations, coloured eyeliners can be fun to play around with and they definitely will help you stand out from the crowd!
Without colour the world would be a boring place! Right?
Liners which come in a pen liquid form are probably the most easiest to use as they have tips which are precise allowing you to create sharp crisp results! Great for beginners too for that reason!
So shall we get rolling? I think so!
Quick Overview!
BBF liquid liner by colour pop
NYX glitter goals liquid eyeliner
3INA makeup the colour pen
Barry m euphoric metallic eyeliner
Barry m hi vis neon liquid eyeliner
Urban decay heavy metal glitter
Aqua resist colour ink
BFF liquid liner by colour pop
Available in 7 shades, the colour pop liner uses a flexible tip to glide on smoothly leaving behind a colourful rich, intense pigmentation, with just one swipe.
The BFF liner doesn't tug on your lids neither smudge nor run thanks to its transfer resistant formula! Colour pop promise this liner will 'build you up and won't let you down' just like a real BFF!
NYX glitter goals liquid eyeliner
If you are a fan of the magical glittery stuff then you should check out NYX glitter goals eyeliner!
It comes in six colourful shades including orange, gold, pink, silver and much more! NYX state you could 'shoot for the stars' with these jewels.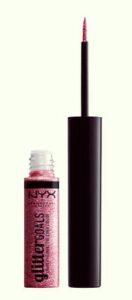 They are said to be quick drying and apply easily with just a flick of a brush tip so you can add a 'twinkly touch' to any look in no time!
3INA makeup the colour pen
The 3INA colour pen lets you create 'vibrant cat eye flicks and on trend graphic liner looks' with a selection of 6 different shades ranging from blue, yellow and white.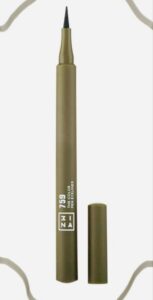 It's super fine and flexible tip draws along smoothly on the lids which dries quickly leaving you with a long wearing smudge free and lets not forget a saturated colourful finish!
Barry m euphoric metallic eyeliner
These euphoric eyeliners come in five metallic shades to help you 'bring out your bold side'. You get to pick from yellow, silver, rose gold, bronze and green!
Their fine tip lets you build your wonderful creations with precision in a matter of seconds so you are party ready in no time!
They're highly pigmented too so one swipe will be just enough to show off your masterpiece!
For a in-depth review on the Barry m metallic liner tap here!
Barry m hi vis neon liquid eyeliner
For those neon loving colours, the hi vis liquid liner comes in 4 bold high pigmented shades. These liners are applied using a small tapered brush which is part of the liner.

The shades available are purple, pink, green and blue. If you want a 'perfectly crisp wings' in one the brightest colours then I guess you need to check these 'fearless shades'.
You can view the neon liquid eyeliner here!
Urban decay heavy metal glitter
If you're all about the sparkles and glam then the urban decays heavy metal glitter eyeliner might be the one for you!
It comes in a whopping 12 rocktastic shades including bright blues, browns, silvers, purples and much more. The 'precise, thin tipped brush' makes it easy to create sparkly lines. You could even use the brush to spread the sparkle all over your lids.
This formula has some special hidden ingredients which happen to be cucumber, carrot and peach extract, they help 'conditions, smooths and softens the skin'.
If you wish to check out the full performance of the urban decay glitter liner than tap here!
Aqua resist colour ink
Available in 9 shades and 3 cool finishes, the makeup for ever's new eyeliner features a waterproof as well as high intensity formula. On top of this it's smudge and humidity proof making it stay strong for the whole day even through 'extreme conditions'. 'Intense, vivid, consistent colour payoff' with just one swipe, is what the brand state.
The ultra fine tip design means creating precise lines and intricate details is much easier. All the shades except matte plum are vegan. The finishes include matte, metallic and chrome! Cool right!
That's it for now peeps!
Do you own any coloured liners be it liquid or pencil? Let me know in the comment section below!
Or if you don't want to leave yet then tap here to check out some awesome black liquid eyeliners!
Aren't a fan of liquid liners? Then check out these soft pencil liners!
Have a great day!
Please follow and like us: