I used to use kohl or Kajal liners quite a lot a while back, I really liked their soft and creamy texture so when I heard about the milani supreme kohl eyeliner, I was excited to get back into kajal liners again!
Kajal liners also have strong pigmentation too, they are intense little things!
Anyways read on to find out how the milani kohl kajal eyeliner performs as well as my favourite aspects!
Description

Milani state this kohl kajal will help 'bring out the smoldering intensity' of your eyes with it's long-lasting formula.
It's suitable to use on the waterline as well as inner rims.
You don't need to worry about sharpening it either as it's a self sharpening liner, in other words it's retractable.
Quick overview:
Pros
Doesn't need sharpening
Smooth application
Soft texture
No smudging
Good for sensitive eyes
Cons
Runs out quick
Pigmentation could be a little more richer
Application
I think we can all agree that how good and easy a product is to apply is one of the most important aspects, right? I mean how else are you supposed to get that sharp clean result!
I found using the supreme kohl kajal eyeliner quite easy, though it was a little slippy but overall comfy to hold. I like that it's self sharpening at least I won't be needing a sharpener which I tend to loose a lot somehow! Basically it's retractable.
The application was smooth, it glides along easily on the waterline.
Application = 8/10!
Pigmentation
Milani states on their website, the supreme liner posses a 'deep black kohl formula' however I didn't see the results I was expecting, by that I mean a truly rich and pigmented colour.
I got similar results to the usual eyeliners I've used before but just with a little extra deep pigment, though not the result I was expecting but I'll take it.
I'd like to compare the pigmentation to the Barry m waterproof eyeliner, which is currently my favourite eyeliner!
It's kinda funny as on the hand it appeared more darker but on the waterline a little less.
Pigmentation = 8/10!
Texture
The texture of the eyeliner is soft and a little waxy which is great as it doesn't poke or hurt when you line your waterline which is quite a delicate and sensitive area itself.
As it's a kohl kajal liner it is softer than your usual eye products, Kajal tend to have an almost creamy soft texture which I can see some elements of it in this eyeliner when swatching on the hand.
Texture = 8/10!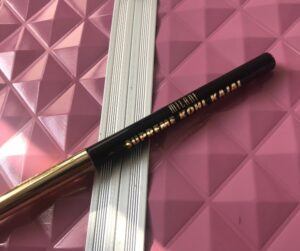 Lastage
Anything which goes on the waterline, washes away real soon compared to lining your lids or just below or above the waterline. So the formula has to be extra strong if it's to withstand the time!
The milani supreme eyeliner got through approximately 5 hours before it needed topping up, it might not sound a lot but when I consider where I applied it, it's actually not too bad compared to some I've used in the past.
I didn't also experience any running or smudging!
Plus I have sensitive eyes which means they water easily so I'm good with the lastage results.
On the lids, for me the lastage wasn't as long, it began to fade a little earlier than the 5-hour mark for the waterline.
It's much down to my really oily lids which also cause products to transfer too!
As for it triggering my sensitive eyes, it did water at first but after using it a few times by eyes have finally accepted the product, so far I haven't had a waterfall yet! Fingers crossed it stays like that!
Removing it is easy, just grab a cotton bud with a little makeup remover suitable for eyes too and simply swipe it off! Or just a plain bud does the job well too!
Lastage = 7.5/10!
Cons?
Just before dishing out the overall score, I would like to add the liner does break quite easily especially if you aren't careful when opening it.
Mines did break from the tip so now I'm left to work with a somewhat blunt liner, which is going alright at the moment until I need to add precise detail.
I'd like to add, the creaminess does seem to have deteriorated. I have started to notice clumps form when getting it on.
Another thing which I don't like about retractable products is they can easily malfunction by the twist thing just refusing to move like I had experienced. And when that happens a lot of product can go to waste! Disappointing right?!
Overall
I give this eyeliner a rating of 8/10!
I like it's soft formula, the pigmentation is good too as well as the lastage and how easy it is to apply however I would love it if other shades were available, maybe a blue, green or a subtle grey!
I'm also yet to check how long the product as a whole lasts, at the moment it seems to be doing well!
So if you are looking for an eyeliner with a little extra pigmentation and a smooth formula, suitable to use on the waterline then I guess this can be your next best friend! It's a great alternative to the Kajal or kohl I usually get!
To learn more about kohl liners tap here!
Or if you prefer pencil liners then here!
Have a great day! ?
Please follow and like us: