Eyeliners are a massive part of makeup aren't they? No look is complete without them in a way. There are many types of eyeliners but in this post we are going to look at some of the best long lasting pencil eyeliner! Because who wants an eyeliner that goes running off as soon as you blink right?
Okay so, for me the best pencil eyeliner has to be waterproof and long wearing as well as suitable for use on sensitive eyes with healthy ingredients being an added bonus, as I mainly use liner on my waterline so I definitely don't want to be adding junk into my eyes.
Right let's jump into the examples!
Don't worry though, these eyeliners are vegan and some cruelty-free too!
Quick Overview
Charlotte tilbury rock n kohl
Logona double eyeliner pencil
Pacifica natural eye pencil
Inika certified organic eye pencil
PHB ethical beauty organic eyeliner
Lily lolo natural eye pencil
Alima pure natural eye definition pencil
Barry M waterproof eyeliner
Glossier no1 eye pencil
Charlotte Tilbury rock n kohl
With six different shades to choose from, this eyeliner by Charlotte Tilbury is perfect if you are after a long-lasting look, it's

said to have a waterproof formula which 'stays put for up to 14 hours!'
There is no need to drag, it's smooth texture glides and blends effortlessly to help you get that look whether that be a smokey eye or to add definition to your already gorgeous eyes.
As well as being vegan friendly, it's also paraben and preservative free! And has 'crushed pearl powder' to hydrate your lids.
The shades available are 'bedroom black', 'midnight blue', 'smokey grey', 'eye cheat', 'velvet violet' and 'Barbarella brown'
Update: Charlotte Tilbury is no longer cruelty free due to the brand deciding to sell in china. The company are yet to confirm this.
Logona double eyeliner pencil
Can't decide which shade to pick? Then you might want to hear about the double eyeliner pencil by logona!
This German brand offers an eyeliner with two sides, so you can choose two colours. How cool!

Whilst you are applying colour to your lids, your skin is also being conditioned thanks to its natural, anti-ageing ingredients which consists of organic cranberry seed oil and a gemstone mix.
You may have to have a look at the ingredients to make sure it's vegan though, as not all their products are!
The shade 'coffee' and 'forest' from the dual ended liner is vegan.
Pacifica natural eye pencil
Pacifica is a 100% all vegan and cruelty-free brand, so no worries here! They also have great natural ingredients used across many of their products, which gives me another reason to love this brand!
And have you seen their packaging? Cute if you ask me!
This particular eye pencil is, as with many of their products, formulated without no parabens, talc, phthalates or mineral oil!
Some of the awesome ingredients include Shea butter, Jojoba oil and mineral colour.
The natural formula is also supposed to provide hours of wear, I wouldn't worry how long it stays on with these amazing ingredients! It's great for sensitive eyes too!
The natural pencil has a butter-like texture, that's also waterproof and glides away so smoothly. What else do you need!
Inika certified organic eye pencil
Inika is another 100% all vegan and cruelty-free brand, but not just that, they use '100% natural ingredients for all of their products'!
Okay so more about this pencil. This organic eye pencil is basically for everyone, whether you are after a natural day to day look or a more dramatic smokey effect, the 'soft, silk-rich' texture glides away effortlessly leaving behind an 'intense colour pay off' for the whole day too!
Of course, it's suitable for even the sensitive of eyes (that's me) thanks to it's 'natural plant based ingredients and pure mineral pigments'.
It's also infused with organic coconut oil for extra softness and nourishment, you won't get irritated eyes or need to drag your poor skin!
The availability of unique colours is another cool thing about this liner! There are 9 cool colours to choose from, including an emerald green and indigo! I suggest you check them out!
For a full review on the inika certified organic pencil liner then tap here!
PHB ethical beauty organic eyeliner
The award-winning organic eyeliner by PHB ethical beauty, an all vegan and cruelty-free brand, is made to be worn for extra sensitive eyes!

This long wearing and water resistant eyeliner is packed with nourishing natural plant oils and waxes, which are all gentle yet still help provide a rich pigment, that goes on without no problem and accurately too!
You can purchase it in two shades, that is a deep brown and black.
Forgot to mention, this product is also free from many nasty chemicals as with most of their beauty items! That includes Parabens, SLS, preservatives, fragrance, GM and much more!
Lily Lolo natural eye pencil
The lily Lolo natural eye pencil comes in two shades a brown and a black. It's vegan friendly, moisturizing as well as conditioning ingredients such as jojoba oil, vitamin E and Shea butter make it great for sensitive eyes too!

The rich colour together with the soft and smooth texture make it great for defining, outlining or enhancing the eyes with it's non-drying formula for a look that's long-lasting.
For more info on how this eyeliner performs than tap here!
Alima pure natural definition eye pencil
The alima pure natural definition eye pencil (phew that was long!) is said to be a long-lasting eyeliner that is natural and has ingredients which consists of soothing 'natural oils, waxes, and Chamomile extract'.
You know what that means? It's good for delicate eye areas too.
It's ease of blendability and the ability to glide on smoothly as well as all-day wear, makes it great to help achieve a range of looks.
You can pick from 3 shades which are 'ink', a carbon black, 'coffee', which I think you can guess is a rich cocoa brown shade and 'patina' a shimmering taupe.
Want to know more about this product, then click here!
I decided to add this on the list as it's super affordable, under £5/$7. This particular Barry m eyeliner is waterproof making them 'super long lasting', with over 8 hour wear and is known to apply as 'smoothly as a liquid' liner but with a precision of a pencil. Isn't that what we all want? Right?
It is available in six different shades, black, purple, gun metal, rose gold, oasis blue and brown. Rose gold sounds cool!
A unique, certainly cool coloured and designed pencil, the danessa myricks infinite is a multi chromatic eyeliner which features a 'dual, colour shifting finish', with the ability to transformin different light angles.
The infinite chrome pencil has a creamy texture allowing for easy blend and smudge. The micro tip makes it perfect for creating precise lines too!
And let's not forget to mention the array of awesome colours, with around 10 to pick from, including purples, coral pink, moss green mixed with teal, muted magenta and olive, an infusion of copper with rustic yellow.
Glossier no. 1 pencil
The glossier eyeliner comes in an array of 10 colours, including the classic black, blue, green, red, yellow and much more! It is said to be longwearing, upto 12 hours stay power, so you can 'spend more time living life, less time worrying about your makeup'.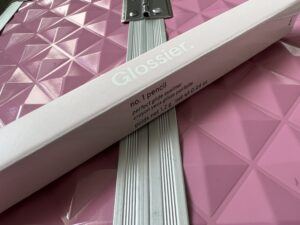 The formula is also blendable as well as water resistant, transfer resistant, with a rich creamy and soft formula, making gliding across the lids a smooth experience! The pigment is highly saturated so you can create 'sharp, defined lines' and even enough time between drying allowing you to blend for a smoky look!
The full review for the glossier no 1 pencil can be viewed here!
Rightpeeps that's it for now!
Or if you don't want to leave then click here to view some awesome examples of liquid liners!
Also prefer pencil eyebrow products then I suggest to tap here to check them out!
Now it's your turn! Do you have any favourite eyeliners be it pencil, liquid or whatever that you would like to share?
If you have any questions or suggestions please feel free to contact me or comment down below!
Have a great day! ?
Please follow and like us: