The inika certified organic eye pencil had always been on my mind but somehow I hadn't managed to grab myself one. I don't know why, could be the pricing. But anyways I just decided to take a look on their website for no buying purposes though, but guess what!
There in big beautiful letters read: SALE! Of course I was going to get myself one or maybe a pair then, I mean when else would I! So I did end up purchasing more than an eyeliner that's for sure!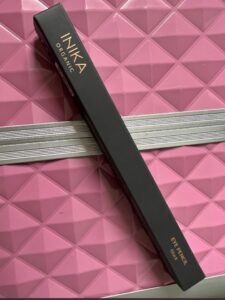 Anyways we are here for the eyeliner review so here it is! Continue reading to find out my favourite aspects of this organic eyeliner as well as anything I weren't a fan of! And is it the best natural eye liner?
Disclosure: This post may contain affiliate links which means that I may earn commission if click and make a purchase but no additional cost to you.
Quick overview:
Pros
Great ingredients
Good shades available
Gentle formula
Easily glides along
Cons
Easily breakable
Pigmentation wasn't to my expectations
Description
The inika organic eye pencil features a 'soft, silky rich texture' which should glide on 'seamlessly'. Apparently each stroke should provide intense colour payoff which should last all day comfortably.
The organic eye pencil is designed from 'natural plant based' ingredients as well as pure mineral pigments which should make it suitable for sensitive eyes, that I definitely have!
The addition of coconut oil ensures not only extra softness but nourishment too, which I am in need of.
Inika is a brand which only use 100% natural ingredients for all their products!
Shades
There are currently 8 shades this pencil eyeliner is available in. You can choose between a brown, two shades of purple, yellow, dark grey, emerald green, indigo and even a white one.
The shade which I was mainly interested in was the black one however since I couldn't seem to find one I decided to go for the next best one, which happened to be the Coco shade due to the subtle look on the eye it can create, I could have gone for graphite, the grey colour which is not that bold either.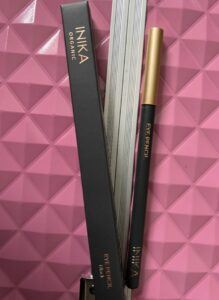 I would like to maybe one day try out the emerald or purple, they would look great!
Shade range = 9/10!
Application
I usually apply pencil eyeliners on my waterline as they are strong and don't leak into my eyes. And if I were to make a mistake, then I can wipe it off easily.
Anyways, the inika organic eye pencil should feel soft and smooth judging by what the brand state about their formula, 'soft, silky-rich texture'. So was it easy to apply and gentle.
Well I can say it was definitely easy to apply, gliding along with no problems. The texture was soft when stored in an environment that isn't to cold.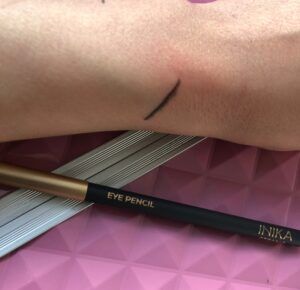 It didn't poke my eyes which I'm glad as usually pencil eyeliners can be a bit hard on the eye especially if you are using it so close to the eyeball.
The pigmentation of this liner is good, I wouldn't say it is as great as the Barry m waterproof eyeliner but still comparable. Inika did mention the liner has an 'intense colour payoff' however I wouldn't say it's intense but it isn't too light either basically it's just right!
Application = 8/10!
Lastage
Pencil eyeliners are usually much more longer lasting on the waterline compared to liquid which would easily water down.
This eyeliner is said to have longwear capabilities to which I would agree. I didn't have to reapply until the 6th hour where it just started to become faint.
As grey or brown are quite subtle anyways, they are most likely to fade quicker so if I look at it in that way this definitely has some strength to it.
I'm assuming if the liner was black it would be visible for longer due to its strong pigmentation.
Lastage = 8/10!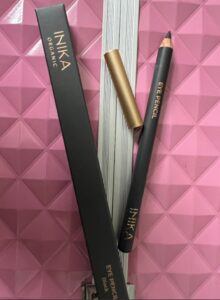 Overall
Overall I rate this eyeliner an 8/10! I love the natural ingredients, how gentle it is on the eyes as well as the soft formula. The shade range is great and so is the pigmentation.
However I didn't like how easily the pencil could break but other than that it's a great eyeliner to use on the waterline for sensitive eyes and would buy again if need be! I would say it is the best organic eyeliner!
If you'd like to purchase your very own inika organic pencil then tap here!
I would like to know, do you prefer pencil liners or liquid liners? Drop your answers down in the comment section!
And if you don't want to leave then tap here to check out more awesome vegan pencil eyeliners!
Have a great day!
Please follow and like us: