I'd say Barry M is one of those greatly priced brands that do offer some decent quality products from what I have heard and come across. I had run out of my usual black eyeliner which was what prompted me to run to shops, I could have gotten the same brand again but I wanted to try something new so I decided Barry m bold waterproof eyeliner was going to be my next new friend. Or was it?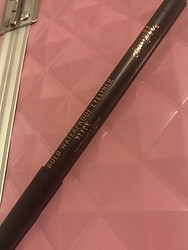 Carry on reading this Barry m waterproof eyeliner review if you'd like to learn if it was a friend or foe!
Disclosure: This post may contain affiliate links which means that I may earn commission if click and make a purchase but no additional cost to you.
Item description
Starting off with the description:
Barry m state this product is a 'luxurious bold waterproof' eyeliner, which apparently applies as 'smoothly as a liquid' liner however with the precision of a pencil eyeliner whilst being waterproof.
I don't know about you but that sounds like a great combo!
Barry m also claim in their own words this product is ' super long-lasting with more than 8 hour wear!'
So know we have a brief understanding of how this eyeliner should perform let's get into how it actually went down for me, my favourite aspects of this product as well as any features I wasn't to keen on.
Disclosure: This post may contain affiliate links which means that I may earn commission if click and make a purchase but no additional cost to you.
Quick overview:
Pros
Cool colour selection range
Smooth application
Great pigmentation
Soft tip
Easy to sharpen
Cons
Here we go!
Shades
One thing I like about this eyeliner is the shade selection. Barry M did a good job in choosing their colours, with around 6 different hues.
You can select black, oasis blue, gun metal, purple, white and rose gold, which sounds cool right?
So far I have only purchased the black shade, I don't know why, you could have called me boring but I'm actually planning on grabbing the interesting rose gold shade so you can't! Heeheehee!
Shade selection = 8/10!
Application
Before I start yapping away about how it applies, let me quickly go through what the liner looks like as well as how it feels.
I feel like this aspect is sometimes overlooked, but I believe it's just as important as the application process.
How? You ask, well if a pencil doesn't fit right or feel comfortable in your hands you are probably not going to produce your best results whereas a well shaped product will make it all the easier to do your makeup!
I can gladly say the Barry m waterproof eyeliner is quite comfy to hold, the finish is smooth however this means the pencil can sometimes slip out especially if you hold light handily.
The product is shaded majority in black apart from the tip, which depends on the colour selected.
Now for how it applies! In my experience I found it goes down nicely. Smooth, just like Barry m stated. It didn't scratch my eyes or make them water which I'm prone to.
The pigmentation was nice too, leaving behind a deep rich colouration. So it definitely ticks the 'luxurious bold' box.
Application = 9/10!
Is it waterproof?
It's in the name, so it had better be waterproof!
I'm going to keep this short and simple, was it waterproof? Well to some extent, I'll discuss below as to what I mean.
Waterproof = 8/10!
Lastage
Overall this eyeliner lasted approximately 6/6 1/2 hours which to me is reasonable especially when looking at the decent pricing.
It isn't too far off from the 8-hour mark, I mean it could do easily more but you would have to top up, only once though!
So what did I mean by 'some extent' for the waterproof feature?
Basically it did not run or fade within the time frame I mentioned, I washed my face a few times to test and passed it, I mean I can say it is waterproof!
Okay now time for what I didn't like about this pencil. I found that the tip got blunt quite quickly, I had to sharpen often, which also means it's probably going to run out soon.
I feel like there is less product packed in and more pencil material wrapped around which is probably the reason why my pencil is disappearing fast!
By the way sharpening the pencil was easy, it didn't crack which I have experienced somewhat a lot with others in the same price range. The pencil is made from a different material then the usual wood.
Lastage / performance = 8/10!
Overall
So overall I'd rate this waterproof pencil an 8/10! It's great value for the price, waterproof enough to be considered that, lasts well, and has great pigmentation.
I think I would definitely repurchase, I would love to give the rose gold colour a go!
I would suggest this eyeliner to anyone who is looking for a product that's affordable and actually does what it says!
If you'd like to check this eyeliner out then tap here!
If you'd like to view water resistant mascaras to pair with this then tap here!
So what do you think of Barry m products? What is your favourite item from this brand and why? Drop your answers or if you have questions below!
Have a great day!?
Please follow and like us: