Anastasia Beverly hills is a 100% cruelty-free brand but not every product of anastasia is vegan, don't worry though the anastasia beverly hills brow wiz is, definitely.
I was initially looking for an eyebrow product that allows for perfect control whilst also depositing the right amount of pigmentation, when I came across this brow wiz.

And judging by the few reviews that I had read, this product seemed to fit the picture perfectly.
But did it meet my expectations?, well you'll have to read on to find out!
But not before a brief description from Anastasia on their brow product:
"Anastasia Beverly Hills Brow Wiz® is an ultra-slim, retractable eyebrow pencil ideal for outlining and detailing brows with professional-quality precision".
And now time for the truth!
Disclosure: This post may contain affiliate links which means that I may earn commission if click and make a purchase but no additional cost to you.
Quick Overview 
Pros
Good lastage
Easy application
Satisfactory shade selection
Doesn't require sharpening
Dual ended
Cons
Texture
Let's get straight into it!
The texture can seem a little powdery and according to the brand it should have a waxy formula which to be honest I don't seem to see it.
But anyways the texture, I really like it, it isn't rock hard so that when it hits your skin it feels like your dragging a pin but it's also not too soft that it smudges or melts. Basically it's just right!
Lastage
I really love the lastage, it stayed put for the whole day throughout my hard working hours (hard work as in literal sweat), I didn't need to top it up at all.
When the rest of my makeup was melting away, the brow wiz stood it's ground! I think the formula definitely helps the lastage as a waxy, powdery form definitely is stronger than gel or liquid type.
Shades
There are around 12 shades consisting mainly of different hues of brown with a few grey looking ones, but match well with a diverse range of hair colour.
There is a new shade called 'straw burn' which is created to suit light red hair. The shades 'blonde' and 'taupe' are great for blonde hair.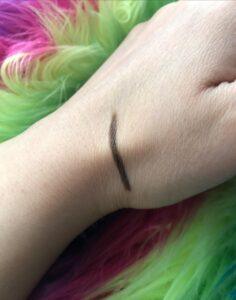 The shades which suits my brows the most is 'dark brown', it fits in with my natural brow colour and looks fine overall eventhough its aimed at warm undertones and I have a more cool undertone.
Application
Applying the brow product is pretty easy and simple overall, you just undo the cap and then get going!
The brow wiz has a tip which doesn't quite have much of a sharp edge yet still allowed me to draw precise lines onto my hair.
The pencil does require going over each line a few times though due to its thinness but I actually like it as gives a more realistic hair like appearance. And plus you can control how dark or light you want to go.
How I would usually do my brows and probably you peeps do too is by firstly brushing my brows down and then up to find the natural line and finally carefully outlining where the natural hair begins all the way round.
I neaten them up after or depends on what look I'm going for and then fill them in using gentle small strokes in the same direction my natural hair goes towards.
Lastly I use the spoolie to evenly distribute the product, and then sit back and admire the results (or frown if it came out a mess)
The pencil doesn't have such a strong pigment but I like it this way, because that way mistakes can be easily dealt with.
Overall
Overall I would give this brow product an 8/10! I really liked the lastage and how easy it is to apply as well as the look I was able to achieve with it.
However, I would like if they packed more product in as it's rather less especially for the price we pay. Despite that I would purchase it again purely because the positives outweigh the negatives by far.
If you want to give this anastasia brow wiz a go then click here!
Otherwise check out other brow pencil here!
And if this brow pencil isn't your type check out Anastasias brow pomade!
What type of eyebrow product do you use or how do you do your eyebrows? I'd love to know!
Have a great day!?
Please follow and like us: