After hearing about so many great reviews and reading that it is a 'award-winning' pomade, I decided to purchase my own Anastasia beverly hills dipbrow pomade granite, which is the name of the shade I picked, to see what all the fuss was about.
I was used to using pencil brow products as well as the quick and easy brow gel so a change was definitely needed as well and it was going to be exciting.
Disclosure: This post may contain affiliate links which means that I may earn commission if click and make a purchase but no additional cost to you.
Let's see what Anastasia Beverly hills says about this product:
"The long-lasting, buildable formula glides on smoothly to skin and hair and allows time for blending before drying down completely to a matte finish".
Now I'm going to go through the best things about this eyebrow gel and the parts which I didn't like. You ready?
Let's crack on!
Disclosure: This post may contain affiliate links which means that I may earn commission if click and make a purchase but no additional cost to you.
Quick overview:
Pros
Easy and smooth application
Long lasting
Great pigmentation
Cons
Formula dries quickly if you don't shut the pot properly
Would be cool if there were more shades available for example colours for blonde hair.
How easy is it to apply?
I haven't really used any other type of brow product apart from the pencil ones, so at the first few tries I wasn't expecting to get my eyebrows on fleek that quick.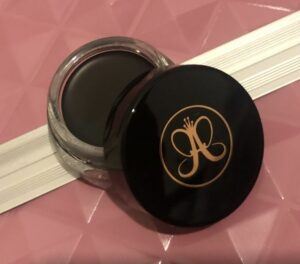 So when I did apply it and found it really easy and the first/second round result satisfied me enough that I can wear it outside that's when I knew this pomade was going to become my best friend.
So I found overall it's really simple and goes down well, it sure does 'glide on smoothly to skin and hair' just like Anastasia say.
For those of you who are used to doing your eyebrows using pencil mostly like me, then using an angled brush lightly is the best way and the most similar. And since the Anastasia eyebrow pomade is highly pigmented, only a small amount is required, less is certainly more with this abh dip brow!
Lastage
The product lasting long enough is really important especially when you go somewhere where you aren't able to check up on your makeup every now and then.
That ment I had to test this pomade a few times in varied weathers and conditions.
One of those days I chose to use this product was a hot day, a 35 degree Celsius heat! So when I checked the mirror I was met with a shiny brow after 7 and a half hours which I'm happy with.
I wasn't expecting any less as I have an oily forehead and the weather combined was surely going to show the gels weaker side.
If you do have oily or combination skin then using a powder will definitely help elongate the 'long-lasting' feature.
As for an average day it lasted more than long enough, around 9 hours, but that's because I decided to wipe it off so it's certainly capable of more.
As for how long the whole product lasts, I'm yet to still finish the whole pot. But I'm sure it would get through at least 10 months to a year as a little does go a long way for this pomade.
Usage
Like Anastasia mentions you can rely on this pomade for any brow looks. Whether that be a natural hair look on your brow or a full on dramatic look. It really helps you achieve everything.
As I have brows that aren't too sparse neither to thick I use it to add angle and sometimes fill in to make them look bold and I can say it does an amazing job.
The dark brown shade is the best match for my brows though at first I was initially going to go for the granite shade which is ideal for black hair with cool undertones. I don't have black hair however I have a cool undertone and was wondering how that would look against my skin!
The dark brown shade is the recommended shade for individuals with dark brown hair that have warm undertones. I would say it still fits cool undertones well since I am happy with the results, I mean it doesn't make me look washed out so I guess it's well.
This pomade has a high pigmentation so you don't need to keep dabbing in the pot to get colour on.
Any improvements?
I think the Anastasia Beverly hills dipbrow pomade is awesome but there are one or two problems in my opinion that solving it would make it even cooler.
The colour range consists of 11 shades which is a decent amount but they are aimed at mainly medium brown shades so adding in a bunch of lighter shades would be nice.
The other thing is the formula does start to dry in the pot more so if you keep opening and closing it or if you forget to close it your going to end up with a hard gel overtime. So don't forget!
Overall
I think this product is best for those of you who have little to no eyebrows or sparse hair. But really anyone would love it, I'm an example! I would give it an overall rating of 9/10!
If you need a long-lasting, smooth and natural filling in look than I definitely recommend this awesome brow pomade.
Click here if you'd like to give it a go!
Why not check out Anastasias luminous foundation!
Or if you are a fan of brow pencils then tap here!
Check out more awesome vegan pomades here!
If you have any questions or suggestions please let me know in the comment below!
Have a great day! ?
Please follow and like us:
Review Date
Anastasia Beverly hills dipbrow pomade
⭐⭐⭐⭐





Product Name
Anastasia Beverly hills dipbrow pomade