I feel like I'm going on an eyeliner spree, first the too faced liner and now the kat Von D eyeliner! Oh well as long as I'm not hurting anyone or anything it's fine! They are vegan and cruelty free after all! If you'd like to know how this eyeliner performs then continue reading as I go through the ups and downs in this kat Von D eyeliner review.
I've read how the kat Von D tattoo eyeliner is KVD beauty's best-selling as well as an award-winning eye product but that's not why I decided to repurchase it, after going without it for quite while.
Kat Von D states this eyeliner is long wearing, waterproof as well as smudge resistant. Now that is what I look for in a good eye product.
You also have the option of purchasing it in two colours, one is the satin black aka 'trooper black' and the other a rich chocolate brown also known as 'mad max brown'.
Disclosure: This post may contain affiliate links which means that I may earn commission if click and make a purchase but no additional cost to you.
Quick Overview
Pros
Glides easily
No tugging or dragging required
Quick drying
Smudge resistant
Waterproof to a certain extent
Cons
Pen dries up especially if in constant use
Fades away after a while
Have to keep the tip facing down to not effect the pigmentation
Read on to find out what I'm talking about in more detail!
Application
So let's get into it!
The tip is as KVD says 'ultra precise' which is half the reason why I went back to it, I'm not really great at winged eye, but I can say this product definitely gave me the confidence I needed to get the wing look going more often.
The cat eye with this pen is a must try and don't worry the pen does half the job.
I also like how the tip of this liner is quite sturdy yet still gentle on the eyes. It does have some flex to it as well and the bristles don't split, compared to the glossier pro tip it's great, even after quite a few usages.
It glides along super easily and doesn't tug on your precious skin.
This liner is a liquid type but not the felt tip that you may have in mind, it has a brush tip, giving it that smooth touch and no dragging when applying, also allowing lines to be drawn precisely.
Waterproof and smudge resistant?
Compared to other liners, it dries quickly on the lid so after a few seconds if you go and touch it, it won't budge!
It didn't smudge at all, instead stayed intact throughout the hours whether it was humid or not and I have oily lids too so you can imagine how messy it could have been.
As for the waterproofness, it too did well! I wouldn't have known how good it's waterproof ability is if I hadn't gone and removed the rest of my face makeup using water and a bit of mild soap.
The rest of the makeup started to melt away apart from the liner, which was still visible in a grey shade. It definitely didn't want to give up!
But then I grabbed a makeup remover for stubborn pigments and off it ran (but not without putting up a fight).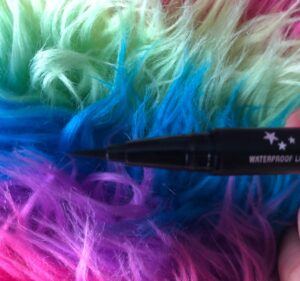 So this eyeliner is definitely waterproof and smudge resistant! (Also another reason I jumped back to it)
Removing it is also a simple task despite its waterproof ability! Just make sure to use a remover made for waterproof makeup!
Lastage
You may be able to get a vague judgment of the lastage from reading how it performed for me, it did get through at least 7 hours without dramatic changes but I believe it can easily push another hour or so in there.
The only weakness it showed was in the form of faint lines in some places especially towards the eyes, but that was at the end.
Through these hours I didn't experience any melting, bleeding or transferring which I'm happy about.
If you have oily lids like me I suggest you tone it down a bit on these moisturizing products beforehand otherwise the lastage is going to be impacted quite significantly as it did with me.
I found it didn't last as long without setting powder, the eyeliner faded quite quickly.
Any problems?
I haven't really had any major issues or any problems so far that has put me off from repurchasing it but there are a few things which I have noticed over time from using it.
Problem no 1: Drying – I know many have been having issues with the pen drying out but to be honest it's not that big of a deal.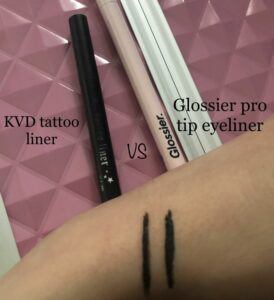 I have personally opened up to a dry liner but if I make sure to close it properly as soon as I'm done with it, then this trouble can easily be reduced or fixed.
Problem no 2: Fading – I have noticed whilst wearing the liner, it starts to fade but that's towards the end, like around the 8th hour of wear. It turns a Grey colour instead of the original deep shade it's ment to be.
I usually fix this issue by topping it up or minimizing touching my eye (which also seems to be a problem of mines). Also using setting powder or spray seems to do the trick!
Don't forget to shake the pen and store it with the tip facing down to ensure a well saturated brush as well as the best performance, it definitely helps with keeping the liquid flowing!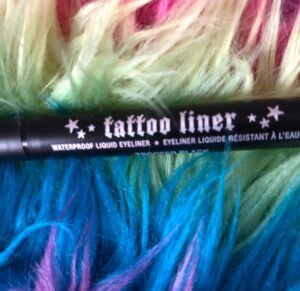 Overall
Overall I rate this product a 9/10! Obviously that's why I keep coming back to it! So if you want a strong liner that won't budge for a while and has an option of another colour then I suggest you take a look! Which is a brown shade, ideal for a subtle natural effect.
It has a great precise tip, that is not hard or prickly, making application easy for even beginners which I'd consider myself as. But do be careful how you store it if you want it to last as long as possible! It does seem to have a tendency to dry up quickly especially if not stored upright. But waterproof it is!
You can check out kat von D's other products below!
Kat Von D everlasting lipstick
What type of eyeliner do you peeps prefer? Liquid or pencil or felt pen!
Have a great day!?
Please follow and like us: