I've got the too faced better than sex mascara so why not the too faced liquid eyeliner to match! And besides nearly everyone I know has one lying around somewhere in their bag.
Apparently the mascara and eyeliner together paired are the world's sexiest power couple! Well we'll see about that since I already have the too faced mascara and now the eyeliner!
Too faced claim this better than love eyeliner lasts for a whopping 24 hours thanks to it's waterproof formula and glides away easily!
Now I don't know about you peeps but this sounds like a perfect product to get that flawless cat eye look.
But was it? Well you'll have to read on to find out!
Disclosure: This post may contain affiliate links which means that I may earn commission if click and make a purchase but no additional cost to you.
Quick overview:
Pros
Precise tip makes creating looks easy
Rich pigment
Great lastage
Does withstand some water
Smudge proof
Cons
Dries out quick if you don't keep the lid shut properly.
Packaging
I love that it fits so nicely with the too faced mascara with the colour, it has a nice baby pink (I think that's the exact colour, I'm not really good with identifying specific colour shades) packaging.
It feels comfy and smooth when you hold it in the hand and actually has a quality look to it too! So basically you could tell you payed quite the price for it, well at least that's what I think.
Application
Okay it ticks the design box, but what about the application? I don't want all my money going on the appearance only! I mean it's whats inside that matters, right!
Calm down, me!
So for me getting that perfect line and flick doesn't take one or even two tries, it goes way beyond three sometimes.
For that reason I tend to go for cat eye looks on special occasions or maybe once in a while if I have plenty of time.
But I'm not going to lie, I was really surprised as to how with this eyeliner I was able to get a pr

etty decent looking wing within the first to second try!
I think it's down to the precise tip which is very fine, it makes applying with accuracy much easier and quicker.
The tip itself glides along easily and gently across your eyelid unlike some which I have tried, that pull and tug at your skin, extending the time too!
The too faced better than sex eyeliner has a nice rich pigment, I only needed to go over the line once and that was enough for my look to pop out.
It is a tad bit dryer than opposed to the usual liquid felt liners but still holds the liquid feel.
Lastage
That's lead us to question, how long does the look last?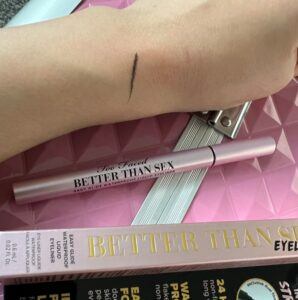 I know too faced states that it's long wearing and should last approximately 24 hours, which to me seems a rather long time and therefore unconvincing.
But of course there's only one way to find out which is to test it yourself.
I applied it some time in the morning and decided to wash it off at around 10pm, so let's say I had it on for 12 hours, and I can tell you it did fairly well apart from the streaking that occurred after a tear streamed down my face but not before I was encouraged to wipe away at it.
I know this isn't anywhere near 24 hours so therefore I had to pick another day, a busy one too, involving no tears!
This day consisted of me wearing the liner for 14 hours (a bit of it is to do with the laziness) and it was doing good until the last hour, where is started to fade a little, probably because of the hard work? I don't know but I'm happy with the results even if it's not the full 24.
Waterproof?
I believe to some extent it does withstand water on a suitable level for it to be considered waterproof.
When I'm tired my eyes start to water every few minutes especially when I yawn so I was a little surprised when I didn't see eyeliner trickle down my cheek or smear except when I had forgotten I had eyeliner on and took a right dig at my eye. Even still most the liner stayed intact!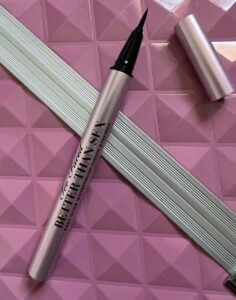 Smudge proof?
I would say it is smudge proof and flake proof if you don't constantly pick at your eye like me!
But for those of you who do, it will be able to withstand a couple swipes! I also have oily lids and found that it performed pretty well.
If I had to pick on what I didn't like about this eyeliner it would be the tip, it starts to get weaker after many uses, making it harder to create a pin point clear line.
Overall
Overall I give this eyeliner a 9/10!
It makes me feel like I'm a pro at cat eyes even though I'm quite the opposite. The lastage is decent too and it's ability to stand my teary eyes, the performance as a whole is great so I definitely will be going for another one if it finishes! Oh and it's quick drying!
If you ever wanted to give the wing eyeliner a go but was too scared, I suggest you try out this eyeliner or if you want a nice straight line in the first try! And of course for other reasons too!
Have any questions or suggestions, drop them down below in the comment section and I'll get back to them!
If you don't want to leave then tap here to view the too faced mascara!
Have a great day!?
Please follow and like us: