I really like mascaras, they are usually quick to apply but make such a difference when applied like they really open your eyes even if you just got up! And many other reasons. Why did I choose this mascara? Well everyone was talking about how amazing the too faced better than mascara was so I had to check it out.
What's more its vegan and cruelty-free, that alone is enough for me to want to grab it.
The too faced better than sex mascara claim:
"This formula thickens, lengthens, and curls after just one coat for the most luscious, dramatic, and volumized lashes possible."
I have to talk about the packaging and design, after all it's the first thing you notice.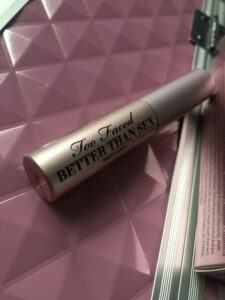 It is a nice baby pink coloured tube that is smooth and feels a little heavier than the usual mascara tubes which is cool as it feels like I'm holding something.
Right, now onto my thoughts on how this mascara works.
Disclosure: This post may contain affiliate links which means that I may earn commission if click and make a purchase but no additional cost to you.
Quick overview:
Pros
Long lasting
Helps thickens lashes
Easily buildable
Easily removable with makeup remover
Cons
Started to clump a little
Whole product dries out quick especially if not shut properly
Application and formula
Okay let's start with the application. I found it went on quite quickly and smoothly without a fuss.
The formula did feel a little dry but this can be a good thing as your lashes won't stick together whilst you are still applying and building your lashes.
This feature for me was pretty cool as I think I've experienced many joined lashes from previous formulas. At least it saved a lot of time instead of me struggling trying to separate each lash.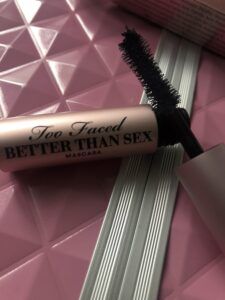 Thickens, lengthens and curls?
Too faced claim this particular mascara lengthens, thickens and curls with just one coat! Like seriously it sounded too good to be true to me! I know that is one of the main purpose mascaras are built for but it seemed too quick.
So you want to know what the outcome was?
Thicken– yes noticeable with one coat but even more dramatic with the second round.
Lengthen– I didn't get the outcome I was expecting so I'd say it wasn't too great in this area.
Curl– after using an eyelash curler my lashes did stay curled for a good amount of time so that can be ticked off.
Overall, the better than sex mascara did do a pretty good job and I feel like I'll let the lengthening feature off as the thickening of the lashes was enough.
Lastage
For the lastage testing, I had to try my best not to touch my lashes, I don't know why I feel the need to constantly touch my face which I know isn't really hygienic.
So minus the few touching and pulling, it got through 7 hours but after that thanks to my habits it started to clump and crumble a little.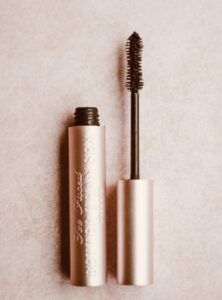 Does it remove easily?
For me I would like a mascara to be removable near as easy as applying it is. I can't be bothered to be scrubbing my eyes red for ages.
With the too faced mascara I wasn't sure what to expect as it did last a decent amount of time so judging by that I was hoping it wasn't going to be rock solid.
Luckily though all I needed was a splash of makeup remover on a pad and then a few gentle swipes and it was done.
It really was that easy but without the makeup remover that was a different story. So I definitely recommend a good makeup remover otherwise you could be standing there for a few extra minutes.
Overall
I really like the design of the too faced mascara wand, it helps coat all your lashes from the base to the tip evenly. (Thought I'll just add that on, for all of those who care)
The side I wasn't too keen on was the super quick drying (well it was a good thing and a bad) effected the rest of the formula in the tube.
Basically I'm not sure if I didn't close it properly or what but I was left with a whole dry mascara. Oh and in my opinion it's more on the pricier side but if you get what you are after then I'm sure its worth it.
So overall I found the mascara to be thickening, long-lasting, easily buildable and excellent for a dramatic look. I found it suitable for an everyday look as well as special occasions. Double useful!
What do you think about the quick drying feature, is it cool or not so much? Let me know in the comment section below!
If you want to view another vegan as well as affordable mascara then tap here for the lily Lolo mascara or here for a bunch of awesome vegan mascaras!
Have a great day! ?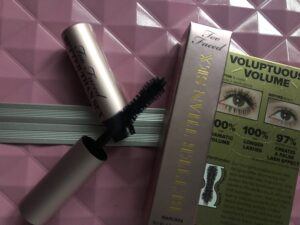 Please follow and like us: